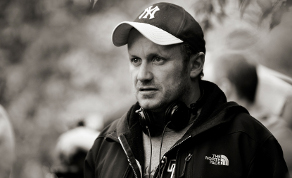 Lenny Abrahamson
Lenny Abrahamson's forthcoming feature film 'Frank' has been offered €1m in the latest round of Irish Film Board funding.
The Michael Fassbender and Domhnall Gleeson-starring project is one of 59 projects that have been offered development, distribution or production support in the third round of funding this year.
Abrahamson's feature – which will begin shooting in December and is being co-produced by Element Pictures – received the largest offer of support.
Other notable offers were made to Treasure Entertainment for Vivienne DeCourcy's 'Wild' (€300,000); Samson Films' 'The Sea' (€220,000) and Tidal Productions' 'Oops…Noah Is Gone!', which has been offered €350,000.
A documentary directed by Michael Madsen, entitled 'The Visit', has been offered a provisional offer of commitment.
Two projects which have already been completed were offered a total of €100,000 in production loans. Kirsten Sheridan's 'Dollhouse' has been offered €20,000 while Lance Daly's 'Life's A Breeze' has been offered €80,000.
In total more than €2.4m has been offered in production loans by the IFB. The Film Board has also offered more than €491,500 in development loans and nearly €210,000 in distribution funding. The total funding on offer is €3.13m.
Among the writers and filmmakers offered development loans for projects are Kirsten Sheridan, 'Skippy Dies' writer Paul Murray, Ian Fitzgibbon and Ron Hutchinson.
Sizable distribution offers were made to Element Distribution which has been offered €150,000 of the €209,750 offered for two projects - 'Grabbers' and 'What Richard Did'. Both projects have received €75,000.
The full list of projects offered funding are:

Production Loans




Project
Director
Writer
Production Co
Funding
Fiction Feature Films
Frank
Lenny Abrahamson
Jon Ronson & Peter Straughan
Element Pictures
€1,000,000
Wild
Vivienne DeCourcy
Vivienne DeCourcy
Treasure Entertainment
€300,000
Life's A Breeze
Lance Daly
Lance Daly
Fastnet Films
€80,000
The Canal
Ivan Kavanagh
Ivan Kavanagh
Park Films
Provisional Offer of Commitment
Dollhouse
Kirsten Sheridan
Kirsten Sheridan
Warehouse Pictures
€20,000
Fiction Creative Co-Production
The Sea
Stephen Browne
John Banvillle
Samson Films
€220,000
The F Word
Michael Dowse
Elan Mastai
Fastnet Films
€80,000
Animation
Oops...Noah Is Gone!
Sean McCormack & Toby Genkel
Richie Conroy & Mark Hodkinson
Tidal Productions
€350,000
The Dual
Terry Pratchett
Giant Creative
€30,000
Forest
Evelyn McGrath & Kris Kelly
Evelyn McGrath & Kris Kelly
Blacknerth Studios
€25,500
Documentary
Yximaloo
Tadhg O'Sullivan
Research Bureau
€25,000
Taking The Boat
Tom Roberts
Mark O'Halloran
Soho Moon Pictures
€25,000
The Swan Song Of Eliza Lynch
Alan Gilsenan
&nbsp
Coco Television
€35,500
Richard Ford: Borderlines
Pat Collins
&nbsp
Harvest Films
Provisional Offer of Commitment
Slow Food Story
Stefano Sardo
&nbsp
Element Pictures
€15,000
Born John Burke, Died Mohammad Omar
Ross McDonnell
&nbsp
Fastnet Films
€90,000
Get The Picture
Cathy Pearson
&nbsp
Ferndale Films
€25,000
The Visit
Michael Madsen
&nbsp
Venom
Provisional Offer Of Commitment
Completion Fund
Black Ice
Johnny Gogan
Brian Leyden
Bandit Film & Still Films
€50,000
Roadside
Joe Comerford
&nbsp
Puddle Films
€15,000
First Stage Documentary
Angel
Viko Nikci
&nbsp
Samson Films
€15,000
Antikythera
Christina Gangos
&nbsp
Three Legged Dog Films
€8,000
Waking
Morag Tintos
&nbsp
Soho Moon Pictures
€5,000
Circus On The Road
Dieter Auner
&nbsp
Ikandi Productions
€5,000
Stadium & Street
Michael Doyle
&nbsp
Cutstone Productions
€10,000
Unbreakable
Ross Whitaker
&nbsp
True Films
€5,000

Development Loans

Project
Director
Writer
Production Co
Funding
First Draft Loans
Island
Ian Fitzgibbon
Ian Fitzgibbon & Deirdre Kinahan
&nbsp
€16,000
The Estate
Lorcan Finnegan
Garrett Shanley
&nbsp
€16,000
A Million Miles An Hour
Brendan Grant
&nbsp
€12,000
The Son Of God
&nbsp
Ivan Kavanagh
&nbsp
€12,000
Pikey King
&nbsp
Carmel Winters
&nbsp
€12,000
Black Rainbows
Hugh O'Connor
Paul Murray
&nbsp
€16,000
Prison Movie
&nbsp
Kirsten Sheridan
&nbsp
€12,000
To Chicago
&nbsp
Barry Devlin
&nbsp
€12,000
Detox
&nbsp
John Butler
&nbsp
€12,000
Fiction Development Loans
Big Silver Lining
Paul Durnin
Paul Durnin & Mark Doherty
Angelo Films
€15,000
La Domestique
Ciaran Cassidy
Blinder Films
€12,000
Frost Island
Michael Kinirons
Mia Ylonen
Blinder Films
€10,000
The Legend Of Longwood
Lisa Mulcahy
N. Kemper & G. Eckhaus
Grand Pictures
€10,000
Family Remains
Gaby Dellal
Eoin O'Connor
Grand Pictures
€12,000
Appetite
Johnny Ferguson
Igloo Films
€20,000
Ted & Mabel
Marian Quinn
Marian Quinn
Janey Pictures
€20,000
Simple Farmers Son
Ron Hutchinson
Soho Moon Pictures
€16,000
Four Letters Of Love
Niall Williams
Element Pictures
€40,000
Good As Gold
Colin Carberry & Glenn Patterson
Wall Of Sleep Productions
€20,000
Harms Way
Cathal Black
Adam Rynne
Blinder Films
€10,000
Annie Likes This
Rebecca O'Flanagan
Treasure Entertainment
€14,000
Dark Zone
Anders Banke
Tom Cosgrove
Fantastic Films
€10,000
Animation Development Loans
Nightglider
Darragh O'Connell
Jeremy Shipp
Brown Bag Films
€15,000
My Fathers Dragon
Nora Twomey
M. Le Fauve & J. Morgan
Parallel Film Productions
€30,000
Maya Gor
Gerry Gill
G. Gill & D. Stack
Wiggleywoo Limited
€25,000
What Will Katy Be?
Jody Gannon
Peter Reeves
Treehouse Republic
€37,000
Tipto
Andrew Kavanagh
Andrew Kavanagh
Kavaleer Productions
€25,000
Papa's Boy
Levi Lemmetty
Levi Lemmetty
Ink & Light
€26,500
Distribution Loans
Project
Director
Writer
Production Co
Funding
Print Provision
Men At Lunch
Eamon O'Cualain
Sonta Productions
€3,650
Marketing Support
Shadow Dancer
James Marsh
Tom Bradby
Paramount Pictures
€27,500
Grabbers
Jon Wright
Kevin Lehane
Element Distribution
€75,000
What Richard Did
Lenny Abrahamson
Malcolm Campbell
Element Distribution
€75,000
Dollhouse
Kirsten Sheridan
Kirsten Sheridan
Eclipse Pictures
€28,600