The medieval Irish co-production, 'Your Highness' opens in cinemas nationwide today, April 13th. The feature shot on various locations across Northern Ireland last year and sees 'Pineapple Express' actor Danny McBride (who also co-scripted the feature) star alongside Zooey Deschanel (500 Days of Summer), Oscar nominee, James Franco (127 Hours) and Oscar winner, Natalie Portman (Black Swan). On the morning of its Irish release IFTN spoke with Danny McBride about bringing the large production to Northern Ireland, teaching Franco and Portman everything they know and the possibility of bringing the production back for a sequel.
'Your Highness' opens with James Franco's brave and dashing Prince Fabious returning from yet another successful quest and planning to wed his beautiful fiancée Belladonna, played by Zooey Deschanel. Belladonna, however, is kidnapped the day of their wedding and Fabious launches a quest to save the damsel in distress. Joined by his less-than-enthusiastic brother - Danny McBride's Thadeous – and Natalie Portman's mysterious wandering warrior, Isabel, the trio set out on the journey to rescue Belladonna from the evil clutches of the wizard Leezar, played by Justin Theroux (American Psycho).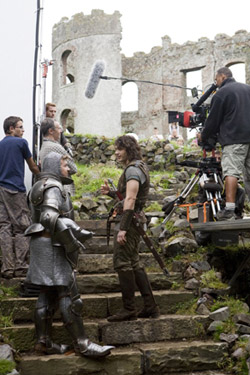 Shooting at Dunluce Castle
The feature is written by Danny McBride and Ben Best (Eastbound & Down) and directed by David Gordon Green (All the Real Girls) and, quite fittingly, came from 'alternative' beginnings, as Danny explains: "In 2001, David and I would play this game where we'd come up with film titles and then have to make up a plot around them. He said 'Ok, Your Highness, what is it about?' And it came to me that it would be about a stoned prince. And dragons. In that order." What followed was many years of script re-writes, pitching and waiting until the film officially got the green light. The real life quest of finding a shooting location then began.
Danny, director David Gordon Green, and producer, Scott Stuber (Repo Men, Love and Other Drugs) scouted locations such as England and Scotland before Northern Irish location manager, Andrew Wilson (Middletown, Killing Bono) showed them the many faces of his home country. Danny and co were blown away: "We had seen a lot of other places in England and Scotland but when we got to Tollymore Forest outside of Belfast, and of course the Giant's Causeway, it just looked like I'd always imagined the film should. Dave and I really pushed for it." The film makes use of dozens of Northern Ireland locations including Belfast's Paint Hall studios; Antrim's ruined Dunluce Castle; Castle Ward, which was transformed into the Dwarves Kingdom; Cairncastle; Shane's Castle, which provided many settings including the catacombs where Thadeous and Fabious visit the Great Wise Wizard.
Such was the selection of breath-taking settings in Northern Ireland that Danny tells us he changed the plot to fit in with the new locations he was presented with: "We had the script done," he tells us. "But then we started doing seasonal location scouting and we kept saying 'We have to use this' and 'What could we have happen here?" Danny himself became quite the local in Belfast, "I was there during pre-production for six months so I became quite at home," he explains. "I got to know all the ins and outs of the place – I went to Tesco, I bought my underwear and Percy pigs from M&S. It's such a great city!"
The production took on about 600 local extras and local craftspeople such as glass-blowers and carpenters. IFTA winning costume designer, Hazel Webb-Crozier (Mickybo and Me, Grabbers) was on hand to clothe every one of the cast members. "Hazel really got what we were trying to create," Danny says. "She got the medieval look perfectly and then mixed it with a touch of the 70s and 80s and it's just what we wanted."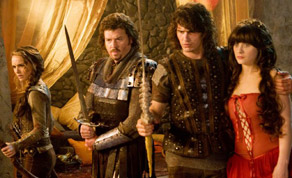 Natalie Portman, Danny McBride, James Franco and
Zooey Deschanel
The film further called for hard core training in swordplay, horse-riding and combat for both James Franco and Natalie Portman. Less so for Danny who cut a part of the script that called for him to ride a horse. "Yes, it was highly convenient when I wrote that for myself," he admits. "But hey, I had written the script so my work was done, Franco had done absolutely nothing!"  Danny clearly feels absolutely blessed to have nabbed the cast members that he did. Even if he does feel like 'Your Highness' was somewhat of an "appetiser" for Franco and Portman: "This is the movie that both Natalie and James did before their Oscar performances so I feel I taught them everything they now know," he jokes. "Franco was going to thank me while he was presenting [the Oscars] but they cut that bit out unfortunately. And then of course Natalie was pregnant so she was probably just at a stage where she was forgetting things a lot."
Be that as it may, parts of the cast were definitely tested on the set of 'Your Highness', their funny bones in particular. "We relied heavily on improv with this film," Danny says "The way the director, Dave works is that he will shoot the scene exactly as it is in the script once or twice and then he'll tell us to go with our own stuff. We'll make sure that the script is there to keep us on track with the story, but I just see it as a blueprint really. Dave has this approach even with his dramas because improv doesn't just help the jokes to come, it keeps the actors present in the scene and makes for more realistic reactions."
On a final positive note, Danny reflects on the positive experience of shooting the film and the possibility of a sequel, saying: "If people wanted to see more of the story you really wouldn't have to twist my arm!"
'Your Highness' is edited by Craig Alpert (Funny People), and its production designer is Mark Tildesley (28 Weeks Later). The film's director of photography is Tim Orr (Pineapple Express), and its executive producers are Danny McBride, Andrew Z. Davis (Role Models), Jonathan Mone (Repo Men) and Mark Huffam.


A Stuber Pictures Production, 'Your Highness' is being released by Entertainment One. For film times see local press.