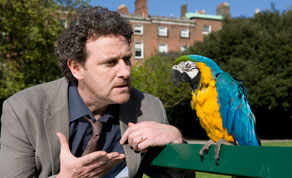 An Crisis - 2nd series in the works
The Broadcasting Authority of Ireland (BAI) has announced the latest funding decisions of the tenth round of its Sound & Vision II broadcasting funding scheme. Grants of approximately €7 million are to support the production of 45 television projects – all exploring the themes of Irish culture, heritage and experience.
A variety of project types have been offered funding including documentary, drama and children's programmes. 17 Irish/bi-lingual projects account for approximately €2.82million of the total recommended.
Michael O'Keeffe, Chief Executive of the BAI commented on the latest funding decisions, saying:"This is a significant amount of money being made available to the broadcasting sector, with the vast majority of funding being offered to independent producers. The BAI is confident that the allocation of this funding will result in the production of high quality television programmes that will be enjoyed by Irish audiences."
The package of funding was approved, in principle, by the Authority at its meeting on 21st February following the consideration of recommendations from the assessment process which involved the input of industry and thematic experts.
The funding decisions made include support of approximately €550,000 offered to Screenworks limited for their drama 'Amber' for RTÉ One; €450,000 approximately for Wildfire Films for the second installment of bi-lingual drama, 'An Crisis' for TG4 and approximately €380,000 to Samson Films for their historical drama, 'Titanic' for TV3.
In total, 95 qualifying applications were received by the Authority requesting grants of €18.5 million. The BAI will now commence contract negotiations with all successful applicants. The successful projects are listed below:


Name

Applicant

Language

Format

Genre

Broadcaster

Up to a max

Duration

72 Uair Cinniúnach don Éirí Amach

Tile Films

Irish

Doc

History/Heritage

TG4

€250,000

1 x 90

A Different Class

Loosehorse Limited

English

Doc

Contemporary Society

RTE One

€80,000

2 x 40

A Rose To India

Gaeljin Productions

English

Doc

Arts/Culture

RTE One

€85,000

1 x 52

Amber

Screenworks Limited

English

Drama

Contemporary Society

RTE One

€550,000

4 x 52

An Crisis 2/Crisis Eile

Wildfire Films

Bi-lingual

Drama

Contemporary Society

TG4

€450,000

6 x 24

An Exile's Home in the Bronx

Aeterno Productions

English

Doc

Contemporary Society

Setanta Ireland

€80,000

1 x 60

Ar an Oileán

Loosehorse Limited

Irish

Doc

History/Heritage

RTE One

€115,000

4 x 26

Arainn Mhór

Power Pictures

Irish

Doc

Contemporary Society

TG4

€124,500

4 x 25

Bású na gCarad

Black Rock Pictures

Irish

Doc

History/Heritage

TG4

€295,000

6 x 30

Community of Independents

DCTV

English

Doc

Arts/Culture

DCTV

€65,000

6x6,1x40 2x30

Constance and Cashmir

Akajava Films

Bi-lingual

Doc

History/Heritage

TG4

€90,000

1 x 52

Discover Cork

Cork Community TV

English

Edu

Children's

Cork TV

€45,000

4 x 30

Droch Fhola/Na Neamh Mairbh

Dearcán Media CIC

Bi-lingual

Doc

Arts/Culture

TG4

£10,000

1 x 50

Festival TV

DCTV

English

Ent

Arts/Culture

DCTV

€65,000

16 x 20

Frank O'Farrell: the Shadow of Busby

Zoogon Limited

English

Doc

History/Heritage

RTE One

€90,000

1 x 52

Gael Nua Eabhrac

Real Films Limited

Bi-lingual

Doc

Contemporary Society

TG4

€180,000

2 x 52

Gairdín Pharthais

Midas Productions

Irish

Doc

Science/Nature/ Environment

TG4

€170,000

4 x 40

Gaoithí Gaeil

Leirithe DMCI

Irish

Doc

History/Heritage

TG4

€185,000

6 x 25

Grooskill

Vico Films

English

Drama

Contemporary Society

TV3

€250,000

1 x 90

Guth

Abú Media Teo

Irish

Doc

Arts/Culture

TG4

€210,000

6 x 40

In Am an Ghátair

Magamedia Teo

Irish

Doc

History/Heritage

TG4

€160,000

2 x 40

Ireland's Natural History

RTE Cork

English

Doc

Science/Nature/ Environment

RTE One

€320,000

2 x 52

Journey of a Joke

DCTV

English

Doc

Contemporary Society

DCTV

€60,000

1 x10,
4x 25

Mastercrafter

Big Mountain Productions Limited

English

Ent

History/Heritage

RTE One

€220,000

6 x 26

Namhaid Mo Namhaid: Dúcheiste Frank Ryan

Glass Machine Productions

Irish

Doc

History/Heritage

TG4

€170,000

1 x 75

No-One Quite Like Grandma

Picture This Productions

English

Doc

History/Heritage

UTV

£45,000

1 x 30

Nuala O'Faoláin - A Life

Patrick Farrelly

English

Doc

Arts/Culture

RTE One

€100,000

1 x 90

Paddy Don Patricio

Tobar Productions

Bi-lingual

Doc

History/Heritage

TG4

€40,000

1 x 40

Pass The Bloody Ball Boys

El Zorrero Films

English

Doc

Contemporary Society

Setanta Ireland

€120,000

6 x 26

Pitch Perfect

Good Company Productions Limited

Irish

Ent

Arts/Culture

TG4

€190,000

8 x 25

Radharc na Rúise

Counterpoint Films

Irish

Doc

Arts/Culture

TG4

€130,000

4 x 25

Sa tóir ar John Doherty

Éabhlóid

Irish

Doc

Arts/Culture

TG4

€67,000

1 x 50

Strictly Am-Dram

Power Pictures

English

Doc

Arts/Culture

RTE One

€180,000

6 x 25

Tales From A Neutral Corner

Midas Productions

English

Doc

History/Heritage

Setanta Sports

€165,000

2 x 50

The Back Door

M3TV Productions Limited

English

Doc

Contemporary Society

TV3

€110,000

2 x 52

The Club

CR Entertainment Limited

English

Ent

Contemporary Society

Setanta Sports

€140,000

6 x 24

The Importance of Being Whatever

Accomplice Television

English

Drama

Children's

RTE Two

€260,000

30 x 3,
1 x 90

The Irish of 9/11

Motive Television

English

Doc

History/Heritage

TV3

€80,000

1 x 45

The Last Irish Beauty Queens

Mind the Gap Films Limited

English

Doc

Contemporary Society

TV3

€125,000

2 x 50

The Last Statue Maker in Cork

Frameworks Films Limited

English

Doc

History/Heritage

Cork Community TV

€22,000

1 x 30

The Street

Frameworks Films Limited

English

Doc

Contemporary Society

Cork Community TV

€20,000

1 x 30

The Top Twenty Sporting Families in Ireland

Midas Productions

English

Ent

History/Heritage

Setanta Sports

€115,000

1 x 90

Titanic

Samson Films

English

Drama

History/Heritage

TV3

€380,000

4 x 46

Venue@Bradóg

Bradóg Regional Youth Service/The Digital Hub

English

Ent

Arts/Culture

DCTV

€55,000

5 x 26,
1 x 56

Yes I Can!

CR Entertainment Limited

English

Doc

Contemporary Society

Setanta Sports

€120,000

4 x 24