The IFTA winning feature documentary 'His & Hers' will receive its Irish theatrical release on Friday, June 18th. A story which unfolds sequentially from young to old, looks to celebrate the ordinary moments that add up to the extraordinary. IFTN spoke with the film's writer/director Ken Wardrop.
From kitchens, living rooms, and hallways across the Irish midlands, 'His & Hers' combines observation and charm to tell a 90-year-old love story through the voices of 70 women. This intimate gender and cultural snapshot explores a woman's relationship with the men in her life - father, boyfriend, husband, son. Following sequentially from a little baby girl to old woman, each character portrait is woven with the others into one uniquely crafted cinematic quilt.
In addition to winning the George Morrison Award for Feature Documentary at the 2010 IFTAs, 'His & Hers' picked up the Audience Award in the Dublin International Film Festival, the Feature Award in the Galway Film Fleadh, and the Cinematography Award at this year's Sundance Film Festival.
IFTN caught up with the writer and director of the piece, Ken Wardop to talk about his debut feature film which looks to prove correct the old Irish saying: "A man loves his girlfriend the most, his wife the best, but his mother the longest."
IFTN: Ken, this feature might seem a bit of a strange idea to have come from a male director, how did you come up with it?
Ken Wardrop: I was inspired by the fact I was a single man and loads of people were deciding to get married, share a life and have kids and I was like "ok why have I got this independent gene that doesn't aspire to this?" So this is almost like an exploration of that. Also, my Mum lives in a street where there are just widows, all at her age, so I just used that as the template for the narrative of the story and it all built up around that.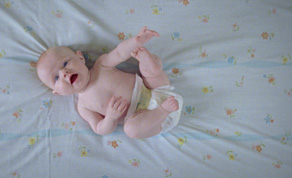 His & Hers
How did you explain the film to the interviewees?
It was very hard to explain the film to the women, I still find it hard to this day because it falls a bit flat and you just want to say "Well, it's about four fabulous New York girls going to Abu Dhabi". So I just said to the ladies "I am going to connect you to the most important person in your life" - even though they probably had five men - four sons and a husband - we just picked one and got each lady to connect him with ordinary things such as the washing lines, driving or the mobile phones.
What guidelines were given to the seventy participating women, if any?
Very few, I would chat about what was relevant to them - basically if the character was 18 I knew she would be talking about her boyfriend for example. 16 to 18 years of age would go from Dad to boyfriend and then boyfriend would become husband, so if I was with a 25 year old my agenda was I am going to be talking about the fact that she had got engaged and was going into that zone of life. Also, Sonya the teenager talks about the mobile telephone and text so I would used that with a later lady so you kind of have a feeling of a cycle of life – the second lady has her son having to teach her how to use the mobile because she's going out. They're really powerful metaphors but also still just ordinary things.
Why did you decide to concentrate just on women?
Because it was my Mum's story, I just wanted the female version. You do have one man at the end - which was suggestive of the male story but it is open and most people interpret it differently, but to me it suggested the fact that this story could easily have been done from the male point of view. 
Is there the possibility of you giving us the male version?
Not me anyway, no. I think there is something about this film that makes it quite stand alone and different, that said if a female decided to do this film I think it would be brilliant. Then again it is very hard to get Irish men to talk. But, I think they would possibly be more open with a female director.
And of course 'His & Hers' is, in fact, all about men really.
Yes, absolutely - it's all about men and that is why perhaps it's called 'His & Hers'. That is one of the surprises about the film and I was a little bit worried about that because I originally saw it as being mainly for female audiences. But some of the best audience reactions we've got were from men in their twenties because they are men who are dating girls who want to get married and who want to get serious about the girl they are in love with but their mothers are still very much part of their lives too, and their grandmothers are often very much alive also, so I think that's why we've had some very emotional reactions to it.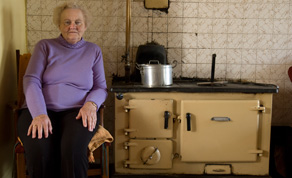 His & Hers
The film would strike me as a quintessentially Irish project that one might not expect international audiences to identify with, but clearly they have...  
Yes, we are getting a theatrical release in Australia and New Zealand, which is fantastic, and talks are ongoing with the States because that takes a little longer. It has translated because it is a universal story of love at heart and it's about that love we have for that special person.
My major worry when making the film was that it wouldn't really reflect modern Ireland actually. I was a bit worried about that because there is obviously a whole diversity out there, but I basically decided to concentrate on people who reminded me of my own world. I had a very low budget, I had no future agenda other than going out and making a film the way I wanted to do it so, in a way, I wasn't worried about finding an audience or recouping costs or anything like this. It's quite a funny one because there is no real drama and everybody is likeable which is rare. 
You've mentioned your mother's influence on the project quite a few times – why is it she features so prominently in your work?
I was probably about five when I realised she is a character and I love her to bits. She's my mother and she is no different than anyone else's mother. And that's where the universal message of the film comes into things again – we all know the women on the screen, the mothers, aunts, girlfriends so anyone can recognise the women in their life in most of the 70 wonderful ladies up on screen. That is the heart of the story, that the women could be anyone's Mum or family.
How did your mother react to you using her in 'His & Hers' and your earlier short film 'Undressing my Mother'?
With 'Undressing my Mother' we talked it over and she actually gave it to me, she said: "Will this actually help you?" and I said "Yes Mum, it will be my graduation film."  Now, at the time it was only for my tutors and I saw her involvement as possibly being the difference between an A and a B.
It just seemed obvious as I am a filmmaker with this wonderful person at home.  My family are no different than anybody's family only I have a camera and go around recording them, but I think everybody has that potential. I think one of the big gifts that film makers have is the ability to record their own worlds.
Your new feature project, 'Probable Parent' sees you try your hand at fiction and you've been casting it in a very alternative way.
Yes, we have had open auditions using non-actors and now we're work-shopping using a combination of both actors and non-actors, which is going to be a challenge. The non-actors are people who I feel are comfortable enough to be able to come on this journey with us.  It is going to be very different to 'His & Hers' but yet I will draw down on my experiences as a filmmaker to date.
We have no idea when it will actually shoot but we're going to have intensive work-shopping and we will see how we will get on then. I'll go off and write it up then and we'll create the story. I have the long treatments to fall back on and basically I have the story without words. 
Does this all sound an end to your short filmmaking career?
No, no - I will always be able to keep up the shorts because I have my own camera and the family are still down in Portarlington and they will come up with some plots for me.  Like my bother Trevor who rang me 18 months ago and said "You know there's a deer down here and I think it would make a great little short, it has very unusual talent," and I said "OK, I'm on my way," and then we get a European Film Academy nomination for the film!
'His & Hers' is written, directed and edited by Ken Wardrop and produced by Andrew Freedman. It was shot by Kate McCullough (Snap) and Michael Lavelle (Farewell Packets of Ten).
The researchers who found the feature's participating ladies are Sheena O'Byrne and Hannah Smolenska. The music for 'His & Hers' was composed by Denis Clohessy (Undressing my Mother).
The film was made with 100% funding from the Irish Film Board.
'His & Hers' will be released in the IFI Dublin, Lighthouse Dublin, Cineworld Dublin, Screen D'Olier St Dublin, Movies @ Dundrum Dublin, The Gate Cork, The Eye Galway and IMC Athlone on Friday, June 18th via Element Pictures Distribution.


View the trailer for 'His & Hers' here


For more information about the film visit www.hisandhers.ie