The multi-award winning Irish atmospheric feature film 'The Eclipse' will screen on RTÉ1 on March, 17th. The supernatural thriller, crowned Best Film at the 2010 IFTAs, stars Ciarán Hinds with whom IFTN talked recently about the film's Co. Cork shoot, travelling with director Conor McPherson and why audiences are responding so well to their latest pic.
'The Eclipse' tells the story of a widower, played by Hinds (Miss Pettigrew Lives for a Day, Munich, Rome), who is haunted by nightmarish visions. When he volunteers at an international literary festival, his life converges with Iben Hjejle's Lena, a beautiful author of supernatural fiction and a self obsessed novelist in the shape of Aidan Quinn (Legends of the Fall) – all three become drawn into a life-altering collision between the living and the dead. IFTN recently spoke with Ciarán Hinds, one of Ireland's most respected actors, whom co-star Aidan Quinn described at the 2010 IFTAs as "an actor who should never be out of work."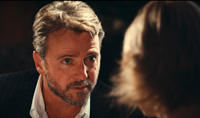 Aidan Quinn in The Eclipse
The feature was brought to Ciarán's attention during the Broadway previews of 'The Seafarer': "We were still working on the 'The Seafarer' but not as frantically as we had been in rehearsals," he tells us. "Conor passed me an early draft of the script that he'd been working on with Billy [Roche]. Knowing Conor, and having worked very closely with him, I knew reading the draft that he had a lot more in his armoury than there was on the page. I knew the script was just the bones of something that would be added to as he rewrote it. There was something very delicate and mysterious in it but not all the dots were joined up. It was strange and odd and slightly touching – a mélange of stuff."
That goes almost without saying – the film boasts elements of several genres. We have thrills and spills, we have romance, we have comedy, we have wise-beyond-their-years children and a beloved family pet - all of which are complimented by a constant underlying tense feeling of drama and unease. Ciarán agrees that it is a film that defies classification.
"No-one's sure what sort of genre to put it in," he says. "Even now. It's a psychological drama which is, at the same time, horror. It's supernatural . . . I don't know what the frig you'd describe it as!"
Ciaran Hinds inThe Eclipse
Hard to describe it may be, but this is only the tip of the iceberg – one wonders how Ciarán approached a role where extraordinary things happen to an extremely ordinary man, that is, his character Michael Farr. "Basically Michael's life is that of a small town woodwork teacher. He possibly had aspirations of writing a bit when he was younger but he's an everyday guy except that he's suffering from an emotional blockage because, for some reason, he hasn't been able to fully let his grief out. So he's emotionally, but not hugely, unstable. His equilibrium isn't great essentially.
"The heart of the film for me was to produce some kind of truth of a person who is in a position where they are discombobulated - the most important thing of all is for Michael to try and bring up his children but he's a bit useless to them until he gets himself sorted out." All of this combines to, as aforementioned, present a question of striking the right balance in portraying Michael. "At that level you have to ask yourself how interesting you should make a character. Should he have quirks or ticks? Should I make him loveable? Attractive?" Ciarán says before describing his approach. "Following conversations with Conor the idea I came away with was to use most of who I am and go through the emotions as myself a lot of the time."
'The Eclipse' makes use of its Cork landscape to permeate its audiences with a sense of foreboding. Winding, cobblestoned streets, narrow stairways and an ever-present choppy Irish sea all come together to subtly let the film's audience know that all is not entirely well. Cobh provided a fitting and sumptuous landscape to the film, adding to the story enormously in its own right.
So, did his surroundings help Ciarán get into character? "It sort of does help," he answers. "Landscape is important, whether it's emotional landscape or the visual landscape and, just as an example, that huge gothic cathedral in Cobh tells you something about where the characters are. Being Irish and never having been to Cobh (which is beautiful, especially when you see it on camera) it was all very powerful.
"And then you have the old folk's home with the very dark shadows and yet outside there's this bright blue sky. I think Conor's use of up and down is shown very much in the film because there are no black and whites, just variations of grey – he put a lot of iconic religious motifs in also without going overboard."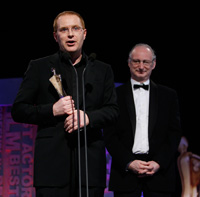 Conor McPherson & Billy Roche at the IFTAs
Conor McPherson and Ciarán have worked a lot together of late, quite aside from 'The Eclipse' both worked – in their respective roles of director and leading actor – in the theatrical productions 'The Seafarer' and 'The Birds'. Both men also recently discovered a new way to enjoy each other's company, as Ciarán describes: "The day after the IFTAs we were on a plane to go to America to do a 'four city, five day' blitz publicity. And that was good craic mainly because we found we were quite good travelling companions. It's nice to know. And it was interesting to revisit the project because I had only seen the film once at Tribeca and so as part of the publicity we got to do a screening followed by a Q&A so I got to see it on the big screen."
Asked if, like the vast majority of us, Ciarán nearly jumped out off his chair at several points, he tells us he looks at the horror elements of the film in an alternative way: "You don't know whether they're visitations or whether they're self manifested. It could be either because we see things when we're in emotional turmoil – images are conjured up, even unconsciously, things invade our mind that we're not in control of. But then you stop and say 'If that's the case, what's the difference between real and not real?' – why are things there and what are they trying to say? And if you can believe in these visitations then, when the horror comes, it's somehow stranger. I think he wanted his audiences to say 'Shit, this is really, really weird'."
As to Ciarán's new role, that of Tardos Mors in Andrew Stanton's 'John Carter of Mars', the actor says: "It's a huge project - I mean I have a very small role in it but the film is very much a green screen epic." He continues, saying "We had 400 extras in one scene set in a terrestrial palace. It's absolutely bizarre, with amazing costumes. And of course we're bring directed by Andrew who's a classicist, he just has a huge amount going on. We're all in very good hands."
Finally, our interview ends with Ciarán's personal thoughts on the success that 'The Eclipse' has enjoyed thus far "Quiet belief and determination has made this film something," he deduces. "And it really goes to show that Conor really does have a command of the art of using a camera."