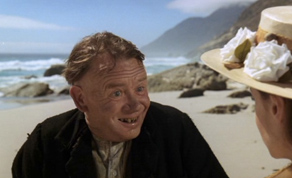 Ryan's Daughter
The RTÉ documentary 'A Bit of a Fillum: Ryan's Daughter in Dingle' has been nominated in the Arts Documentary Category for the Rose d'Or International Television Competition 2009 to be held May 2-5, 2009 in Lucerne, Switzerland.
The Rose d'Or, held annually in Lucerne, offers four days of viewing the best in entertainment and television programming from around the world. 'A Bit of a Fillum: Ryan's Daughter in Dingle' documentary which screened on RTÉ One, 25th December last year, goes behind-the-scenes of the making of David Lean's 1969 feature 'Ryan's Daughter' in Kerry and explores the effects of the arrival of an all star cast including Robert Mitchum, Sarah Miles and John Mills had on the Kerry natives and the local economy. The documentary features footage from the RTÉ Archive and from the UCLA Ethnographic Program.
Among fellow nominees in this category are BBC titles 'The Story of the Guitar', 'Neil Young: Don't Be Denied' and Channel 4's 'Only when I Dance' and 'The Curse of the Mona Lisa'.