Flora Mongtomery & Liam Cunningham in Anner House
A new TV movie based upon bestselling author Maeve Binchy's short story 'Anner House' will be broadcast on RTÉ One this Easter Sunday. IFTN speaks to screenwriter Anne Marie Casey who had the challenging task of adapting Binchy's story for the small screen.
Set in Cape Town, 'Anner House' follows the romantic relationship between Ruth, an Irish emigrant, and Neil, an Irishman in search of a new life after the collapse of his marriage.  Neil, (played by IFTA winning actor Liam Cunningham) joins forces with Ruth (Flora Montgomery) to help her realise her dream of opening a guest house in the South African city.  The drama features supporting performances from Conor Mullen as Ruth's boyfriend and real life brothers Billy and Patrick Gibson as Neil's young sons.
Directed by Stephen Burke, the TV movie was shot on location in Cape Town in the summer of 2006.  Produced by Little Bird's Tora Young for RTÉ, the drama airs on Sunday April 8th at 9.30 on RTÉ One.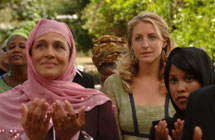 Flora Montgomery in Anner House
Screenwriter Anne Marie Casey began her career in the UK as a script editor, working on series such as 'Inspector Morse' and 'Boon', before establishing her own production company. Having worked as a producer on her first feature, Casey found herself drawn to the more creative aspects of production and decided to pursue her career as a script writer. With her father hailing from Roscommon, Casey slotted well into the industry in Ireland when she moved here in 1998 and worked with novelist Katie Hayes on the RTÉ/Film Board short film 'Forecourt'. Following that she earned her chops writing for Little Bird's successful RTÉ drama series 'On Home Ground'.  Her other credits include the TV series 'The Clinic' and she is currently working on two feature film adaptations 'Inishowen' with F ootnote Productions and 'The Burning of Bridget Cleary' for Wildfire Films, with Thaddeus O'Sullivan attached to direct. 
'Anner House' is Casey's first foray into the realm of TV movies and sees the writer team with one of Ireland's most loved novelists - Maeve Binchy.
So how did she get the job? IFTN finds out…
'Anner House' started life about three or four years ago. Initially, it was developed by Little Bird Films with whom I had worked on 'On Home Ground' and it was just a progression from that. I knew Maggie Pope and James Mitchell and they asked me to do it.  They sent a sample of the script to Maeve Binchy, she liked it and we started work. It had been through other incarnations before it became the TV movie that is on Easter Sunday. It had been a mini series of two different lengths, so I'd been working on it a long time before then.
Did you collaborate with Maeve on the project?
I had pretty much a free reign on the project. I had always consulted Maeve throughout but from the original story that she wrote I was allowed to work quite freely from that.  I collaborated a lot with Jane Gogan at RTÉ, with Little Bird and Maeve. We had about two or three drafts.
Had you looked at the other adaptations of Maeve's work like Tara Road and Circle of Friends?
I really admired Circle of Friends, which I thought worked very well, but no I didn't look at the other adaptations.  I had a feeling of how I wanted to do it and that seemed to gel with Maeve, so I just went for it from there.
You've worked on a number of adaptations, what draws you to them?
I really enjoy the challenge of taking a story in a novel and trying to adapt it to television or a film, while retaining the spirit or the move of it. I think it can be hard but I really enjoy the challenge of taking someone's prose or story in a book and then making it a cinematic experience. It's a process of telling a story more visually or finding a way of drawing the more filmic elements out of it. I think that's very exciting.
What techniques did you use writing the script for 'Anner House'?
For something like this, where the job is to tell a story the best way you can and in quite a simple way really, I start with a treatment. I always do a scene breakdown and I always take quite a long time on that – just to make sure that you are working out the acts and the act breaks. 
When you're writing for TV you've got commercial breaks, so you have to divide it up to make it work.  The very last thing I do is write the script, the dialogue and all the fun bits. But I really, really plot the story quite hard and I don't leave that until I'm happy it all works.
How fast was the turnaround on the project?
It was quick, but bearing in mind I had worked on it a lot before, I think it was about 2 – 3 months. It was a very fast turnaround because the producers and RTÉ identified it quite early on as something they wanted for this Easter Sunday slot. I think I had my first meeting at the end of July 2006, and the script was commissioned 6 weeks after that. I had about 3 weeks to write it.  The project was very important to me and something I really wanted to do. It suited me, I worked really hard, and I was very lucky that it all came together.
When did the director become involved?
Stephen came on when it was going into production.
And were there many changes to your script during the shoot?
No, there were surprisingly very few changes, which is rare in production. They were very faithful to the script and I was thrilled by the cast who I think are brilliant. From the moment I was writing it, I'd thought of Liam Cunningham in the lead, I thought he'd be perfect for it.  He seemed to me the obvious person and he is absolutely brilliant in it.

Anner House
I'd made some decisions very early on that I was going to approach the script more like feature film and that I was going to tell a lot of the story visually. There isn't a vast amount of dialogue and there's very little to know in terms of back story, so I think it was a challenge for the actors - they had a lot to do. Liam conveys things without any dialogue whatsoever and he conveys all the pain and the misery of the part without having to go into lines and lines of dialogue. Obviously Flora, whose work I knew, is perfect in it, you really like her and you empathaise with her.  Once the casting was done, they were off in Africa shooting and that was it, I didn't really see it until it was finished.
And what do you think of the final result?
Genuinely I am very pleased. I think they were very faithful to the script so that was a fantastic thing for me and I think it's quite an unusual love story. I think it's great that it's set in South Africa and it does deal with contemporary South African issues, it doesn't pretend that they don't exist. Overall so it's been a wonderful experience for me and I hope it does very well.
What was the most enjoyable aspect of working on 'Anner House'?
That I knew it was going to get made. That makes an enormous difference.  RTÉ were very committed to the project from early on and when you know that something is going to get made, you can really focus your energy on the writing and that situation is extremely unusual in television, and obviously in film. It was a really inspiring thing for me.  I was focused, it was very real to me that it was happening, so I really wanted to do the very best I could.
'Anner House' is broadcast on RTÉ One at 9.30pm.  Sunday 8th of April.