Isolation
IFTN met with Irish writer/director Billy O'Brien to talk about the experience of making his first feature film, 'Isolation', how the plot developed and his unique visual style. The result is a seriously scary, hardcore horror film that will have you squirming in your seats
.

'Isolation', the feature debut for director/writer Billy O'Brien, opens this week in Ireland with 25 prints. Filmed in Wicklow in the winter of 2005 over eight weeks, it is the story of a young couple on the run who take refuge at a lonely farm, only to find that the farmer has been supplementing his income by allowing genetic experiments on his cattle. A mutated calf is born and goes on the hunt. Over a terrifying 24 hour period a remote farm in Ireland becomes a life-or-death arena.
The catalyst for 'Isolation' came from a blending of O'Brien's two interests: farming and science-fiction/horror films. It's an unusual combination. O'Brien agrees, "Years ago, I had noticed that people were horrified by stories I told over the years about life on the farm, about problems with calving and things like that – nothing unusual, but most people aren't familiar with what goes on. I didn't want to do a 'coming of age' story as I felt I was far too young, but a couple of years later I thought about the idea of a difficult calving and 'there's a monster in the cow', and knew straight away that I had a horror film!"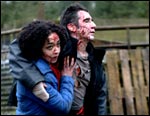 John Lynch and Ruth Negga in Isolation
"What made it so exciting and why the first draft was so quick to write was that I could use all of my memories – set it on a lonely farm. The first draft peaks with the birth, and it hasn't changed much up to that point. The second half needed more work because I had no reason for the monster to exist. When I showed the script to my producers at that point they saw potential. Bertrand (Falve) said the birth scene took 15 pages – that's an awful long time but it was a 'page turner' and it 'needed an ending to match that'."
"So I researched the genetic mutation idea, which suited perfectly because this is in the horror genre – it couldn't be too fantastical or all the reality built up in the first half would just disappear. With genetics being a real fear we tried to keep it as real as possible so that you would almost believe that this could happen."
The success of the 'realness' of the second half of the film, after the birth and escape of the genetically altered calf, is down, according to O'Brien, to "the actors, the location, the crew. The actors really soaked up the atmosphere on the location (a farm in Manor Kilbride in Wicklow). If it had been filmed on a set it would not have been as scary. John (Lynch) and Essie (Davis) learning to do the internal examinations really gave them that reality."
Visually the film is very arresting, from the production design by Paul Inglis (Children of Men) and camera work by Robbie Ryan (Red Road). Both work very closely with O'Brien to get the look he wants. "I come from an art college background, so the visual side of story-telling I find very powerful." The look is bleak and colours are cold – from the farmer's kitchen (based on the French designer Enki Bilal's palette of Prussian blue and chalky white, for a look that enhances the paleness of skin); to the industrial reality of a modern farm and the costumes of the five actors. The result is a visually unique film – a genre piece set in the most unlikely of locations, with a cold dirty industrial look enhanced by Inglis design and Ryan's camerawork.
O'Brien originally studied graphics in Limerick and started storyboarding which helped him get into film school (Dun Laoghaire), "other people had scripts, I had storyboards" he says. "I loved Dun Laoghaire. I met Robbie Ryan there and my best friend (director) Alan Friel. From there I went to RTE's design department for a year, working on Kenny Live. Part of my job was to select Pat Kenny's suit – I hadn't a clue, I had grungy long hair straight from college, so after about a week that part of my job was edited out! RTE was great though – it also helped me pay off student loans but I knew that I really wanted to get back to film."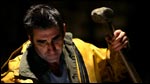 John Lynch in Isolation
A chance meeting with one of his Dun Laoghaire assessors (Tim Miller from Royal College of Art in London) gave O'Brien the "ropeladder" he needed. "This was a great opportunity. Once there my mind cleared – I realised that I really wanted to direct. Alan and myself made a two minute short 'Coal' which was screened as part of the Royal College of Art screenings at BAFTA, and the next day we had ten commercial companies wanting us to sign with them. So we dragged Robbie Ryan and another cameraman Darren Tiernan over to London, and the four of us spent the next two years travelling around the world making commercials."
It was over the following three years that Billy developed 'The Tale of the Rat that Wrote' and met the person who would become his producer, Ruth Kenley-Letts, Oscar winner of short film 'Franz Kafka's It's a Wonderful Life'. "'Rat' was made in 1999 and it was a great success" recounts O'Brien. "It was BAFTA nominated and Working Title took us on to make it as a feature length film. We spent three years working on it – writing the script; I had a team of people working on the rats, but it didn't work out. It was getting too expensive and Working Title couldn't proceed. It was a very amicable split, and ultimately the timing was good because at that stage I had met (producer) Bertrand Falve who was interested in developing the first draft of 'Isolation'. We then got Ed Guiney at Element involved and two years later we were shooting."
Both O'Brien and Bertrand wanted to avoid the studio system. "Working Title is like a studio – they have dozens of projects, they have the money to do it and it works! They make great films – look at 'Shaun of the Dead'! Myself, Ruth and Bertrand spent a year working on the final draft. We then hit the financiers with the finished script, looking for production funding. Film Four were supportive from the outset – they had a few queries about the script, and I'm the first to admit that I'm a director first and writer, second so we brought in a writer Brian Elsley to do a dialogue pass on the script."
O'Brien works, as much as is possible, with the same team of cameraman Robbie Ryan, designer Paul Inglis, editor Justinian Buckley, and costumer designer Suzanne Cave (all have worked with O'Brien since 'Rat'). "We fought hard to get the whole team for this, but it depends on the circumstances – financiers, underwriters always want to play it safe, and sometimes people aren't available (Ryan DP'd Cannes winner 'Red Road' and Inglis was art director on 'Children of Men' (currently on release)."
The writer/director was also set on filming in Ireland from the outset. "This could have been made in Montana, but I grew up on a farm in Ireland, and the producers were really supportive me my wanting to film here."

Ruth Negga in Isolation
Other than film work done in college, this was the first time O'Brien had worked in Ireland. "The crew were great, the actors were great. We were really unified (stumbling around at 5.30 in the morning in the dark!) but I'm a first time director so I probably made tons of mistakes on the shoot!"
"I realised pretty quickly however that I had to get my camera down in there, and get those POV shots or I wouldn't have a horror film. We wanted it to be very visceral because we're talking about animals and it is very explicit in terms of the veterinary work. We wanted the camera to get in very close and to be on the actors' faces and what they were doing."
"Also, my ambitions shrank – I had storyboarded the film as I always do, and about 50% of the planned shots were never shot. Myself and Robbie at the end of the first week knew that we were the ones who had to work to make it not look average. The crew's instinct is to do what they know, and to do it efficiently. But if you want to make something stand out then you've got to take the risks – move the camera, get it in there, so you're constantly fighting the system a little. I come from an indie background and like finding a different way – and because we were making a horror film (and there aren't too many of those made in Ireland) I was fighting the (more conventional) system a bit. I'm sure people thought I was nuts! I think I should have been a lot more outgoing during the shoot. It was my first film and I was so intent on dealing with the actors and the key crew, but I think a director has to be a communicator with the whole crew – I definitely could have done better on that. But, it's my first film – no-one teaches you this."
"The film is as serious as you can get, as hardcore as any horror movie will be, it will cement its place as one of the greatest horror films of our time."
www.bloody-disgusting.com
The budget on the film was £2.9 million. Lionsgate are releasing in Ireland (September 29th) and UK (Jan 07). The film has been released in Belgium, Low countries, and France where it was a great critical success. A limited US release is expected next year. The film is also proving a huge success at festivals – it won the Grand Prix and the International Critics Award (chaired by Ring director Hideo Nakata) at Gerarmder earlier this year.
Facilities on the film were provided by Cine Electric, Panavision, Movie Go. The line producer was Noelette Buckley.
'Isolation' is a UK-Irish co-production form The Bureau in association with Blue Orange Films and Element Films. It is funded by Film Four, the Irish Film Board and TV3.
Cast of 'Isolation': John Lynch, Essie Davis, Ruth Negga, Sean Harris, Marcel Iures.