Jim Sheridan
Jim Sheridan's latest feature film 'Get Rich or Die Tryin' hits Irish cinemas this weekend. In this IFTN interview the famed Irish director talks about the movie, his lead actor (gangsta rapper 50 Cent) and his thoughts on the current state of the Irish film industry.
Director Jim Sheridan says 'Get Rich or Die Tryin' is roughly 85% fact and since Curtis '50 Cent' Jackson's life story has been much reported in the media, the movie's plot is easily deciphered. Apart from a name change to Marcus a.k.a. Little Caesar, the lead character (50 Cent) is orphaned at a young age following his mother's murder - he subsequently spends years pushing drugs and hustling on the streets, finally culminating in a drive by shoot out that leaves him close to death and nursing injuries from nine bullet wounds - which then leads him to the stage.
Jim Sheridan, the director of acclaimed Irish films such as 'My Left Foot', 'In America' and 'In the Name of The Father' was not the obvious choice to direct a story about an orphaned child's struggle out of the ghetto and rise to rap fame. When he was announced to direct the film, many industry commentators, in both music and movie circles, voiced their scepticism. Sheridan rebuffed those who questioned his motives by explaining it was his long time love of rap music and bond with the story that led him to take the job. 'Get Rich' being a distinctly American story was his first foray outside the realms of Irish filmmaking and Irish based narratives. So the first thing IFTN wants to know is, has he consciously avoided American films in the past, and why start with this one?


Jim Sheridan & 50 Cent
"I think it's easier to make what you know, so I was always scared of making an American film," says the director. "Then I saw this one and I thought, 'well, it's a culture that's so far away from me, and yet it's a minority culture and I think I know something about it.
I thought I knew more about rap than most other directors in the world, cause, I just like rap, so I felt fairly confident with that side of it."
Following the films release in the US late last year, 'Get Rich' came under fire from critics as being a poor imitation of '8 Mile'. Sheridan says, apart from the central theme of a rapper's rise to fame, he doesn't connect the two movies. "Well in the Eminem story, there's not much. He's just a white rapper who doesn't get on with his Mam, y'know? In this one it's a guy whose mother was murdered, he was shot and there are a lot of elements to it that are very interesting."
One of the interesting elements for industry watchers is that the $40 million film is also Sheridan's first project produced inside the Hollywood model, his earlier films having been made through his own independent production company Hell's Kitchen. 'Get Rich' sees a long list of heavyweight music and film executive producers all falling in under the goliath MTV banner.
Shooting in Canada, Sheridan was not entirely alone in the wilderness and he gathered a few familiar Irish faces to help him make the film. Starting with his Hell's Kitchen partner Arthur Lappin as exec-producer, he also brought in cinematographer Declan Quinn (In America, Breakfast On Pluto), production designer Mark Geraghty (In America, Tristan & Isolde) and composer Gavin Friday (In America, The Boxer). It was important for the director to have that supportive team around him.
"It's people that you can trust, people from the past who are very talented," he says. "Declan lit the film amazingly well and Mark is a great talent, a great worker, great fun and great to be around. I kinda wanted to prove the Irish could do it as well… I had a hard time getting them on in the beginning but once there everybody could see how good they were."
'Get Rich' is 50 Cents acting debut and critics are split as to the rap stars acting promise. Overall it's a worthy but not an Oscar winning performance from 50 who is aided by a formidably talented supporting cast headed by 'Hustle and Flow's Terrence Howard, 'Syriana's Viola Davis and Joy Bryant. Having worked with first time actresses on 'In America' (the Bolger sisters), were there any specific techniques employed by the director to coax their performances?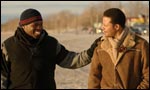 50 Cent & Terrence Howard
"I almost try to get it like that they are helping me rather than I'm helping them," he says. "That I don't know what the story is about they'd better go figure it out themselves. To take the performance out of it and make it a search, not just that you have to come up to the mark. It's like a mind trick, you go to the other side."
And did Sheridan see 50 Cent's story as a similar journey he took himself with 'In America'? "Yeah, that's why I thought I could protect him a little bit because I knew the pitfalls of true life stories…you have to be very careful and delicate in how you turn the story." And did he have any connection with the story 50 was trying to tell? "It was more he [50] connected with the story I was telling. He didn't really care what story I wanted to tell, it was very strange. It was his life and he was like 'do whatever you want'…"
With Sheridan's latest feature about to hit cinemas, naturally his thoughts are turning to new projects. The 56 year old director favours his own independent features next with a New York gangster flick (Emerald City) in the pipeline and a proposed Irish film that will be set in the Sheriff Street area of Dublin. But what of the current state of the Irish film industry? In 2003 Sheridan was an active voice in the Section 481 amendments and remains a strong supporter of the industry at home, so how does he think we are faring at present?
"I think it's okay," he muses. "But I think the difficulty is that the Euro is so strong and there's so much competition. Last year was a bad year, a lot of people are having to take other jobs or gone out of the film industry and anybody who is staying in it has probably not bought too many Christmas presents. Hopefully it will change, it has to change and I think we have to get competitive with England."
As Sheridan is often coupled with his fellow Irish director, Neil Jordan, we ask him for his thoughts on Neil's recent comments in LA, saying he "can't really afford" to make films in Ireland any longer?
"I can see where he's coming from in a way," he says after some thought. "When you get to be as well off as we are you have a big overhead to go around, you have an office and up-keep and when you do a movie here you can lose money on it. It's okay to do it once but I think Neil has done it three or four times now and I can understand him wanting to get a pay day. I think you can make it work too but you probably have to scale back your expectations."
And finally, what does he think are the best elements Ireland has to offer in terms of film production? "Technicians and everything is within a few miles," he says. "It's easy to make a movie here and Dublin is a very exciting city to be in. I think there's a lot of reasons people would come… For me, it's all about the TV. We need to have a thing where you can get a movie made for cheaper, it gets on the telly and people talk about it. I think we also need some big prototype film to come in, like a Harry Potter, something that puts us back on the map."

Get Rich or Die Tryin' is released across Ireland from the 20th of January through UIP

By Tanya Warren