Writer, director and producer Bobby Farrelly is the younger half of the Farrelly Brothers - the comedic team behind such hits as 'Dumb & Dumber', 'There's Something About Mary', 'Me, Myself and Irene' and 'Stuck on You'. He spoke with IFTN as part of our Masters Series about his creative partnership with his brother Peter – pushing the boundaries of comedy, "Dumbing" down the American comedic film industry, his plans to work with Sean Penn and his forthcoming first visit to Ireland.
Sharing one of the hottest names in American filmmaking, duo Bobby and Peter Farrelly have brought comedy-hungry audiences hits such as 'Shallow Hal', 'The Ringer', 'Kingpin' and 'The Heartbreak Kid' along with the other hugely successful titles mentioned above. The pair have received two daytime Emmy awards for 'Ozzy and Drix' - an animated series they produce - a shared 1999 Screenwriter of the Year award from the ShoWest Convention and a PGA Vision Award for 'There's Something About Mary'.
IFTN: Bobby, how does your partnership with Peter work exactly – is one of you the head writer or is the workload shared equally?
Bobby Farrelly (BF): It's a mutual thing – we work on stuff that stimulates us both. Comedy writers over here in the States work as a team and I think the reason why that is - because you never really know if something is funny until you do or say it and someone laughs at it - so you automatically need that audience factor, you need someone else to bounce things off,  or at least we do. 
About writing, we do it together and one of us will hopefully come up with an idea and the other one will get him to push a little further and see where else you can go with it.  It would be hard to do individually. 
IFTN: You both started off by writing scripts that you thought producers would like but then started writing stuff you and your friends found funny – is that still your method?
BF: Yes, we were definitely writing to please producers a lot at the start and, honestly, it still happens. The studio still remains in charge so we have our expectations and our ideas but it never works out like you think because the people in the studio are not comedy experts - and a lot of the time they're not even funny or blessed with a sense of humour!
Back then and now though we get to the point where we think "We'd be better doing stuff that our buddies at home are going to laugh at and forget the suits at the studio," and when we started thinking that way we had a lot more success - not immediately - but we felt like we were writing a lot better comedy.
IFTN: What's interesting about the way you and Peter write scripts is that you don't use outlines. You get to know your main character well and then see what happens – it really sounds like a system that shouldn't work but seems to have served you well!
BF: Well it's probably not for everyone but yes, for us it works. We just want to know who our character is and why the audience should like them and, really importantly, why they should care about what happens to them – that's generally the first act of our screenplay. And if we have that and we feel like we have a guy that we can get behind it frees us up to go places that may be funnier.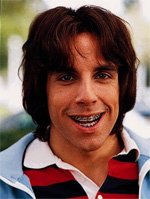 Ben Stiller in There's Something About Mary
An example of that would be when we did 'There's Something about Mary' where we spent a lot of time wondering "Why would you like this guy?" for Ben Stiller's character, Ted. So when you see that he defended the girl's mentally challenged brother not knowing that it was Mary's brother audiences can tell that he's a likeable guy and he means well, he's coming from a good place and once you establish that then we can do the crazy stuff  -  zipping himself up, the sperm in the hair . . .  all that sort of stuff. And you can get away with it because you like him and you know he means well!  I see a lot of movies where I don't like the guy in it so I don't really enjoy it as much. 
IFTN: Moving on to the way you work on set – is there room for your actors to ad-lib or do you like them to stick to your script?
BF: Oh boy, that's always a very delicate balance. Every time that we go out and shoot a script we always hope that we will be able to make it better than we have it so far. In order to do that you have to sort of free up the actors and let them try do new things and a different way of doing it, but at the same time you want to make sure that you get what you intended to get.
Our system is that we shoot what's there and we then say "OK, let's go off the page and see what happens," so we probably spend two thirds of our time doing what's on the page and then we always leave a lot of extra time to play around with it, to try and make it funnier - which it usually does. 
IFTN: That system obviously calls for very specific casting.  Have you ever written a script with a particular actor in mind?
BF: Very rarely, I mean occasionally we do - like Bill Murray, someone who is really distinct. But usually what happens with casing is that, for whatever reason, you rarely get to cast the person that you had in mind. It will always surprise you who gets the role but then, in retrospect, we would come to realise that is was the right person, we just didn't realise it. So essentially whatever preconceptions you have are usually wrong.
IFTN: As if to prove your point you've worked with both Jim Carrey and Ben Stiller, as we've already discussed, both of whom were relatively unknown before they worked with you.
BF: Yes, and we've worked with both of them more than once - it's always fun to go back and work with actors like them later on in life but honestly we enjoy working with people that are probably lesser known the most. Like when we worked with Ben the first time in 'There's Something about Mary' and similarly with Jim Carey on 'Dumb and Dumber' and there is a certain excitement that comes with that - where guys or girls are getting the opportunity to shine. It's really fun for a director to see that happening. 
IFTN: Would you and Peter ever think of trying a non-comedy film?
BF: Well I think one day we're going to make a comedy where nobody is going to laugh and we'll sell it as a drama. We would try something different because we really enjoy making films, we just haven't found the right project yet for that.  We produced a documentary called 'The Lost Son of Havana' that was not at all a comedy piece, it was like a piece about humanity and we really enjoyed doing that, but as far as a movie goes we haven't thought of the right project yet but eventually we will.
IFTN: Was it easier to make people laugh in 1994 than it is now or vice-versa?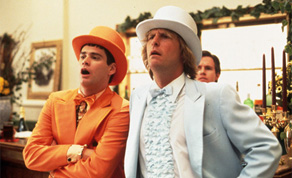 Dumb & Dumber
BF: When we made 'Dumb and Dumber' we had a heck of a time getting it made which we really thought was because of the title.  We would give it to agents to give to their actor clients and the actors would read it and say 'Dumb and Dumber', and then they'd get mad and say "What do you think I am, why do you think I'd want to be a dumb guy?" And it was kind of a timing thing because, prior to that all the comedy roles that guys like Bill Murray and Eddie Murphy introduced, the most popular comedy roles, were smart-aleck guys who knew more than everyone else.  They were never dumb guys, they were smart, funny and so when we came up with the concept of 'Dumb and Dumber' it was hard to get it off the ground.
Then once it worked you had a bunch of people saying "OK, well I would be willing to play that kind of character too now." I think right now it is harder to make people laugh but there is always the opportunity - you just have to think about it in a way that nobody else is thinking about it.
IFTN: You just wrapped production on the set of 'A Hall Pass' with Owen Wilson, how did that go?
BF: Yes, we just wrapped the shooting and we're in the editing room with it now. It went great - and I knock wood as I say that because we never know until it's out. We are definitely pushing the envelope with this one because a lot of the joke in this movie is about marriage – it's basically like the seven year itch concept.
IFTN: The first thing that struck me when I read the synopsis [the film centres around a married couple who give each other permission to have affairs] was how your own wife reacted to the storyline!
BF: [Laughs] Yes, you were very astute there. But what you have to do is reserve judgement until you see the movie because I think we play it from both angles. It sounds like this is something that a guy might be interested in seeing but it's a chick story too. Marriage is a two way street and I think we were successful in capturing the truth from the male and female perspective. 
IFTN: Dare I mention the ongoing plans for your remake of 'The Three Stooges'?
BF: I would say this project has been going on really for about ten years now. We've had this fish on the line and we haven't but able to pull it up into the boat yet. But we will, we're not going to give up on this one, and I think it's what we're going to do next.
The studio that we're working with is very optimistic that we can get Sean Penn to play one of the roles - and they want to put Sean in because his first few roles were very comedic and then he got quite serious. So we think it's a perfect time for him to come back to comedy. We don't always look to work with comedians, we just want to get the best actors we can. So when we do tie Sean down – and we're close – then we'll be able to round up the rest of the cast very easily after that.
IFTN: Finally Bobby, you arrive into Dublin on Tuesday for the Give Me Direction seminar – is there anything over here you're really looking forward to seeing?
BF: I have no pre-conceived notions, I'm just going to enjoy the people and the general atmosphere because, as you might know, we are actually Irish - both my grandparents came off the boat from Ireland - and in fact my brother and I both have dual citizenship. So I'm really looking forward to it – I just don't know how it is I haven't been over before!
Bobby Farrelly is in Dublin to take part in an interview hosted by Lenny Abrahamson (Garage) called 'The Fine Art of Being Dumb' on Thursday, June 17th as part of the Irish Film Board's Script Writing event, Give Me Direction. This will be followed by a special screening of 'Kingpin' at 4.15pm


The event, curated by Abrahamson, Sahron Horgan (Pulling) and Pat McCabe (Breakfast on Pluto) will also see the participation of Nicole Holofcener (Friends with Money), Sam Bain and Jesse Armstrong (Peep Show), Alice Lowe and Jacqueline Wright (Hot Fuzz) and Stephen Woolley (Perrier's Bounty).


For more information about Give me Direction and to buy tickets visit http://www.jdiff.com/index.php/news/story/give_me_direction1/.