| | |
| --- | --- |
| | Recent News Articles |
| | |
| --- | --- |
| | Locations Nearby |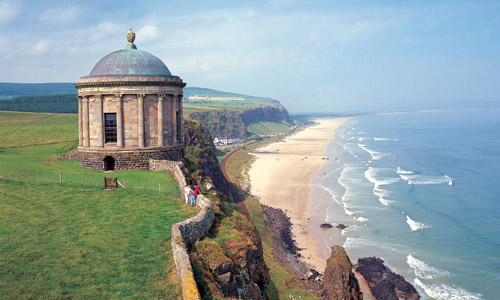 Downhill Beach can be found at the very top of Northern Ireland. Located in Co. Derry, this location is part of a 7 mile stretch of sand and surf offering a wealth of scenic beaches, seasides and cliffside, perfect for potential filming locations.
Situated above the beach and overlooking the Northern Channel, the prominent Mussenden Temple, is one of the most photographed buildings in Northern Ireland. The Temple itself presents an amazing and unique view views North Coast on one side and drawing your eye to the beautiful coastline, which is populated with 18th century ruins perfect for filming.
Accommodation can be found nearby in the town of Castlerock, a small coastal town, which also has pubs & restaurants, for evening leisure. Transport is also available with excellent rail and transport links to Coleraine, Belfast and Dublin.
Downhill Beach is a proven film location, having already featured in the hit TV show, 'Game of Thrones,' as Dragonstone, where the Seven Idols of Westeros were burned, as well as being the location in which Melisandre, flames dancing into the night sky, proclaimed: "For the night is dark and full of terrors."