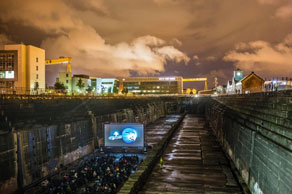 The Belfast Film Festival's activities are entertaining and provocative, and in many instances provide an important platform for debate across the religious, social and cultural divides in Northern Ireland.
The presentation of innovative ways to screen film is one of the festival's specialities. Films have been screened on a boat in the River Lagan, in beautiful historic buildings like St Anne's Cathedral with live piano accompaniment, in unique audio visual collaborations with local talent such as Duke Special and David Holmes, and alongside unique architectural and heritage sites such as a screening of A Night To Remember by the famous Thompson dry dock which was the Titanic's last point on dry land before its maiden voyage.
The Festival promotes film education and practical filmmaking skills and has attracted film industry guests such as John Cusack, Michael Moore, Martin Sheen, Tom Berenger, Peter Mullan, Ciaran Hinds, Albert Maysles, Brid Brennan, Jimmy McGovern, Jim Sheridan, Crispin Glover, Aidan Gillen, Jamie Thraves, Bernard Hill, Kim Longinotto, John Lynch, Margo Harkin, Desmond Bell, Seamus McGarvey, Patricia Quinn, Brendan Gunn, Julie Christie, Brendan Fraser and many others. The Festival showcases both local talent, and the best in new International cinema. Its documentary film competition, The Maysles Brothers Award was launched by documentary legend Albert Maysles in 2006, and its aim is to celebrate the best of new observational documentary work from around the world. The short film competition provides a platform for fledgling film-makers from across the island of Ireland.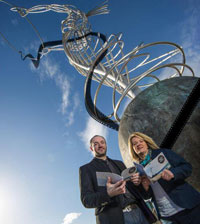 STAFF
Festival Director - Michele Devlin
Festival Programmer - Stephen Hackett
Festival Manager - Vittoria Cafolla
Finance & Administrator - Laura McKeown
Box Office & Guest Liaison Manager - Mary Lindsay
Assistant Programmer/Print Transport - Rose Baker
Maysles Documentary Programmer - Stuart Sloan
Venue Manager - Jason Mills
Festival Technician - Andrew Thomas
BOARD MEMBERS
Kevin Jackson

(Festival

Chairperson)
Brian Henry Martin

Louise O'Meara

Mark Cousins

Laurence McKeown

Sarah Jones

Cahal McLaughlin

PATRONS
Stephen Rea
David Holmes
Terry George
Pat Murphy
William Crawley

Connect with The
Belfast

Film Festival
---