IFTA winning and BAFTA nominated Irish writer/director Aisling Walsh is known for her unflinching honest portrayals of a Catholic Irish society in 'Song for a Raggy Boy' and 'Sinners' as well as her impressive TV credits including the BBC mini-series 'Fingersmith', RTÉ drama 'Damage' and psychological thriller feature film 'The Daisy Chain'.
IFTN recently caught up with Walsh ahead of her upcoming workshop at the Belfast Cinemagic Festival where she will tutor young filmmakers on writing and directing for film.
Hi Aisling, so what will you be doing at the Cinemagic festival this year?
I'm doing a writing and directing workshop, it is a day long workshop. It's a couple of years since I've done a workshop and I like doing them. Hopefully people get something out of it and generally I end up learning quite a lot about myself and where I'm at. You also get a different view on things from people that are just starting out and who have an extraordinary passion for film. Hopefully they gain something from your experience and you do from them. After working in the industry for a length of time, and having gained experience, I think it is important to share this information with the next lot of people coming along.
Looking at your back catalogue, there are a lot of darker films including 'Sinners' and 'Song For a Raggy Boy', I imagine these are films which might be hard to make, being subjects that financiers might be more reluctant to touch?
Yes they are. That is why I think there are such long gaps between some of my films. It takes probably somewhere between five and ten years to raise the money to make a film. So after 'Raggy' there was quite a gap. I am developing things all the time.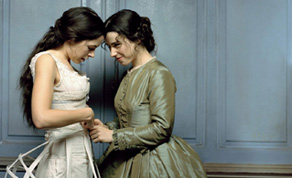 Fingersmith
Why do you think you are drawn to these darker topics?
I think it is the outsider stories that I'm drawn to. Stories about individuals that are on the outside and haven't got the voice that someone could give them. If you think of 'Raggy', and you think of 'Sinners', a lot of the work has been about outsiders trying to survive or trying to find their way in to a group or an existing institution or to fight that system.
When you are broaching 'true' topics, do you feel obliged to make them as historically accurate as possible?
Yes, but you've also got to come to terms with the fact that you're making drama. And that it is not a documentary, but it is a drama film that people have to engage with emotionally. So you try to tell the story in the truest way that you can, while taking into account that it is a drama and must emotionally move audiences. There is a big difference between this sort of drama and documentary. If you think of 'Raggy Boy', which is based on that lovely novel of Patrick Galvan's - we based it on that novel and moved out from there to tell that story. Also with this dark subject matter, (the same with the Magdalene Laundries) you get one opportunity to tell the story and you want to tell it in the best way that you can.
Would you ever consider a comedy?
I would if I thought it was the right thing. If I understood it and I felt that I could pull it off. It isn't very hard for me to go to dark bleak places, it is where my natural home is in a way, it is where I started and a lot of it comes from when I painted. And I still paint, I paint portraits of people. And in looking at people, I tend to look for the kind of darker, edgier places.
You studied fine art at college before going to film school, do you think this has influenced your film work?
Completely, as I said my interest in people and displaying their stories in a way came from my painting. It was also when studying art that I was introduced to film and filmmaking. I went when to study art when I was sixteen and they said they would take me for a year and if I was mature enough they would keep me, which they did! So I studied fine art, painting, drawing and print-making. In a night class, which started out as a film appreciation class, we watched films. And then a group of us thought that we might like to make a film. That is how it started. Four or five of us made films and then two of us ended up changing our course in life and actually studying film.
Do you think training is essential for aspiring filmmakers?
It depends. I don't think it is essential if you are passionate about it. In many ways now it is easier to maker films, in regards to technical equipment. You can go out and shoot on something like RED or even on your mobile phone. So you can learn by trying things and making mistakes. When I came into the industry, there was less opportunity to make those mistakes because it could be very expensive. For me, the training has definitely informed my filmmaking and also how I work with people.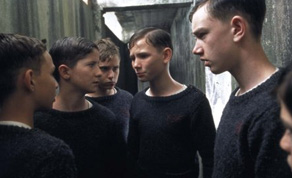 Song for a Raggy Boy
You've written some screenplays (Damage, Song For a Raggy Boy, Joyriders), is it easier to work with material that you have written or co-written rather than to direct someone else's script?
It is more difficult to direct someone else's script. You have to get your head into how the writer has written it and their point of view. I think there are three chances to make a film: You write it, you direct it and then you edit it, and all these can change the whole essence of the film.
If I am directing another writer's work, I have huge respect for that. I would have long and many conversations with them to make sure I understand it fully. When I am directing something I've written myself then I have much more freedom. I know where the material started and I have the freedom to change and adjust it.
For example, I did a BBC4 film last year, an adaptation of a novel called 'Room at the Top', written by Amanda Coe. In this case, it was originally a novel, then there was her screenplay and then there was me directing. It was quite an interesting process. It was very collaborative and I like that kind of collaboration.
'Room at the Top' was completed but never aired on BBC, due to a rights issue regarding the adaptation of the novel. This must have been incredibly disappointing...
It was hell. That was nine months work not only for me, but for the cast and all the crew. Because the film was made on a very low budget, we really pulled out everything we had to make it. To have it pulled three or four days before it goes out, when it has already been reviewed by the press, was hugely disappointing. It has effected how I feel about projects at the moment. It is tough, but you go on.
You've done a mixture of Television and Film work; do you have a preference for one over the other?
No. They are the same to me. For me it is all film-making. Television is a really powerful medium; you might have millions watching any one scene. I remember when 'Sinners' went out, we had a massive response. They had a phone line open for two weeks and we were getting numerous calls a day. And then for film, for example 'Raggy Boy', also had a huge impact on me. Ultimately it is about the film that you make, and they are all films.
You have worked with a lot of children in your work and have often cast children with no acting experience (Song for a Raggy Boy, The Daisy Chain), why is this?
For both films, I saw a lot of children that would have done a bit of acting. The first thing I realised is that I had to lower the age of children I was looking for. With 'Raggy', they were written for a certain age, but we had to drop it because you realise at 15 they were like young men. They weren't so vulnerable. Children also came in to 'Raggy' looking modern, well fed and looked after. Because it was a period piece, we were looking for something else. I thought if we starting looking in youth clubs and boxing clubs, we might get a slightly tougher kind of kid, which is what we did. Of course those children hadn't acted but a lot of them had boxed and had a discipline. The filming process can be very long and dull for kids so discipline is important.
With 'The Daisy Chain', Mhaire Anderson is really on her own as she is the only child in the piece. But she had the concentration to do it and none of the baggage of theatre school. She was just new and fresh. I saw a huge number of kids for that part and I somehow felt that she was the right child. It is a very personal thing. They have to like and trust you to be able to work well. Once they understand the story, children are incredibly adaptable and they can lose themselves in fiction.
Can you tell us about any new projects you are working on?
I'm working on about five films at the moment, one of which is the story of a female painter whose life I am really interested in. The story will be told through about 12 of her paintings.
Another project I want to make is more experimental. I want to work with about ten or 12 actors in a simple way. Maybe we will just use one location and use improvisation a lot.
I'm working on about five projects and they take a long time, so hopefully one of them will happen in the next year.
The Belfast Cinemagic Film Festival will take place from the 16th November –December 2nd. Aisling Walsh's Writing and Directing for Film Workshop will take place on Friday December 2nd from 10.00am - 4.00pm and costs £25. For more information on the festival programme and workshops visit www.cinemagic.org.uk