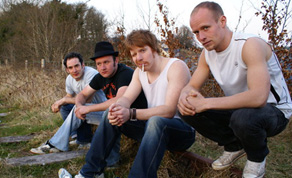 Hardy Bucks The Movie in the works
Recipients of the latest funding loans from the Irish Film Board (IFB) have been announced. A grand total of €2,660,317 was awarded to 47 projects overall.
Among the many funding highlights is writer-director John Michael McDonagh's 'Calvary', which has been given a provisional offer of commitment from the IFB. It has already been confirmed Brendan Gleeson, who starred in McDonagh's previous box office hit 'The Guard', will play the lead, while 'Bridesmaids' star Chris O'Dowd, Aiden Gillen (Game of Thrones) and David Wilmot (The Guard) also feature. Octagon Films will oversee the production for McDonagh's second feature film.
In the fictional international production category, Michael Hirst epic 'Vikings', which is due to begin filming in Ireland this month, was awarded €250,000. Morgan O'Sullivan will produce the 10-part series for World 2000 Productions, which previously brought 'The Tudors' and 'Camelot' to the small screen.
€175,000 of the total €2,250,000 awarded in production loans will see mockumentary 'Hardy Bucks; The Movie' come to life. Mike Cockayne is set to direct the feature film as well as contribute to the script with series' writers Chris Tordoff, Martin Maloney and Gerry Greaney. Hardy Films Ltd will oversee the production.
The only animation to receive a production loan was Double Z Productions' 'Zig & Zag', written by the company's founders Ciarán Morrison and Mick O'Hara, also the masters behind puppet-led 'The Podge & Rodge Show'. 'Zig & Zag' will be directed by Joel Simon.
Venom Films received €150,000 for the Ken Wardrop-directed documentary 'Men in Uniform'. The documentary is a series of interviews with men who wear a uniform for a living, focusing on gender identity. Andrew Freedman (Kelly + Victor) produces the documentary which is set in America.
In development loans, a total of €298,000 was awarded to 16 different projects. Among the development loan recipients are IFTA Award-winner Pat Collins and his wife Sharon Wholley for 'The Song of Granite'. They received €16,000 in a first draft loan.
In the fictional development category Parallel Films' production 'Star of the Sea' received €5,000, with John Crowley (Intermission) taking the director's seat and Mark O'Rowe (Perrier's Bounty) penning the screenplay.
A total of €112,317 was awarded to nine projects in distribution loans. Thaddeus O'Sullivan-directed 'Stella Day's' received €30,000 for marketing purposes, while Paolo Sorrentino-directed 'This Must Be the Place' received €35,000. Both features are currently showing in cinemas nationwide.
Feature film 'A Kiss for Jed' was awarded €10,000 for direct distribution. Maurice Linnane directed the Barry Devlin-written drama, while Ignition Films produced. 'A Kiss for Jed' has just announced a nationwide cinema release date for 18 May.
For a full list of recipients of the latest round of funding from IFB, see the table below or visit the IFB Website.
Production Loans:
Project
Director
Writer
Production Co.
Funding
Fiction Feature Films
Calvary
John Michael McDonagh
John Michael McDonagh
Octagon Films
Provisional Offer of Commitment
Hardy Bucks: The Movie
Mike Cockayne
Mike Cockayne, Chris Tordoff, Martin Maloney & Gerry Greaney
Hardy Films Ltd
€175,000
Moscow Never Sleeps
Johnny O'Reilly
Johnny O'Reilly
Blinder Films
€275,000
An Bronntanas / The Gift
Tom Collins
Tom Collins, Paul Walker & Eoghan McNamee
ROSG & DeFacto Films
€300,000
Fiction Creative Co-Production
Strangerland
Kim Farrant
Fiona Seres
Fastnet Films
€250,000
Stay
Wiebke Von Carolsfeld
Wiebke Von Carolsfeld
Samson Films
€300,000
Fiction International Production
Vikings
Michael Hirst
World 2000 Productions
€250,000
Animation
Zig & Zag
Joel Simon
Ciaran Morrison & Mick O'Hara
Double Z Productions
€150,000
Documentary
Men In Uniform
Ken Wardrop
Venom Limited
€150,000
Showrunners
Des Doyle
Black Sheep Productions
€55,000
Under The Hood
Mark Byrne & Robert Dennis
Planet Korda Pictures
€50,000
The Land Of The Enlightened
Peter Van De Pue
Fastnet Films
€50,000
Neal MacGregor
Neasa Ní Chianáin
Soilsiú Films
€50,000
Three Men Go To War
Kim Bartley
Crossing The Line Films
€100,000
Silence In The House Of God
Alex Gibney
Below The Radar Productions
€50,000
Completion Fund
Me And Me Dad
Katrine Boorman
Colourframe Limited
€15,000
First Stage Documentary
The Children Of Humla
Neasa Ní Chianáin
Soilsiú Films
€5,000
Sculpting Space
Catherine Owens
NDN Productions
€15,000
Moscow Tabloid
Michael Doyle & John Murray
Cutstone Productions
€10,000
See You At The Pictures
Jeremiah Cullinane
Planet Korda Pictures
€5,000
Blood Sisters 2
Malin Andersson
Solas Productions
€5,000
Born John Burke, Died Muhammed Omar
Ross McDonnell
Fastnet Films
€10,000
Development Loans:
Project
Director
Writer
Production Co.
Funding
First Draft Loans
Luka Pooka
Gary O'Neill
Richard Hansom
€16,000
The Song Of Granite
Pat Collins
Pat Collins & Sharon Wholley
€16,000
The Complication
Ian Power
Ian Power & Dylan Cotter
€16,000
Monto
Ciaran Morrison & Mick O'Hara
€16,000
Fiction Development Loans
Dubliners
multiple
multiple
Fastnet Films
Provisional Offer of Commitment
It's About Girls
Gavin Burke
Black Sheep Productions
€16,000
Procreate, Generate
Adam Rynne
Blinder Films
€23,000
Star Of The Sea
John Crowley
Mark O'Rowe
Parallel Film Productions
€5,000
Beach Slap
Aisling Bea
Grand Pictures
€15,000
The Rewrite
Peter McDonald
Peter McDonal
Treasure Entertainment
€20,000
Olagón
Darach Mac Con Iomaire
Darach Mac Con Iomaire
Magamedia
€19,000
Perfect Weather To Fly
Rory Bresnihan
Rory Bresnihan
Subotica Limited
€16,000
Boy Raccer
Steph Green
Ailbhe Keogan
Subotica Limited
€28,000
Cú Chulainn: The Sacred Island
Gary Shore
Jonathan Ware & Garan Ware
Darini Films
€50,000
International Development
Life Of Crime
Declan Croughan
Octagon Films
€23,500
Taboo
Tom Farrelly
Octagon Films
€18,500

Distribution Loans:
Project
Director
Writer
Production Co.
Funding
Print Provision
Joy
Colm Quinn
Com Quinn
Venom Limited
€2,020
Nouakcott Rocks
Moira Tierney
Moira Tierney
€3,297
Dollhouse
Kirsten Sheridan
Kirsten Sheridan
Warehouse Pictures
$5,000
Citadel
Ciaran Foy
Ciaran Foy
Blinder Films
$7,000
Babyface
Macdara Vallely
Macdara Vallely
Samson Films
$5,000
Marketing Support
Stella Days
Thaddeus O'Sullivan
Antoine O'Flatharta
Eclipse Distribution
€30,000
This Must Be The Place
Paolo Sorrentino
Paolo Sorrentino
Element Distribution
€35,000
Direct Distribution
The Other Side Of Sleep
Rebecca Daly
Rebecca Daly & Glenn Montgomery
Fastnet Films
€15,000
A Kiss For Jed Wood
Maurice Linnane
Barry Devlin
Ignition Film Productions
€10,000