Northern Irish sound mixers Ronan Hill and Mervyn Moore each picked up a Creative Emmy Award last weekend for their work on HBO fantasy adventure 'Game of Thrones'. Speaking to the BBC after their win, both men described their surprise and delight at the win:
"When we went in we didn't think we had much of a chance of winning so when we did, it was absolutely wonderful," said Moore. "It was fantastic night and it made it all the better that we won. I don't event really remember what happened or who gave us the award, I was in such shock," added Hill.
After the ceremony, both men took in the LA atmosphere: "We went to a ball after and rounded off the night by having a trip round Hollywood and walking on the famous stars," said Hill. "Everyone gets their own award so I'm looking forward to bringing it back home, but I'm not entirely sure how I'm going to get it on the plane," said Moore.
IFTN caught up with the award-winning duo ahead of their LA trip, to talk Emmy competition, team work, and what it's really like working on one of the most successful television series of the moment.
Congratulations on winning the Creative Arts Emmy for Outstanding Sound Mix for a Comedy or Drama Series for 'Game of Thrones' at the weekend. Did you attend the ceremony?
Ronan Hill: I was given two days off work ('Game of Thrones' season 3) to attend
Mervyn Moore: We went to the awards with our wives.
What is working on a huge HBO production like 'Game of Thrones' like?
RH: I am over half way through my third season as the production sound mixer on 'Game of Thrones'. The show, which is primarily shot in Northern Ireland, has a lot of remote and hard to get to locations which we shoot in all conditions. Season 1 saw temperatures of -17º C and season 2 a hurricane. Every day is an adventure in sound.
On season 2, Dragon Crew spent the vast majority of its time on the road. We travelled to new locations on the North Coast a few miles from where I was brought up in Ballycastle and although the days could be long and the weather punishing, it felt great to work on such a big show and still be able to get home at night. It really is having your cake and eating it.
MM: The basics of what we do don't change regardless of the scale of the production however the pressure to get it right is immense.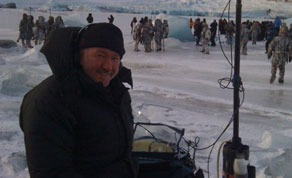 Mervyn Moore on the set of 'Game of Thrones'
Talk me through your roles as sound mixers.
RH: As production sound mixer on 'Game of Thrones', your primary role is to mix and record dialogue and where possible clean fx and atmos. This is always a challenge due to environmental conditions and with the best efforts of all departments you are always trying to ensure the noise the production itself makes is kept to a minimum.
MM: Our job is primarily to record as cleanly as possible the dialogue and all audio on the set to provide the dubbing mixers with the material they need in the post production process.
You have worked together before on Steve McQueen's 'Hunger', was it a coincidence that you both ended up working together on 'Game of Thrones'?
RH: I was delighted when Mervyn was appointed Production Sound Mixer on Wolf unit for season 2. I first worked with Mervyn many years ago. I think we both have a similar attitude towards work and strive to achieve the best results from any given situation.
MM: Ronan's late father Patsy was a good friend and a freelance cameraman so I have known Ronan since his schooldays. In my first jobs as a recordist I asked Ronan to swing boom for me so I guess we know each other pretty well. That and NI is a small place so it's not surprising that our professional lives our paths should cross.
Do you have a certain way of working together as team now?
RH: On neither production were we ever on the same set at the same time. I think it is more that we both work in a similar way so the material can be cut together without any glaring disparity.
Has the fact that the series is based on novels helped your role as sound mixers, as there's already a guide to work from in addition to the script?
MM: As a recordist all that really matters is what is in front of the cameras what or who are they seeing and how can we cover it.
How involved are producers Frank Doelger & Bernie Caulfield in the sound side of production?
RH: They are both very interested in helping to achieve good production sound.
MM: No they leave it to the post production team.
Ronan, you worked on the first season of 'Game of Thrones' too, how has the second season differed?
RH: Between season 1 and season 2 and with the help of Northern Ireland Screen, investment was found to improve the Paint Hall studios, which are metal clad aircraft hangar sized cells, originally used for painting ships. Acoustic drapes were fitted to the four cells. This reduced reverb time from four seconds to one second, but this was only stage one as far as I was concerned.
I am delighted that for season 3 the construction of two new sound stages has been completed, adjacent to the four paint hall cells. 'Game of Thrones' post producer, Greg Spence, championed our cause and encouraged a more sound-friendly set. Dragon is a great crew, with a large amount of local talent and with the cooperation and help of all departments a real difference was made. There are still going to be issues to try and resolve, such as locations which were on the flight path on season 1 still being on the flight path on season 2.
If you both return for season three, what do you hope to achieve with a new season that you haven't already with season two?
MM: One season was enough for me it is a big commitment.