Rupert Wyatt's 'The Escapist', shot on location in Ireland, opens in Irish cinemas on Friday 20th June. IFTN caught up with the film's star, Emmy award winning actor Brian Cox, to talk shooting in Ireland, hectic schedules and why he thinks acting is child's play.
"Rupert handed the script to me and I was blown away by it - I thought this is the sort of role I've been longing to play all my life". So says Brian Cox of his latest role, that of lifer Frank Perry in Rupert Wyatt's tense prison escape thriller 'The Escapist'. The veteran actor takes the lead in the low-budget drama that features a strong supporting cast of Liam Cunningham (Anner House, Showbands), Joseph Fiennes (Shakespeare in Love, Elizabeth), Damien Lewis (The Forsyte Sage, Stormbreaker), Steven Macintosh (Small Engine Repair, Underworld: Evolution), Dominic Cooper (The History Boys, Starter for 10) and Brazilian actor Sue Jorge (Carmo, Elipsis).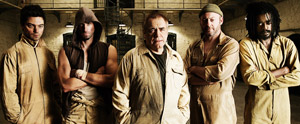 Cooper, Fiennes, Cox, Cunningham and Jorge
The film, co-produced by Dublin's Parallel Film and London's Picture Farm, shot over 26 days on location in Dublin in February 2007, with interiors filmed in historic Kilmainham jail. The film sees Cox's character hatch an ingenious plan to break out of the prison that has been his home for 12 years. The action begins when Perry discovers his estranged daughter has fallen ill and, spurred on by the small photo of her he carries in his pocket, he recruits a band of misfit inmates to help him in his bid for freedom. This was Cox's second collaboration with Wyatt, having previously starred in his short film 'Get the Picture'.
"I was in at the genesis of the project," says Cox. "On 'Get the Picture' we worked under the most appalling circumstances - I had the flu; we were supposed to be filming in warm, sun-drenched Kabul, but were actually filming in damp, wet Hackney and Rupert's first assistant had to leave the project. But he still did a remarkable job. I saw the final film and I thought 'Oh my god this boy is amazing'."
Cut to one year later and Wyatt arrived at Cox's LA home with a feature film in mind. Cox asked him to write a script with a 'strong central character' he could play and three weeks later Wyatt returned with the first draft of 'The Escapist'. Cox came on board immediately.
"It had the quintessence of not only a great movie but a great movie role," he says. "Perry is the anti-hero, the guy below the radar. He's a man in torment. One of the great dramatic themes, especially when you get to my age, is the notion of redemption and trying to make sense of your life. Life seems so haphazard, so anarchic, so full of disappointments and tragedies, but here was man who was owning up to his mistakes."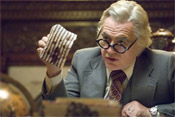 Brian Cox in Zodiac
The Scottish born actor's formidable acting talent came to the world's attention in the role of the flesh eating Hannibal Lecktor in Michael Mann's 1986 classic 'Manhunter'. He has gone on to become on of the most sought after character actors in Hollywood, sharing screen time with stars including Matt Damon, Brad Pitt, Gwyneth Paltrow, Jake Gyllenhaal and Joan Allen. Cox's undoubted talent has seen him take on weighty roles such as Argyle Wallace in Mel Gibson's 'Braveheart', famed attorney Melvin Belli in 'Zodiac' and Agamemnon in Wolfgang Petersen's ' Troy'.
Cox has built a career in supporting roles, often playing second fiddle to many of Hollywood's young hotshots. Not so in 'The Escapist', where Cox's talent is firmly to the fore in the role of stoic Perry.
"I've done a lot of cameos, I've spent my career doing cameos and I don't mind it, I rather like it in fact," he muses. "When I went to America in the first place I made the decision that's what I would do. But after a while I started thinking….well, I used to be a leading actor in the theatre and I'd like to do something where I'm not sitting on the substitute bench ready to go and play a great defence game in the last ten minutes of the movie."
Cox had such faith in the project and in Wyatt that he lent his name as executive producer and he was determined the script would stay true to Wyatt's original vision.
"I saw myself as the keeper of the grail," he says. "When I read the script I knew that Rupert was going to get notes and everyone would have an opinion, but my job was to keep him to his original idea and not be impeded that way."
This is Cox's third time filming in Ireland, having previously appeared in Jim Sheridan's 'The Boxer' and Conor McPherson's 'Saltwater'. The actor shines as the soft spoken, restrained Perry who Cox chose to play with a Northern Irish lilt. He believes the Irish connection was an integral part of the Perry's story.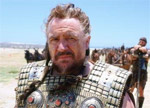 Brian Cox in Troy
"It was an intuitive thing about Northern Irish accent," he says. "There's something about the Irish thing of having to dissemble, about hiding something else, a passion. It was important that the audience never knew where the man was coming from. And the whole melancholy thing, that is wholly Irish too.
"In fact my family originally come from the North, way back - our roots are all in Enniskillen. I recently got my DNA done and was told my DNA was unbroken for 3,500 years or something! My Irish ancestor is this man called Niall of the Nine Hostages, he is the progenitor of the O'Neill family."
The thespian has won numerous accolades for his acting talent – an Emmy for his role in mini-series 'Nuremburg', which also garnered him a Golden Globe nomination, and two Olivier Awards for his theatre work in 'Rat in the Skull' and 'Titus Andronicus'. So what is Cox's secret to getting under his characters' skin so completely?
"I just pretend," he says simply. "I don't use any methodology. I once had a great acting teacher who always said 'Look at children, children never question what they do and they never describe what they do, they just do it.' I look at my little four year old boy and his fantasy world and it's so beguiling and so wonderful because he has this complete relationship with his imagination which is untrammelled. The play element is so strong in children and it's that that has been my rule of thumb as an actor - just to play.
I used to do it when I was a boy living in the east coast of Scotland where it was always raining. We would play indoors and pretend to be airplanes flying around the room. That was the power of the imagination."
The film's tight budget meant there was no cash for the luxury of stunt men on set, so Cox was obliged to shoot some physically challenging scenes, swimming through gushing water and climbing through narrow crevices as the prisoners make their way through London's underground tunnels. But he doesn't complain. "I did all my stunts. That was the deal, we had to commit to that and there was no way around it." There was a point, however, when he thought the film wasn't going to reach the finishing line.
"We had our problems with things that we had to re-shoot, schedules were going crazy and I thought we weren't going to make it. We were into the last third of the movie and we'd hit a hump. But a turning point for me was when we came to Rupert's stage direction 'They run through the dark and they hit a wall and they can't go beyond it. Something crumbles in the wall next to them and they dig a tunnel'.
"We had these little bit of pipes and we began hitting the wall. I looked at my fellow actors and the intensity and the commitment of those five individuals was incredibly moving, we were all playing the same game and it reminded me of playing as a kid in my living room in waterlogged Dundee. It was the same level of intensity and commitment and it's just wonderful that in sixty years that doesn't change."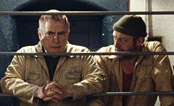 With co-star Liam Cunningham
With a hectic shoot of just 26 days, the all male cast had no time for egos or star treatment. They threw themselves into the project, and developed camaraderie as they worked towards the final goal.
"My relationship with the actors was great. I love actors, we have a kind of unspoken understanding of what our job is and the better they are in many ways the more unspoken it is. I love Liam Cunningham, Mr ADD! He's great. Again, Liam was the guy that I looked at that moment and I saw his commitment and you can't weigh something like that."
"The schedule was crazy, but it was great. I'm convinced we could have only made it here. We had a very good producer, Alan Moloney. He's fiscally very good, he doesn't mess around because we hadn't got the money for that. And Rupert, he just rose to the mark. He made the movie for what it was and at the end of the day it was priceless."
With a career that now spans over forty years and has seen him win critical acclaim on stage, in film and television, does Cox have any acting ambitions left?
"I want to do some more light hearted stuff," he smiles. "There's room for more roles like this one, but I think maybe it's time for some comedies!"
'The Escapist' is financed by the UK Film Council and the Irish Film Board with Goalpost Film handling international sales.
'The Escapist' opens in selected Irish cinemas on Friday 20th June 2008.