New Irish language drama series 'Seacht', set in a performing arts college, kicked off last Monday, January 7th at 10pm on TG4. IFTN caught up with the programme's producer, Ferdia MacAnna (author of novel 'Last of the High Kings') to find out how the series came about.
Directed by Robert Quinn, 'Seacht' follows the emotional highs and lows of seven first year students in a performing arts academy. With a budget in excess of €1 million euro, the series was shot on location in Queens University, Belfast, in July and August 2007.
The cast features a host of young actors including Linda Breathnach (The Running Mate, Ros na Rún), Diarmaid Murtagh (The Roaring Twenties), Eoghan Mc Dermott, Andrew Kavanagh, Neasa Ni Chunnaigh, Alanah Henderson, Aoife Nic Ardghail as well as Charlotte Bradley (About Adam). The eight part series is financed by the IFB, Northern Ireland Screen, BCI and TG4.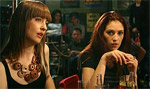 Seacht
DOP on the series was Tim Flemming (Once, Pavee Lackeen), production designer was Nicola Moroney (Speed Dating, The Last Furlong), with costume designer Joan Chapple and make-up artist Claire Chapple.
How did the idea for the series come about?
The idea came from Orla King at EO Teilifis, and writer Anne Learmont (Trí Sceal, Ros na Rún) began to work on it. She is the senior story editor on 'Ros na Rún'. She was so busy she couldn't write it so we recruited a bunch of writers, some of them new, but most had done soap or they'd done dramas. One of the main briefs behind the whole procedure was to bring as many voices and new faces in as possible, and create a new vibe if we could on a series that would be fun to watch and wouldn't be condescending. We wanted to create something different, something people hadn't seen before.
Was the series long in development?
It was developed by Tyrone Productions over the last few years with Anne Learmont and it started as a workshop. It was originally intended to be a co-production between Scots Gallic Television, Tyrone Productions and Stirling Productions in Belfast. That's where it came from. So over a number of years various workshops happened, but we didn't seem to make a huge amount of progress until just after Christmas last year when it began to pick up speed.
Scots Gallic TV pulled out in the end so it became a joint production between Tyrone and Stirling and I came on board in April of last year.
Many of the cast of 'Seacht' are newcomers. How did you find the cast for the series?
We had open auditions – a bunch in Dublin, Cork, Galway, Donegal and two sessions in Belfast and Donegal. We needed fluent Irish speakers. Also, the brief was for a new eight-part series that would appeal to young adults and that reflected some aspect of their lives - something fresh that you hadn't seen before basically. We needed actors that were new to television, and of the seven main cast that are in 'Seacht', five are newcomers.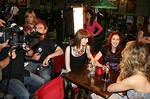 Filming Seacht
What age group is the show aimed at?
We were aiming the series at young adults, it goes out post watershed on a Monday so it's for people who aren't afraid of the more graphic things in life! The whole point was that we wanted to pack in a lot of emotional clout in half an hour, we are really dealing with the emotional lives of these young people in their fictional performing arts college.
Do the actors break out into random song and dance, a la 'Fame'?
No it is much more realistic than that. There are performances but they're part of the story, and there's dance and music. Most of the seven actors were musically proficient or could sing or dance. Eoghan McDermott who plays Pete is a trained dancer; Allanah Henderson who plays Caroline is a cellist, and is studying music at the moment; Andrew Kavanagh, who plays Decko is in a band in Dublin.
Eoghan McDermott
We spent a long time trawling the country to find the cast - the auditions attracted 500 people, and we spent a lot of time workshopping the actors. Robert Quinn, the director, workshopped the actors in the IADT this summer before we came up to Belfast.
What is the main storyline of the series?
Well the series takes place over one term in college.One of the themes follows DJ Pete, who is a nice, well meaning stoner, but he can't get his act together enough to get off with Eithne, who he is in love with and everything he does he puts his foot in it. That's one of the main storylines, will he ever get it together with Eithne without making a mess of things!
The other theme is that there is a prize on offer for one student if they do well in their first year performing arts, a scholarship with a West End Theatre for three months. That's one of the big things that they want to get their hands on, especially Joanne, who is the Paris Hilton of the group. She is having an affair with a lecturer. She basically has a very conscience free approach to every aspect in life, and also has her mammy's credit card to pay for everything. She has a great time!
Do you think it will appeal to non-Irish speakers?
It is subtitled and there is a lot going on so I think it will appeal to non Irish speakers. It has a different look to many drama series as we shot the whole thing hand held, we only used one shot on sticks in the whole seven weeks. It was a magnificent war against tradition in that we were able to give it an almost mockumentary style and it worked really well.
Are you planning a second series?
We'll have to wait and see how things go anyway, but the idea of it was to have a returning series.
'Seacht' airs on TG4, Monday nights, at 10pm, and repeated at 23.40 on Saturday nights.