Last Hijack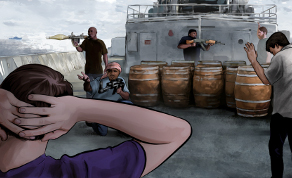 82 mins
Completed
YEAR: 2012
DIRECTOR: Tommy Pallotta Femke Wolting
WRITER:

PRODUCTION COMPANY: Still Films Submarine Films Savage Films Razor Films

PRODUCER: Femke Wolting Bruno Felix Nicky Gogan

CAST: Mohamed Ahmed Yusuf Francis Kadima Noor Ahmed Farah AbdiFatah Omar Geeddi

LOCATION:

EDITOR: Edgar Burcksen
DOP:
COSTUME DESIGN:
PRODUCTION DESIGN:
HAIR/MAKEUP:
SOUND:
MUSIC: Kreidler

« Go back
The Last Hijack follows the life of Mohamed, an experienced Somali pirate, as he assembles his team to conduct his final hijack. Increasing pressure from his family and future wife to quit an increasingly dangerous profession provide the backdrop for this dramatic tale about survival in a failed state. The Last Hijack is a feature length documentary that blends animation and live action footage to offer a unique window to the dangerous world of Somali piracy. A transmedia internet experience offers an extended insight to the history of conflict and different perspectives.