Taken Down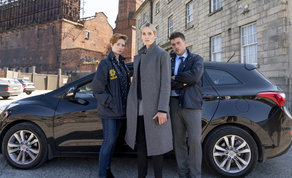 TV Series
Completed
YEAR: 2018
DIRECTOR: David Caffrey
WRITER: Jo Spain Stuart Carolan

PRODUCTION COMPANY: RTE Spiral Productions

PRODUCER: Stuart Carolan Suzanne McAuley

CAST: Lynn Rafferty Brian Gleeson Aïssa Maïga Slimane Dazi

LOCATION: Dublin, Ireland

EDITOR:
DOP: Cathal Watters
COSTUME DESIGN:
PRODUCTION DESIGN: Louise Mathews
HAIR/MAKEUP: Linda Gannon, Liz Byrne
SOUND: Dominic Lawrence
MUSIC: Ray Harman

« Go back
Synopsis
Taken Down is a crime drama series set in Dublin. The first series investigates the violent death of a young Nigerian migrant found abandoned close to a Direct Provision Centre, where refugees await the hope of asylum. The investigation brings us into a twilight world of the new Ireland where slum landlords and criminals prey on the vulnerable.