Michael Fassbender is at once one of the busiest Irish actors around and yet also one of our most laid back exports. IFTN recently caught up with the 'Centurion' actor to discuss his evolving approach to acting ("Evolving or de-volving?" as he puts it), fake body parts and using Judi Dench for her gold dust.
It was his indulgently George Sanders style portrayal of Lt. Archie Hicox in Quentin Tarantino's 'Inglourious Basterds' that brought to an international audience the acting chops of one Michael Fassbender. However, the German-Irish actor had long before been lauded by European audiences - his role as Bobby Sands in Steve Mc Queen's 'Hunger' alone led to the conferral of several fireplaces' worth of awards such as a Best Actor IFTA, a British Independent Film Award, a London Critics Circle Film Award and a Stockholm Film Festival award along with European Film Award and BAFTA rising star nominations.
Michael has also starred in Andrea Arnold's gritty drama 'Fish Tank' and the stylised action movie '300', the upcoming historical epic 'Centurion' (hitting theatres this weekend) and his current project, the period drama 'Jane Eyre'. One has to wonder, is the actor on a mission to try out every film genre there is? "It kind of, sort of, would look that way," he admits with a laugh. "I just really want to try different things and keep myself guessing. I like the idea of trying things that scare me, challenging myself."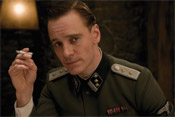 Inglourious Basterds
This current situation comes as a result of the "wonderful problem" that Michael deservedly has nowadays – that of a choice of scripts clamouring for his attention (quite opposed to his former practice of "taking what I can get"). Where his approach to acting is concerned, Michael has been referred to as 'Ireland's Shape Shifter' - in the very literal sense of the word. Having gained pounds of muscle for his roles as Stelios in Zak Snyder's '300' in 2006, Michael famously dropped to a withered-looking 57kg for his lead role in Steve McQueen's 'Hunger' and has beefed up again for Neil Marshall's 'Centurion' where he plays Quintus Dias, leader of the surviving members of Rome's Ninth Legion. Does Michael find that such immense physical preparation helps him in his portrayal of characters or is it a draining distraction? "For Quintus I didn't do a great deal of weights, maybe some free weights just to try and get fit, which I do think helps me focus. It definitely clears the mind and it's something I try and do as of as often as possible," he says. "Apart from that it's often just something the film requires. Obviously with 'Hunger' I had to keep the illusion alive by being skinny at the end because you know what these men went through. Physicality is always important for characters because if you feel like you're even just walking like the character, filling his boots, it sort of travels up through the rest of you. It helps for sure."
Another gruelling factor that came with filming 'Centurion' was the snow. Acres, valleys and mountaintops of pure snow span out across the screen throughout the film. All absolutely gorgeous, to be sure, but surely Michael's acting mettle is tested when performing at sub zero levels? "It wasn't as bad as I thought it was going to be," he decides, after a careful pause. "I always kind of put it in my mind that it would be really horrendous but then it turned out it was a lot of fun. Somebody got minor frost bite on the first day and yeah, it was definitely cold, but I don't think it took us that many more takes to get scenes right. And I got a chance to go to a place like Abbeymore in Scotland - which is absolutely a beautiful place." As for the fact that his ears look painfully purple for a vast majority of the film? "Fake," comes the response. "Those were fake ears." Overly reactive ears – ever an actor's Achilles Heel!
Moving on swiftly to another element of his performance methods, I bring up the topic of accents. Michael's natural speaking voice belies his Hiberno-German upbringing, interspersed with a slightly American twang. This is possibly a key reason behind the fact that Michael rarely uses his own accent in films - in fact, with the exception of 'Eden Lake' in 2008, Michael has never used his own accent. So how did he go about finding an appropriate brogue for a Spartan soldier who has spent most of his adult life in Britain, as is his character, Quintus Dias' back story in 'Centurion'? "I just didn't want it to be very obvious where he was from," he explains, "and I didn't want my own accent. I just wanted to keep it quite neutral. I thought about it a bit and what's interesting is the idea that these people were from all over the place and they got sucked up by the Roman Empire. So I just decided to try and do it as neutral as possible really but also have some of my own accent in there." That said Michael was adamant about his speaking of the Pictish language used in the film, for an unexpected reason. "We had this dialect coach and she said 'This is the correct way', but I said 'Yeah . . . maybe you didn't learn your Gaelic in Ireland'. I had to honour some of the Gaelic especially because the last time I saw my old Irish teacher she said I should be doing something Irish. So I did that for her."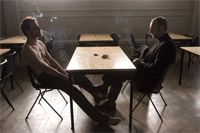 With Liam Cunningham in Hunger
'Centurion' sees Michael reunited with 'Hunger' co-star and fellow Irish thesp Liam Cunningham. Michael explains that having his old friend around helped him enormously: "He's always fantastic to have on set, Liam. It's such a joy to work with him and we are good friends as well. He brings a real sort of practicality to everything you know and we sat down and discussed scenes – a lot. And there's a sense of fun there which is so important – in one scene we're running across the snow and he was carrying so much momentum and running but then he couldn't really stop himself and had a fantastic fall - arse over tit. And I think they left it in the finished piece because it was so natural."
Michael's next project is an adaptation of Charlotte Brontë 'Jane Eyre' where he plays the ill-omened Mr. Rochester opposite Mia Wasikowska's Jane. The period drama, what is seen by many as an actor's rite of passage, is a completely new challenge for Michael – and the portrayal of an iconic fictional character such as Mr. Rochester is not one to be taken lightly. So how does one prepare for such a role, aside from reading the novel? "Not read the novel!" comes the unexpected response. "There is an interesting human being there, bi-polar really. Essentially he is a byronic character with all these facets so it's stuff like that I've concentrated on. And I am in such inspiring company too – Mia is so mature and original and Judi Dench is amazing, obviously. Honestly, you just hope some of the golden dust will fall on your shoulder as she passes by, it's great."
Despite the daily arrival of scripts, the glittering array of statuettes and the applause of critics does Michael still feel the same insecurities as he did when he was just starting out? "Absolutely," he responds, "I always feel pressured to try and get it right. You are always going to be insecure and fearful, that's just why I do as much homework as I can get done. There's a constant feeling that you're only as good as your last meal and obviously some choices aren't going to work and some do but you just have to continue exploring."