Bray based Equipment and Services company to the Film, Television and Media industry, 'The Production Depot', have had a busy year. In recent months their equipment and services have been used on many productions including 'Ondine', 'Perrier's Bounty', 'Father & Son', 'The Take', 'Blackberry Loves U2' and 'The Clinic' to name a few.
Speaking to Managing Director of 'The Production Depot', John Leahy, about their recent busy period and the diverse range of projects which they have collaborated on he said:
"Every project we work on has different equipment requirements and service demands, from decisions on formats, the type of equipment required to achieve certain looks, through to the workflow from the set to the post production. We collaborate with the DOP's and Producers to help them and their Directors reach their goals.
"With the vast range of equipment available this is key to all productions. 'Ondine', which is premiering in the Toronto Film Festival in September, was shot in 35mm. 'The Race', which premiered at this year's Galway Film Fleadh, was shot in Super 16 and the BBC Drama 'George Gently' was shot in HDCAM."
'Perrier's Bounty', which is also premiering at Toronto, 'Sensations', 'Wide Open Spaces', 'The Take', 'Father & Son', 'The Clinic' and RTÉ's recently wrapped 'Pure Mule' were all shot on RED, the latest in high end Digital Camera formats. According to Leahy 'The Take', which was DoP'd buy Owen Mc Polin, was Sky's first HD programme to be transmitted in 1080i.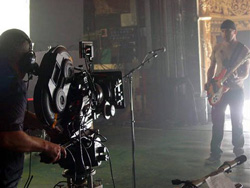 Filming Blackberry Loves U2
Housing a wide range of equipment from 35mm, 16mm, HDCAM, DigiBeta, XDCAM, HDV, 'The Production Depot' also supply a full range of Camera Accessories, Video Playback Equipment, Grip equipment and Stores / Consumables. The Production Depot specialises in researching, developing, promoting and supplying all the latest emerging technologies / formats to the Irish market.
In May last the company introduced a wide new range of products to their portfolio including additional RED Cameras, RED Pro Prime Lens Sets, Sony PMW EX-1's, 16G RED CF Cards, RED 'Mantis' Hand Held Rig's, Steadicam Flyer LE rigs, Sony HXR-MC1P Mini (Lipstick) HD Camera Kits and EASYRIG' Camera support Units.
The Production Depot was recently involved in the production of the latest Blackberry Commercial titled 'Blackberry loves U2'. "The video shot with two ARRI 435 Extreme 35mm cameras in Ardmore Studios, for a day," explains Leahy. "This followed a day of High Speed HD Video being shoot utilising 2 Phantom Cameras .Tom Krueger (U23D) was Director of Photography and the agency was Leo Burnett, Chicago. The Commercial was launched in the States on July 4."

According to John the 'Depot' are busy at the moment with various projects including 'Limits Of Liberty', 'Aisling's Diary', Pop promos, Short Films and Commercials; "there are a lot of projects on the cards waiting for the green light in the coming months. There are projects that were here last year coming back in and we don't envisage this year to be any different or quieter than it was last. The industry itself is in constant recession worldwide but generally it keeps its own during downtimes like this."
Speaking about the service and diverse range of equipment that The Production Depot offers its clients Leahy says: "Unlike a lot of the other larger facility houses we are not limited by equipment types and amounts as we are very much able to 'dip' in and out of formats to suit each specific project. We have a large selection of Cameras including RED Cameras, HDCAM, EX-1's, Z1's and we use other digital and film equipment and we rent from five or six companies worldwide.
"For us it is all about tailoring packages and services for productions as opposed to only being able to give them what's on the shelf. To date, the key thing we find is having a very in-depth relationship with all of our clients as opposed to just providing cameras for a shoot. Productions that we supply are very much collaborations, from the equipment to the work flow right through to the back up service and so on. Here in the Production Depot we are geared up with Apple Mac's for viewing tests, transferring them to Hard Drives and/or burning onto DVD etc. Our Staff here are very IT based."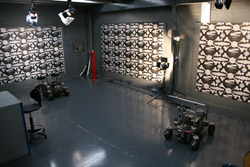 The Depot's Test Area

The company celebrated their 5th birthday in May 2009 and launched a competition where they invited productions and crews to mail in any camera related set photos from productions that used Production Depot equipment, the original closing date for entries was May 31st, however, Leahy says this date has been extended by nearly ten weeks due to the amount of entries they are receiving

"Basically we were upgrading the website, getting into Facebook and setting up a blog and we felt that we did not have a lot of stills of productions. We rarely get enough stills off sets of the cameras in use and in order to collect as many of these we thought we would set up the competition."

The best or most interesting photo will be awarded a prize of €1,500 worth of rental equipment from The Production Depot. To enter the competition simply, send your photo along with the production title and contact details to photos@prodcution-depot.com