With PJ Dillon's 'Rewind' arriving in Irish cinemas on Friday, March 25th IFTN caught up with actor Allen Leech who plays lead character Karl to talk about mixing a sell out stage and screen career, failing to master double declutching for 'Downton Abbey' and becoming more philosophical about acting.
Like the Irish male equivalent of Keira Knightley, Allen Leech is best known for his historical drama roles in projects such as 'The Tudors' and HBO's 'Rome' but he has made some surprising role choices of late, to great acclaim. In Allen's case these alternative roles have seen him take on the flamboyant Vincent Cusack in 'Cowboys and Angels' and a recent turn as the dangerously unhinged Karl in 'Rewind'. The latter, in particular, seems to have been particularly enjoyable: "Yes, I'd normally either play the love interest or something like that," he says. "So playing the guy who still believes he is a love interest when he really isn't was quite interesting!"
Allen began acting professionally at the age of 11 and has since enjoyed roles in features such as 'The Escapist', 'From Time to Time' and 'Man About Dog'. He is also a prominent presence on Irish and UK television screens, acting in long running series such as HBO's 'Rome' and 'Heroes and Villains' alongside 'Legend' and 'Love is the Drug', both of which brought him IFTA acting nominations. His most recent roles are that of Branson in 'Downton Abbey' and Karl in 'Rewind'.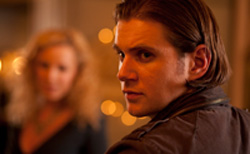 As Karl in Rewind
In 'Rewind', Amy Huberman's Karen, a recovering addict, has forged a new life for herself in a rural town with her husband Brendan, played by Owen McDonnell (Single Handed) and young daughter. This is until Allen's Karl, an old boyfriend, arrives in town out of the blue, bringing with him memories of Karen's shady past, invading and shattering her new idyllic present. Fearful that Karl will jeopardise her family by revealing details about her past, Karen reluctantly agrees to take a trip with Karl to meet another old acquaintance who Karl claims has evidence that could compromise them both. Nothing is as it seems, but the past will be buried one way or another.
Allen's role in the film came about as a result of 'Deep Breaths', a role he had worked on previously with director, PJ Dillon: 'Because I know PJ so well, he just came to me and said 'Look, I know you're a bit weird!"he laughs. "Well not quite, in 'Deep Breaths', I played a character was slightly unhinged so it was like that, Karl goes a little further..." The actor is clearly delighted to have worked twice with PJ: "It was amazing. I've had the opportunity to work with him now as both cameraman and director, so I know him very well. We have a great shorthand in relation to how we speak about stuff – he will tell me as it is if he is not happy with what is going on, which is great."
The 29 year old Dubliner is armed with a B.A. and Masters Degree in Drama and Theatre Studies from Trinity College, Dublin and his theatrical mettle is being tested when we speak where he is both filming the second installment of Julian Fellowes' 'Downton Abbey' and starring in Mike Leigh's sell out play 'Ecstasy'. How does he juggle it all? "Well the play is so naturalistic, because it is Mike Leigh so it's literally like sitting in someone's front room."he explains. "But then again I'm also very lucky that I'm coming back into a recurring character –Branson in Downton is something I've done before – so it's quite easy it is easy enough to pick it up again. And sure I'm playing a belligerent Irish drunkard in 'Ecstacy', so I'm just playing myself!"
Allen is speaking to IFTN having just heard the news that, owing to its sell out success at London's Hapstead Theatre, 'Ecstasy' is now moving to the West End. When we talk to him on the set of the second series of 'Downton Abbey' he has an idea of what the next few months are going to bring: "I'll go straight to the theatre when I finish here today and I think that is just the way it is going to be for the next seven or eight weeks,"he decides, somewhat wearily. "But really, you couldn't be complaining. When I got my call time for today, I thought that they were joking – it was for 5:30am and I only got in from the theatre just before midnight. So I think I'm wearing about half of London's allocation of MAC makeup today and they've definitely run out of Touche Éclat on one eye!"
And so to the phenomenon that is 'Downton Abbey'. Though he can tell us nothing about the storyline for the second series, Allen is happy to talk about one aspect of his role in particular: The driving of the Earl of Grantham's car. " It's got a really difficult clutch and you have to do this thing called double declutching,"Allen starts."I was doing a dialogue scene on one of the last days of filming for series one and I forgot about the double declutching and I left half of the gearbox on the road! So when I came back for this series I was praying to God it would be a new car and maybe a new guy who owned it, but no, unfortunately it was the same guy! When I was introduced to him they said 'You obviously remember Allen' and the guy said 'How could I forget? And that is all he has said to me so far!"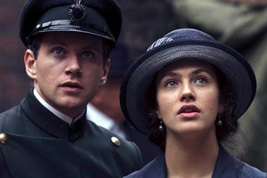 Branson and Lady Sybil
Despite the tight guarding of the storylines, Allen, as the very politically active Branson has been seen chauffeuring Jessica Brown-Findlay as Lady Sybil through the streets of London, far from the stately home of the drama's title. "It kicks off when WWI is well underway. So a bit of time has passed, about two years, and we are coming back in at that point. Maria Doyle Kennedy and Amy Nuttall are joining the cast also." is all Allen is allowed to tell us.
'Downton Abbey' is the second Julian Fellowes production that Allen has worked on, having starred in the writer's previous drama, 'From Time to Time' which Julian also directed. "It's brilliant to be working with him again,"Allen says. "The funny thing is a good couple of us worked on both 'From Time' and now on 'Downton' like Hugh Bonneville and Maggie Smith. And Julian, when he is writing and if he knows you a bit, you'll find that a lot of the stuff is tailored in some way to you, which is lovely."
It has been reported that each episode of 'Downton Abbey' rings in at approximately £1 million to make whilst 'Rewind' is one of three films that came about as a result of the Irish Film Board's Catalyst initiative where a maximum budget of €275,000 was awarded to each project. Somewhat surprisingly Allen would be happier to be involved with a smaller budget project than a large one, in an ideal world. "I'd probably go with the Catalysts,"he says. "Because, in the end, there is something slightly more exciting about it. When you really create something from scratch – and I was in from very early on with 'Rewind', from the very first draft –from that very moment, you're producing something and the very idea of it even getting out there and getting a release is so exciting to me. But obviously if I ever want to own a house I would prefer jobs like 'Downton'!"
With 'Downton Abbey' shooting until July and 'Ecstasy' probably going on in its new West End location until September Allen is going to be kept extremely busy. And he has one plan for his Autumn: "After September, I'll sleep for about three months probably! And after that, I don't know, sure that's the nature of the business."
On a final note I mention a previous interview Allen had with IFTN where he talked about his 'obsession' with acting. I ask him if this has eased off at all or strengthened throughout the years: "I've probably mellowed slightly,"he concedes. " I think when you are quite young you're so ambitious so that it does become a bit of an obsession but then slowly it becomes a profession rather than anything else. You still have the same amount of passion but you have to be slightly more philosophical about it, and just really enjoy it when you're doing it."
'Rewind' will go on nationwide theatrical release on Friday, March 25th. For a full list of cinemas and for screening times visit www.thepastcannotbeerased.ie