Sky has announced details of a new Sky Academy TV Scholarship to be made available on the Masters (MA) in Broadcast Production course offered by The National Film School at the Dun Laoghaire Institute of Art, Design and Technology (IADT) from September.
The scholarship is part of Sky Academy, a set of initiatives which aim to use the power of television, creativity and sport to give up to one million young people in the UK and Ireland opportunities to build their skills and experience. The scholarship will be offered by Sky, supported by The Royal Television Society (RTS), to individuals who may not otherwise have the financial means to support themselves through further study. It is part of Sky's commitment to support and encourage emerging talent at grassroots level.
The MA in Broadcast Production at IADT equips students with the essential production practices to pursue a career in radio and television production, including studio production techniques; editorial and scriptwriting skills; single and multi-camera operation; microphone and sound recording skills; production management; radio and television presentation, production and direction; and editing for radio and television.
Programme lecturers include respected figures from Ireland's broadcast production industry such as Roger Greene, Donald Taylor Black, Bob Corkey, John O'Donovan, and Ferdia Mac Anna, plus guest lectures from professionals such as Larry Bass and Clare Duignan.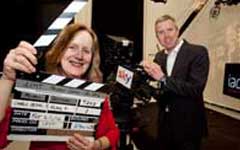 JD Buckley, Managing Director of Sky Ireland and Dr Annie Doona, President of IADT
Managing Director of Sky Ireland, JD Buckley said "Part of our commitment to developing home grown content is about investing in the next generation of production talent. Fundamental to this is ensuring everyone, regardless of background, has the opportunity to get a start in the industry."

As part of the scholarship the student will have their course fees covered and the opportunity for a paid work placement within the industry. He/she will also receive one years' free membership to the Royal Television Society (RTS) and networking opportunities within RTS including invitation to industry events.
Donald Taylor Black, Creative Director of The National Film School at IADT, said: "Every year this scholarship will give a student, who wouldn't normally have the chance, to study with us, as well as the opportunity to get work experience with a major international broadcaster."
Applications for the MA in Broadcast Production are open until May 9, and can be made by contacting IADT Admissions Officer, Eoin Kelly at admissions@iadt.ie. Interviews will take place in early June. For further information please visit IADT.ie