LA College of Creative Arts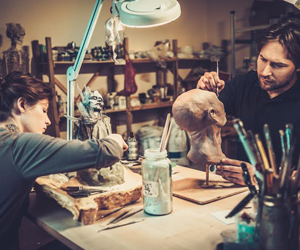 When you choose to study at LA College of Creative Arts you choose to embark on one of the most exciting and rewarding career paths that there is. An international creative college of excellence and a reputable industry leader, the LA College of Creative Arts is at the forefront of providing academic training and professional creativity located in Dublin and Limerick.
The LA College of Creative Arts was founded in 2005 by Lorraine OíNeill. Originally focusing solely on make-up artistry training, trading as LA Make-Up Academy, the college now offers a wide range of internationally accredited full and part-time courses in Year 1 HNC in Makeup Artistry , Year 1 SFX, Year 2 HND in Makeup Artistry (accredited by SQA) fashion styling and buying , professional courses and bridal and editorial. These include introductory courses and workshops for complete beginners seeking to learn more about technique and application through to highly intensive degree options devised for those who wish to pursue a long lasting and successful career within their chosen discipline. Our recent changes and updates to course curriculum's have attracted students looking to pursue a career within the Film/ TV Industry.
Our 1 Year SFX and 2 Year HND in Makeup Artistry are aimed at those students who are serious about a career within the Film and TV industry. Course content, including extensive special effects, life casting & prosthetic's and postiche, as well as work placement, ensures our students are industry ready with the necessary skill set for a career within Film/TV. Our unique Production Study module, which covers everything from set etiquette to script breakdown, ensures professionalism and an understanding of the industry.
We invest significant time and resources into sourcing and training every single member of the educational team, all of whom are well-connected industry leaders within their field and the backbone to every studentís success, ensuring students graduate as confident accomplished professionals, fully equipped for a career within their chosen field. Throughout our 1 and 2 Year courses, we provide guest lecturers, ranging from Academy Award winning Artistís to specialists within the industry.
In addition to these courses The LA College of Creative Arts offer a number of advanced and specialist seminars to working professionals who would like to up-skill and add new techniques to their already impressive repertoire.
The LA College of Creative Arts are committed to enhancing any theoretical teaching with a live working environment, offering state-of-the-art studios in which to learn, instruction in five star client care as well as participation in on-going photo shoots and work placement programmes.

Connect with LA College of Creative Arts