Canadian scriptwriter / producer Evan Goldberg, co-writer of comedy hit 'Superbad', flew into Galway for a two week stint as the Huston Film School's writer-in-residence from the 22nd April – 7th May 2008. The talented scribe shares his views on writing, producing and luck with IFTN.
Evan Goldberg and his writing partner Seth Rogen are currently being feted as Hollywood's new kings of comedy. The pair, childhood friends from Vancouver, Canada, have enjoyed huge success in 2007 with coming of age comedy 'Superbad', which the pair co-wrote, and 'Knocked Up', which Goldberg executive produced and Rogen starred in. Goldberg received his big break as a writer for cult TV hit, 'Da Ali G Show', starring Sasha Baron Cohen, and the series earned him and his co-writing team a Primetime Emmy nomination in 2005. Goldberg is the perfect candidate to offer the Huston Film School's aspiring filmmakers pearls of scriptwriting wisdom. His first time in Ireland, Goldberg is full of praise for the school.
"The masterclasses are going very, very well," he enthuses. "This is my first time teaching - I'm enjoying it very much. This school here is intelligently relaxed, not in a bad way, in a good way. They're just extremely chilled, everyone sits in a circle and talks and it's very open. All the students are very curious, I could not picture a better teaching environment than this one.
"The students had tons of good ideas. I thought it was better if I kept a closed mind to their ideas though, I didn't want to say "You're idea is the best, the rest of you suck!" But they all really had pretty damn good ideas, it was quite interesting."
Goldberg, a History and Humanities graduate from McGill University, Montreal, began his writing life composing sombre poetry as child before he found his niche in comedy.
"I was one of those kids who said 'I want to write when I grown up'. I never really intended to get into movies though, I wanted to write novels and comic books and when I was below the age of ten, I wrote poetry, which is very funny to read at this point! I thought that to write poetry you had to write about dark things and I used to write these sad poems, even though I was a very happy kid."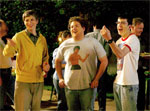 Superbad
'Superbad' has thrown Goldberg's screenwriting talent into the Hollywood spotlight. The coming of age flic that combines comedy with a dash of emotional sentiment is a gross-out movie with a heart. The film follows two co-dependent high school seniors who set out to buy alcohol for a party, in a last-ditch attempt to have the girls of their dreams sleep with them before they head off for college.
'Superbad' began its life in Goldberg and Rogen's pre-adolescent minds and took over a decade to bring to fruition. When Rogen, then an aspiring actor in Los Angeles, got the chance to show the script to producer Judd Apotow, it was a case of, Goldberg says "right spot, right moment", and their dream of 'Superbad' reaching the big screen finally become a reality.
"We started writing it when I was 12 and Seth was 13. We worked on it consistently for ten years trying to make it into a film, we never stopped, every week we would probably have a discussion about it and this went on for ten years."
Goldberg is clearly a believer in the old adage 'write about what you know', with 'Superbad's lead characters Seth and Evan inspired by the writers' highschool selves.
"It takes a huge amount of imagination to write characters who aren't even there," he says. "I tend to base most of my characters on people I know or some aspect of someone I know. If you are a better writer than me you don't have to, but I wasn't capable of anything more at the time and I'm still not more capable of that!"
So were the characters of Seth and Evan simply copies of Goldberg and Rogen?
"In a way not at all and in a way quite a bit," he muses. "Michael Cera, who plays Evan, is wearing the same clothes I would wear and Jonah Hill is equally curly haired and Jewish, like Seth. Fogle is based on a real character too, we were a trio in highschool. "
Goldberg worked as executive producer on 'Knocked Up' and 'Superbad' for the simple reason that it allowed him a degree of control over the finished product he wouldn't otherwise have.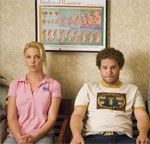 Knocked Up
"I feel like 'Superbad' wouldn't have been what Seth and I wrote if we weren't there on set. But producing is much harder than writing - you have to be a team player and a leader, both of which are things I was not naturally inclined to do. I like working alone, I like to not have to be responsible for a lot of people. But once I get into the swing of it, if it's a good set, it's kind of like summer camp. You wake up in the morning and all the same people are there. You're all friends and you all meet for lunch, so it's quite nice, but definitely, when it comes to stimulating my own mind, the writing is by far my preference."
The pair stick to the same writing system they did in highschool, they write side by side, bouncing ideas of each other. And i n all their years of writing together, Goldberg says the pair have only have one scriptwriting disagreement.
"We had one argument once where if he didn't like something I did he would make this noise, and it started to drive me mentally insane! So we discussed that noise and agreed that if he didn't like an idea he would just say 'I don't like it' or 'that's stupid'. We're pretty easy going, if we come to a disagreement over something we both generally just go with whoever seems more passionate about it and they win, or we just go with the third party opinion. We have the same sense of humour."
Rogen & Franco in Pineapple Express
Goldberg and Rogen have had a change of form for their latest project, comedy action pic 'Pineapple Express', due for release in late 2008. The film, produced by Judd Apotow and Shauna Robertson, tells the story of a pot smoking process server, played by Seth Rogen, who witnesses a murder while buying pot from his dealer, played by James Franco (Spiderman 3, The Dead Girl). Goldberg will act as executive producer and is excited about the move into action movies. "This one is going to be car chases and gunshots, it's a full on action flick."
And fans will be delighted to hear there is more to come from the comedy duo.
Another project in the works is a feature version of Goldberg and Rogen's short film 'Jay and Seth vs the Apocolypse' and the pair recently finished the first draft of their latest project, 'The Green Hornet', a feature based on the popular 1960's TV series.
"I finished it five days ago," says Goldberg. "It was weird writing that one because we started writing it and then the writer's strike happened, and we couldn't write for a while. It marinaded in our minds for so long and as soon as the strike ended we went and knocked it out, it didn't take that long just a few months. But it's only our first draft, we have to rewrite it."
'The Green Hornet' will be produced by Neal Moritz (The Fast and the Furious, I Am Legend) meaning the pair were granted the luxury of creative freedom in writing the pic.
"It was what we always wanted to get to, which was just a huge action movie. We've always wanted to write something where we can just write 'The bomb lands and the building topples over'. When we took the script to Neil we expected him to say, 'This is great…. if we had 800 million dollars' but instead he said 'This is great, perfect amount of action!' So that was exciting."
So why does he think himself and Rogen have become such an overwhelming success?
"Well we slept with almost every producer and director in Hollywood!!" he jokes. "Nah, I think luck is the annoying but true answer to that questions, but if I want to give myself a little credit I will quote my grandfather who said 'Ah but you were ready for luck to happen!'. Maybe we aren't the best or the funniest, but we had it and we were ready for the opportunity. So I'll credit myself with 10%!"
And finally, does Goldberg have any words of advice for his Huston Film School protogés?
"You have to remember it's a business, it's not truly art. People sometimes paint and sculpt just for the thrill of it and if you want to write just for the thrill of it, you wouldn't be pursuing it so much. You have to pitch your script, you have to do a bit of business to get to do your art. It's unfortunate, because I would love to sit all day and be creative, but if you want to pay the bills and do it professionally don't treat it like a game."