The inaugural Cinemagic International Film & TV Festival Dublin, aimed at young people up to 25 years of age, takes place in the capital from 23rd April – 1st May. IFTN caught up with Joan Burney Keatings, Chief Executive of the Cinemagic Festival, to find out what we can look forward to at the activity-packed event.
The first Dublin Cinemagic Film and TV Festival kicks off next Wednesday 23 rd April in Dublin's Spencer Dock. Already a hugely popular event on Belfast's festival calendar for the last 18 years, this is the first time Cinemagic has travelled south of the border. The nine-day festival offers workshops, masterclasses and film screenings for young people in directing, acting, presenting and editing as well as running a full education programme for primary and secondary schools. With familiar faces such as TV presenter Dermot O'Leary (BBLB) and 'Hollyoaks' actors Matt Littler and Darren Jeffries ('Max' and 'O.B') on hand to tutor Dublin's aspiring young talents, the festival will certainly be an exciting affair.
IFTN: Whydid you decide to bring the Cinemagic Festival to Dublin?
Joan Burney Keatings : We've been running the Belfast Cinemagic Film and TV festival for 18 years and over the years we always get so many young people travelling from Dublin, Galway and across the water for the festival, so I felt that this was the right time to expand to Dublin. I looked at the niche in the market here as well, there is currently no other children's TV and film festival in Dublin, so I felt that with the good relationship we have with our sponsors and the fact we have already become such a brand name, it made perfect sense to come here.
Is the format for the Cinemagic Dublin the same as Cinemagic Belfast?
Yes, it is. When I started planning Cinemagic Dublin initially, which was only last July or August, it was going to be a two or three day event and now it has suddenly grown to a nine-day festival! It just kept on rolling - more people came on board, there was more support and great enthusiasm for it and lots of people wanted to get involved and do workshops so it just completely snowballed.
Sowhat can we expect from the inaugural Cinemagic Dublin?
Well, we are opening with the premiere of Martin Duffy's 'Summer of the Flying Saucer'. All the cast and crew are going to be there, as well as Cinemagic patron Dermot O'Leary. Dermot has been coming into Belfast for eight years, bless him, and is flying in again for the opening night.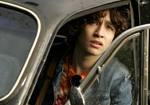 Summer of the Flying Saucer
The Masterclasses really kick off next week - next Wednesday Martin Duffy will be taking a scriptwriting class; we have Acting with Chris Rankin, who starred in four 'Harry Potter' films, coming across from London and doing two workshops with us. We have Ros Hubbard, one of the biggest casting agents in London, coming in on Friday to take the kids through casting techniques and getting them to audition for her as she is on the look out for young talent to put on her books. We also have two 'Hollyoaks' actors Matt Littler and Darren Jeffries giving acting classes.
Do you have any other Irish film and TV professionals giving Masterclasses?
Yes, on Thursday 24 th TV presenter Laura Woods will give a class; Rachel Kavanagh from ' Fair City', the daughter of John Kavanagh, will be doing an acting masterclass on Saturday 26 th. Rachel and John are also doing a very informative Q and A which will be hosted by Ryan Tubridy on Sunday 27 th April. Other Irish people involved are Dave Caffrey, who will be taking a directing class, Ned O'Hanlon, teaching TV and music production and actress Tara Leniston will also give a workshop, so you can see there are lots of practical opportunities there. We are delighted that we've go so much Irish talent involved.
Is there a charge for the screenings and masterclasses?
Because we are children's charity we don't charge normal cinema rates for the cinema screenings, so there is €4 cost to go and most screenings are covered by discussion as well. For example, the screening of 'An Inconvenient Truth' is accompanied by a discussion with UNESCO and after 'Run Lola Run' there is discussion with the IFI. With all of the films on the school programmes we try and make it tied into the curriculum so teachers don't say it's just an evening out at the cinema!
How do you choose the films that will screen at the festival?
It's a mixture of everything really, classic films and latest releases, because we want to make it a family festival 'The Wizard of Oz' is a family favourite and every year it sells out in Belfast. We also have some foreign language and educational films to have a real educational element of the festival. We sit down with the Board of Education at the beginning of every festival and look at what the big discussion topics were for the year and we will select films around those issues.
Why do you think the festival has been so successful?

Dermot O'Leary
I think one of the reasons is because the guests that come on board to do workshops are very realistic and honest and really do give an honest insight into the industry. A lot of the industry is about contacts and I know the guests will be giving out their email addresses and their phone numbers so any young person out there who really does want to take it to the next level after the workshops, these guys are all really genuinely there to help. Dermot O'Leary has sent on numerous CVs to production companies across the UK over the years, and Rachel has said she will certainly help anyone trying to get an agent.
What aspect of the festival are you looking forward to?
Rachel Kavanagh's masterclass is going to be fantastic because she is going to show the kids how to put together a show reel and look at the highs and lows of the industry
Can anyone apply for the masterclass, regardless of experience?
Anyone who is interested can apply, we try and never refuse people, we always try and get them accommodated somewhere.
We do a lot of work with marginalised young people who have never done anything like this before so we really work hard to try and encourage them to apply because that's where you see a lot of raw talent and you really spark something amazing. But also other young people who have a bit of experience it is open to them as well.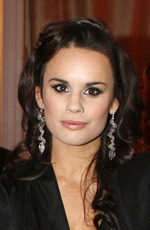 Fair City Star Rachel Kavanagh
What would you say to teachers or parents who are reluctant to bring their students / children to the festival?
I would say all the films have an educational aspect to them. We have lots of masterclasses for young kids - we have a 'Lets Get Animated' workshop to show young kids how to draw cartoons, we have storytelling with the HuggleBugs and we have free Editing Classes. Some people think you need to be 17 or 18 to learn about Avid but it's incredible, young kids ten or twelve are really interested in that kind of thing.
The short films in competition at the festival are judged by a two Cinemagic juries – one of 10-14 year olds and another of 15 – 18 year olds. Did you find it easy to assemble the juries?
Yes, we had too many applicants! We will have more kids on the jury than we had planned and are bringing on more staff. It is actually going to be a real cross border jury in Dublin because we have had lots of kids from the North so it will be great, it will be great fun and a great way for them to make friends.
What benefit do you think the kids get out of being on the jury?
Well, they get the chance to see the films for free obviously, but they also learn how to critique films as they're given a scoring page for each film. They can't just give a mark, they have to explain why they give each mark and it is a good way to learn about film and to develop confidence, because at the end they have to stand up and say why they picked that film. It's a great way to learn more new social skills.
How much time do they have to dedicate to the panel?
Just one day -the younger kids are going to be viewing the films on Saturday 26 th in Movies at Swords, and the older kids on Sunday 27 th.
Why do you think it's important for people to get involved at in film and TV and a young age?
I think it's great for your confidence, it's a great way to meet other people and also to have a wider knowledge of what's going on in film and TV and also it's so much fun!
Are there any people that have taken part in Cinemagic over the last 18 years who have gone on to achieve success in the industry?
We've had some fantastic success stories! One young guy that was with us three years ago for a Directing Class, he won Outstanding Young Person in his class, and literally two weeks later he was working at the Brit Awards. He now has a CV that includes working at three or four Brit Awards and he's worked on about 18 short films. And he is only 18!
We had another young actor from Dungannon who after Cinemagic went on to work with Guy Ritchie in 'Snatch'. We had one young person last year who did a Sports Presenting workshop with us who has now got a permanent position in one of the BBC Sporting Programmes.
If they are really enthusiastic and follow up with the contacts they get there is no reason why young people can't go on to get amazing jobs in the industry. It's great when people come along and they have never tried acting or directing and after the masterclasses they suddenly think 'Wow I want to do this and I can do this!'
How far in advance to do you have to start organising a festival like this?
Well the first meetings about Cinemagic Dublin were in July, at first it was going to be very small. Some people say it takes a year or two years to organise something like this but it doesn't, not if you're really pro-active. I suppose I was just determined to make it happen and I wasn't prepared to wait for a year. We went to print and the end of August with our Belfast programme and I was determined to have Dublin pages in the programme so really it took around six to eight weeks.
Have you doubled your workload now that the festival is on in Belfast and Dublin?
Completely, yes!
Are there any plans to bring the festival to other cities in Ireland?
Absolutely. We are very, very keen to expand next year in Dublin, we might look at moving to nearby areas like Naas for example. It's been great because some of the people who applied so far are from places we thought wouldn't necessarily be interested so if there's demand from those areas we will be taking the festival there.
We are very keen to look at other parts of Ireland and roll it out because there is obviously a demand for it and everyone who gets involved really enjoys it and we're very enthusiastic about it and not afraid of a bit of hard work, so onwards and upwards and as many more cities as possible! We are also going to be running Cinemagic in France in September for a couple of days.
What do you enjoy most about your role?
I suppose I enjoy meeting with the sponsors and funders - a lot of my job is getting the guests in and encouraging people to get involved in the festival. My job involves a lot of dealing with people and coming up with new ideas and new areas, doing the research basically. It is like starting a new job every time we go to a new city.
I love working with young people. When you see young people saying how well they got on in the workshops it really makes your job so rewarding and I suppose in that way we're very privileged to work in Cinemagic because you get to work in a job that you see the benefits of as well.