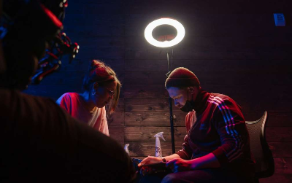 Screen Ireland's Screen Mentoring Scheme
Screen Ireland has announced that 25 mentorship pairings have been selected for the fourth iteration of the Screen Mentoring scheme following this year's competitive selection process.
The selected mentees have each been matched with a highly experienced industry mentor from a panel that includes An Cailín Ciúin executive producer Dearbhla Regan, Aisha director Frank Berry, Kin writer/executive producer Peter McKenna, and Joyride director Emer Reynolds. The mentors will offer their mentees practical, tailored advice and guidance based on their professional experience, on a one-to-one basis.
The full list of selected mentees and their respective mentors are as follows:
Kim Bartley (Director) – Frank Berry (Director, Aisha, Michael Inside, I Used to Live Here)
Ciaran Charles O'Chonghaile (Producer) – Catherine Magee (Producer, Conversations with Friends, Normal People, Resistance, Rebellion)
Jeda de Brí (Director/Writer) – Emer Reynolds (Director/Editor, Joyride, Songs for While I'm Away, The Farthest)
James Doherty (Director) – Aisling Walsh (Director/Writer, Maudie, Song for a Raggy Boy, Elizabeth is Missing, Fingersmith)
Brian Durnin (Director) – Neasa Hardiman (Director/Screenwriter, Sea Fever, Hit and Run, Jessica Jones, Happy Valley)
Jonathan Farrelly (Director/Head of Development) – Leena Pasanen (Festival Director, current Director of Mente Locale, former Director of DOK Leipzig, Biografilm and the European Documentary Network)
Olivia Fitzsimons (Writer) – Chelsea Morgan-Hoffman (Development Producer/Head of Development/Script Editor, Normal People, Conversations with Friends, Herself, The Wonder)
Dónal Foreman (Director) – Lenny Abrahamson (Director, Conversations with Friends, Normal People, Room, Frank)
Megan K. Fox (Director/Writer) – Lisa Mulcahy (Director, Ridley Road, Years and Years, Red Rock, The Legend of Longwood)
Mary Fox & Marty Thornton (Screenwriters) – Peter McKenna (Writer/Executive Producer, Kin, Hidden Assets, The Last Kingdom, Red Rock)
Vincent Gallagher (Producer/Director) – David Freyne (Director/Writer, Dating Amber, The Cured, The First Wave)
Richard Keane (Writer/Director/Producer) – Ruth Treacy (Producer/Director, Let the Wrong One In, The Winter Lake, The Lodgers)
Fiona Kinsella (Producer/Head of Production) – Jac Kerrin (Producer, Wisting, Never Grow Old, She's Missing)
Sheena Lambert (Screenwriter) – Malcolm Campbell (Writer/Executive Producer, Herself, What Richard Did, Shameless, Ackley Bridge)
Sharon Lawless (Producer/Director) – Linda Green (Director at Leading Creative Talent, former Head of BBC Creative Leadership Programme & BBC Planning team)
Cara Loftus (Writer) – Ailbhe Keoghan (Writer, Bad Sisters, Joyride, Sunlight, Run & Jump)
Anna Mannion (Producer) – Teresa McGrane (Deputy CEO of Fís Éireann/Screen Ireland)
Clare Monnelly (Writer/Actor) – Lauren MacKenzie (Screenwriter/Story Producer/Series Producer, Red Rock, Hidden Assets, The Daisy Chain, The Clinic)
Tom Moran (Screenwriter) – Paul Howard (Writer, Bad Sisters, Ross O'Carroll-Kelly, Irish Pictorial Weekly, The Mario Rosenstock Show)
John Morton (Writer/Director) – Thaddeus O'Sullivan (Director, The Miracle Club, Citizen Lane, Hidden Assets, Silent Witness, Ordinary Decent Criminal, December Bride)
Aoife O'Kelly (Director) – Cathy Brady (Director/Writer, Wildfire, Can't Cope Won't Cope, Glue)
Laura O'Shea (Director) – Paddy Breathnach (Director, The Dry, Rosie, Viva, I Went Down)
Stevie Russell (Director) – Dearbhla Walsh (Director, Bad Sisters, Fargo, The Handmaid's Tale)
Pierce Ryan (Screenwriter) – Michael Zam (Screenwriter/Producer, Feud: Bette and Joan, Kate, Grace, Vivling)
Shannon Welby (Screenwriter) – Dearbhla Regan (Executive Producer credits include An Cailín Ciúin, Dating Amber, It Is In Us All, Papi Chulo; and Mr Malcolm's List)
Speaking about the mentor progrmme, Screen Ireland's Chief Executive Desiree Finnegan, said: "We are thrilled to announce the recipients of this year's Screen Mentoring scheme, now running in its fourth iteration. This key skills initiative from Screen Ireland offers upcoming Irish talent the unique opportunity to develop their careers further under the guidance and support of leading industry professionals. We wish the participants every success and look forward to seeing their progress."
Click here for more information about the Screen Mentoring scheme.