Applications are open for RTÉ One's 'Tastes Like Home'. The cooking programme made by Another Avenue Productions with TV chef & author Catherine Fulvio. A call is being sent out for new participants to bring their recipes to the table, for a chance to feature on the fresh new series.
Families with a flair for a feast, a savoury supper or a recipe steeped in tradition are encouraged to apply, to fly the flag for their county and share their delicious dish with the nation.
IFTN spoke with 'Tastes Like Home' Assistant Producer Fiona Ní Chéirín about the type of applicants the show is looking for, she said: "The search is on now to find 6 families who have loved ones living abroad and we're looking for some great dishes and some great locations as part of our search. The response so far has been great as so many people today have Irish Diaspora living all over the world".
RTE's 'Tastes Like Home' proudly sponsored by Londis, is a cooking and travel show which follows six families living in Ireland, as they share their quintessential family favourite recipe, and bring a taste of home to a loved one living abroad. The popular TV show, is airing on RTÉ for its second year, will air six new episodes this Autumn, after a successful first season whet appetites in 2016.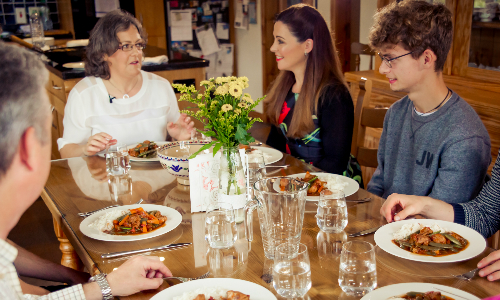 "I was surprised to learn the power that a childhood food memory has for people who have moved abroad. Even if you really love your home away from home you still miss some of your favourite home-cooked meals, that Sunday roast, that apple tart. The series "Tastes like Home" allowed me to make that connect for families living apart – and it was a much more humbling and emotional journey than I ever expected it to be, with great insights into Irish food traditions and how they influence us as people", commented presenter Catherine Fulvio.
Successful applicants will host Catherine in their home and teach her how to whip up their gastronomical delight. Catherine then visits their loved one abroad, taking viewers on a whistle-stop tour of their home away from home, before helping to re-create the dish that for them, tastes like home. Whatever the menu, this coming series of home cooked cuisine is sure to tickle the taste buds of viewers across the country.
"This year, I'm hoping to meet more families who relish that one unmistakable dish that tastes like home. I expect a modern influence but with a focus on Irish ingredients, which are not always easy to source abroad, I love a challenge! And I enjoyed the broad range of backgrounds of the participants in series one and look forward to more of the same", continued Catherine.
HOW TO ENTER
Applications are open until Sunday 19th March 2017. To apply, simply submit an application form along with three family favourite recipes for consideration. RTÉ One, with the help of Londis, will recruit six successful participants from across the country.
Filming for Season 2 will take place in Ireland between April and May 2017 and abroad between April and June 2017. Contributors will be expected to be free for 1 full filming day, this may be a weekday or weekend.
Applicants can apply online on the 'Tastes Like Home' website or visit their local Londis store to pick up an application form.
Application forms should be returned to your local Londis store, or posted to: Tastes Like Home TV Show, C/O Another Avenue, 14 Clyde Road, Ballsbridge, Dublin 4.
'Tastes Like Home' is made by Another Avenue production company for RTÉ One.
Production Credits:
Production Company: Another Avenue
Presenter: Catherine Fulvio
Director: Mark Wooderson
DOP's: John Dunne & Chris O'Brien
Producer: Sharyn Mitchell
Assistant Producer: Fiona Ni Cheirin
Format Devised by: Another Avenue & Ciaran Gallagher
Executive Producer for RTE: Brian Walsh
Travel: Padraic Keogh
Food Assistant: Daniel Koenig
Sound: Stephen McLoughlin
Graphic Design: Nicola Mitchell
Production Accountant: Margaret Reeves
Offline Edit: Mark Finnegan & Conor Whyte