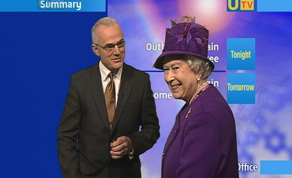 The Queen with Frank Mitchell (Image courtesy of UTV)
Queen Elizabeth officially launched UTV's High Definition service last week, at a reception at UTV Media plc's headquarters in Belfast. Her Majesty, accompanied by the Duke of Edinburgh, toured Studio One, the news and content floor and watched footage from the UTV archive of their previous visits to Northern Ireland.
The move means that UTV is now the first broadcaster on the island of Ireland to launch HD television. The event marked the Queen's first visit to UTV and the HD service for the channel is now available on channel 113 on the Virgin network. As part of the day UTV weatherman Frank Mitchell explained green screen technology to the Queen (pictured above).
John B McGuckian, Chairman of UTV Media plc, commented on the broadcaster's introduction of HD, saying: "Today represents a major milestone in UTV's history and once again we are leading the way in by becoming the first broadcaster on the island of Ireland to launch HD television. HD pictures will add a new dimension to our outstanding coverage of news and current affairs in Northern Ireland and reinforce our reputation for outstanding journalism and as market leader."