The Darklight Film Festival runs from Thursday 26th- Saturday 29th June at various locations around Dublin's city centre. IFTN caught up with Darklight's new Programme Director, Derek O'Connor to find out how the eclectic festival comes together.
Derek O'Connor is a man of many talents. Journalist, blogger, filmmaker and playwright, O'Connor's broad experience in the arts world make him a suitably qualified candidate to take on the role of Darklight's Programme Director, working alongside Festival Director, Nicky Gogan.
O'Connor's previous roles include a two year stint as Assistant Director in Letterkenny Arts Centre; programmer of the Dublin Fringe Festival's film segment in 2000 and writer and researcher for Ireland's movie show 'Popcorn'. As a journalist, O'Connor has contributed to publications including 'The Sunday Tribune', 'The Irish Times' and 'Image' magazine and was co-founder and editor of award winning website blogorrah.com.
How did you get involved in the Darklight Festival?
I had been involved in Darklight in various capacities over the years, helping out with programming and making suggestions. I had written some pieces on Darklight for The Irish Times and I also had a film in the festival a few years ago called 'Eamon McEamon's 10 Things I Love About Dublin', it was a spoof short. I had seen the festival from the outside in and I knew everybody and knew the set up very well, so it was a natural progression to get more involved.
Do you have a background in film?
I have always dabbled in film and I was recently commissioned to make a documentary for the Arts Centre in Letterkenny about life in the North West of Ireland. The centre made a series of portraits about people living in the North West and my film follows the Quakers in Donegal. I also had a video exhibition last year in the Arts Centre last year from work I did in New York.
How far in advance did you have to start planning the festival?
I came on in January so it was really quite a short space of time and we hit the ground running. Because Darklight is a very small organisation there's a lot of people working for free, and a lot of people working just because they love the festival. There's a huge amount of goodwill and people are very generous in terms of time and resources. The sponsors are incredible. It's a huge festival to pull off on a very modest budget and we wouldn't be able to do it without this incredible network of people who help us every year.
How many people are involved with organising the festival?
There's myself, Nicky and festival coordinator, Michelle Ni Bhrian, and there's a huge core of people that pitch in above and beyond the call of duty. Ultimately we are kind of a low rent operation and we try to make the best that we can with the money we have.
What does your role as Festival Programmer involve?
Well Nicky takes care of the bigger picture of the whole festival, she is balancing two careers now because she's got her production company Still Films, and my job is to come in and take care of the programming and pull the core of events together.
When you are organising the festival do you still have time to blog?
The festival essentially is a part-time gig so it's kind of balanced with my journalism and blogging. I do that in my own time and the festival is the main gig. It's a good gig and it's fun to do. I do a blog now called The Chancer which is a much more modest endeavour than Blogorrah, but it keeps the finger in the blogosphere.
Would you say film is your primary interest?
I think the programming is a natural extension of other stuff I've done, like programming for the Fringe Festival and before that the Galaxy Movie Lounge in the old Virgin cinema up on Parnell Street. When it came to Darklight, having written about Darklight and participated in it in various capacities I was able to pick up the mantel from Nicky Gogan.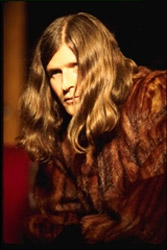 Crispin Glover attending Darklight
For Darklight, because it's all about new technology and new work that's challenging, bold, innovative, I think you have to have your radar on. Because of the blogging I'm kind of naturally a media and film sponge and I'm always actively seeking new work. Even the Crispin Glover show, I had seen that show when I was in New York and straight away when I started doing the job there was half a dozen things I had in mind.
Are you nervous about how people will respond to the festival this year?
I think you get so caught up in the mechanics of organising something like this that you don't think about it. I hadn't anticipated how many shorts would be in it, we're showing eight programmes of short films but at the same time it's not enough - we could have shown twice as many because we got over 1400 submissions for short films. That's the effect of the digital revolution, there's just so much work being made and that's something that you really have to account for. Hopefully now, because I'll be working on it all year round with the Darklight touring programme, there will be a chance to show more work. You just want to champion new and interesting work.
Do you plan to expand the festival in the future?
In terms of the budget we have I think the festival is big enough and we've already expanded it this year in terms of the events. I would like to focus more on the touring programme. We did a screening a couple of months ago of 'Grindhouse' in the IFI and that's not necessarily something that Darklight would have normally done but it's something I'm very much into. We have a lot of great organisations in Dublin so we want to focus more on partnership. It's just trying to get all the different people together to make something beautiful happen.
What do you think makes Darklight different to other festivals going on throughout the year?
People always ask me what is Darklight and I say it is cutting edge art, film and technology. Basically, if you want to know where all the new work is and what's happening, then come to Darklight. Years ago Darklight was about predicting what's going to happen in technology in the future, but a lot of that is happening now. People are watching films on their mobile phones and downloading, all this stuff has become commonplace. So we want to show how all these things are happening in context and show the way forward. It's about keeping the finger on the pulse and providing a platform for stuff that you're generally passionate about.
What event are you most looking forward to?
Paddy Considine
I'm very excited about Crispin Glover, having him come to Dublin is a thrill for me as I'm a big fan. I'm very excited about Warp Films and Paddy Considine coming over and the four day film event is really exciting because it's an abstract that is about to become a reality. I'm looking forward to the 'Tron', screening, we have the guy that did the special effects, Ken Perlin, coming over. I'm having geeky palpitations just thinking about it! In every case these are things I would go to myself if I wasn't so busy putting them on!
The four day filmmaking event with Lenny was an idea that we thought would be amazing to do. We thought, you can make a film in four days so let's get an extended collective group of people and send them out there. And for someone like Lenny to get on board like this has really engaged the participants and the cumulative effect is phenomenal.
And the new Lighthouse Cinema is an amazing venue we never had before. We are doing two days solid of shorts and hopefully the Lighthouse will be something we can use in futures years.
What will you be up to over the festival weekend?
Drinking heavily!! What tends to happen with the guests is that they come over for the weekend and like to attend other events in the festival as well. You want people to have a great time and to take a leap and go see stuff that they wouldn't normally see.
What kind of audience do you think the festival is aimed at?
There is a core group of people that come to the festival every year and they know to expect the unexpected. There's a very high quota of creative and industry people and a big art and music audience. The gaming audience is huge and they're not normally well catered for so I think the gaming exhibition will bring out that audience. We have high art, low art, it is really genuinely eclectic, so there's something for everyone!
And finally, what would you say is favourite film?
Without a second thought, 'Midnight Run' with Robert De Niro and Charles Grodin, it's the best buddy movie ever made! Though when your favourite movie is twenty year's old and you feel like you saw it yesterday then you know you're in trouble.