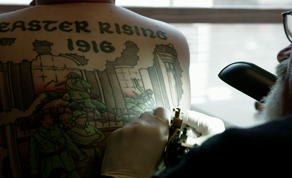 'Baring Arms' (Colm Quinn)
The collection of nine short films funded by the Irish Film Board are a creative response by Irish filmmakers to the events of Easter 1916, and include live action as well as animation and documentary formats.
The IFI Player which is part of the Irish Film Institute is a virtual viewing room for the material collected and preserved by the its archive. In collaboration with IFI Education, the After '16 collection is available online with complimentary classroom worksheet for educators.
Since the collection's premiere at ADIFF 2016 it has gone on to screen at the Galway Film Fleadh and Cork Film Festival in Ireland, and Boston and Toronto internationally.
One title, 'Baring Arms' is an IFTA-nominated short documentary from 'Mattress Men' director Colm Quinn, while 'The Party' from Andrea Harkin is also nominated in BAFTA's short film category this year.
After '16 Shorts
'Baring Arms', written and directed by Colm Quinn, produced by David Clarke
'The Party', directed by Andrea Harkin, written by Conor MacNeill, produced by Farah Abushwesha & Emmet Fleming
'A Terrible Hullabaloo', directed by Ben O'Connor, written by Aoife Noonan, produced by Bob Gallagher.
'The Cherishing' written and directed by Dave Tynan, produced by Dave Leahy
'Goodbye Darling', directed by Maria-Elena Doyle, written by Alex Barclay, produced by Fiona Kinsella & Deirdre Levins
'Granite and Chalk', directed by Patrick Hodgins, written and produced by Naomi O'Leary
'My Life for Ireland' directed by Kieron J. Walsh, written by Patrick McDonnell, produced by Emmaline Dowling & Damien O'Donnell
'A Father's Letter' directed by Joe Dolan, and produced by Niamh Heery
'Mr. Yeats & the Beastly Coins' co-directed and produced by Ann Marie Hourihane and Laura McNicholas