With the Irish Director recently signed up to do three more episodes of 'Vikings' in 2017. IFTN spoke to Stephen St. Leger about how he came to work on the History Channel's international award winning action drama series and what it's like to be involved in such a large scale production series filming in Ireland
IFTN: Could you tell us about your work on the new series of 'Vikings'?
Stephen: I started on the 2nd unit on the huge attack on Paris a couple of years ago in Season 3, then Season 4 and then they asked me to direct two full episodes in season 5 which we shot last year. Now they've asked me back to direct three more episodes this year. So I will be doing 5 episodes of the 20 episodes in Season 5.
Personally I think season 5 is the best yet. We have a larger and more complex cast of characters, and their adventures are much broader now. For me there is no real difference between 2nd unit or main unit. You still have to capture the intentions and development of the characters, monitor their performances and get all that small subtle nuances or big intensity on screen. It doesn't really matter what you call the unit.
IFTN: 'Vikings' as action/drama/history series is hugely successful internationally why do you think that it is?
Stephen: It is huge! I don't know if Ireland realises how successful it is internationally. The success of the show really comes down to two people, Michael Hirst and Morgan O'Sullivan. Michael continually writes great scripts and Morgan continually produces them to a world class level. And this high level of quality filters down through, from the very top to each and every department. Also, by the way, Morgan and Michael are two of the most respectful, smartest, nicest, gentlemen producers, I have ever met. A very rare pair indeed.
IFTN: Describe your typical working day on the 'Vikings' set?
'Vikings' now is really the scale and production of a huge blockbuster, just done in an episodic format. So there isn't really a typical day, for example we shot a battle sequence recently in Hollywood (County Wicklow). It is the biggest battle sequence every shot in Ireland, next to ''Saving Private Ryan' and 'Braveheart'.We had over 650 extras for an epic fight sequence.
But, you know firstly you have to get them all there, feed them, dress them , hair and make-up, look after them, ensure everyone is safe and there are no injuries. And then shoot the battle! And then get them all home safe and repeat the next day. The same with the crew. It is a huge, huge production, logistically a massive task, and the Vikings production team do this on a monthly basis. It's truly remarkable.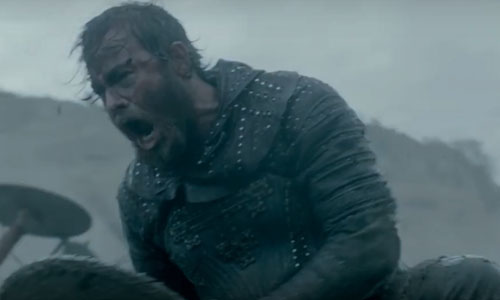 IFTN: You began you career in news journalism working with ITN and the BBC in Northern Ireland & elsewhere, did having a background in that field and experience covering hard news stories influence the direction or perspective you took within your own filming projects?
Stephen: Yes, in the battle sequences we demand a very high level of physical, realistic fighting with our Stunt Co-ordinator and Swordmaster Richard Ryan 'Troy' who choreographed. That can be quite demanding on the actors but the results can be seen on the screen, the level of realism, energy and intensity is very important to me and it is definitely deliberate to shoot it with the camera always trying to keep up with the action (the same as a news cameraman would do) sometimes deliberately missing the action, this is a very raw style and dramatically makes the outcome more unpredictable.
But either way the battle must be character motivated, there is nothing more boring than watching a fight with no jeopardy, surprise or character reveal (weak or strong). Also the way to capture great action is to have great camera operators. I was very lucky on Vikings to have shot with 3 of the best, Kenny Byrne 'Braveheart' Cian De Buitlear 'Saving Private Ryan' and Des Whelan 'Sherlock Holmes'. These guys have operated on some of the greatest movies ever made. Their knowledge of film language and storytelling is incredible. When it comes to discussing blocking a scene I usually just shut up and listen.
IFTN: With a commercial CV that includes memorable television advertisements for Donegal Catch, Amstel and Permanent TSB can you describe the differences you encountered becoming involved with directing on a TV Series such as 'Vikings'?
Stephen: Simply the characters are the main difference. Everything, and every decision I make, revolves around their intentions. When they first asked me to direct I went back and watched all the episodes and studied the development of each of the characters. It is amazing how complex they have become over the years. I didn't want to direct them like any of the other directors on the show. I wanted to do it in a completely different way, but still keep the continuity of Michael's vision. So all the work is in the characters and their agenda dramatically.
Personally, I try not to force a strong visual direction on any scenes, because it usually only gives the audience one line of thought and therefore sometimes it can make things a little predictable. So I like to direct with a light touch, that way the audience are not too sure what will happen next, making it much more suspenseful, and I think more enjoyable to watch. Especially when most of the characters are scheming and plotting to kill or betray one another anyway.
Vikings is a constant struggle for power between the various characters. Every character's needs and wants are constantly changing, shifting and growing, this makes for great drama. I can't really talk about what will happen in Season 5, but I can tell you there will be Love/Loss/Friendships/Humour/Deceit/Twists/Turns/Murders/Madness/Betrayals/Battles, Massive Battles/Conspiracies/Death and Valhalla. Did I mention massive battles? Season 5 will be spectacular!
IFTN: Is there any characters that really stand out for you in 'Vikings'?
Stephen: Ivar the boneless is a new and fascinating character! He was historically more famous than Ragnar and was more cunning and a master of strategy in battle leading the great heathen army. But what is really interesting to me is that he constantly shifts gears emotionally from being cruel, ruthless vicious and violent and then changes to being quiet, reflective and considerate. He is a cripple and certainly feels the need to outdo his brothers in search of power. I was very lucky to be directing those episodes where we see Ivar's development and Alex Høgh Andersen is an amazing young actor, very intense and dedicated. The really interesting part of Alex's performance is that he really understands Ivar's vulnerability and weakness, and that's what's really compelling to watch. Dramatically, peoples weaknesses are always more interesting to watch than their strengths. Wait till you see Ivar in season 5, He's incredible.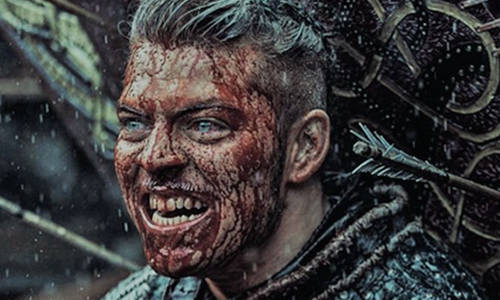 IFTN: What films and TV shows did you enjoy growing up that may have encouraged you to work in the industry?
Stephen: When I was 14 years old I wrote a letter to the US-Hollywood-Irish director Michael O'Herlihy who back then directed TV shows like 'The A Team' and 'Hawaii Five-O' asking him. How can I get to direct TV shows like him? He very kindly wrote back to me, saying it will take persistence and I have kept his letter ever since, that was in 1984. And he was right, it only took me 32 years persistence before I got to direct a TV show.
Also when I was growing up I used to watch Billy Wilder movies constantly. I just loved the simplicity of his writing and directing. What he referred to as the "Ernst Lubitsch Touch" – What would Lubitsch do? This is where the director would direct the scene to be as absolutely compelling, witty, dramatic, and as exciting as possible, but also achieve it in the most simplistic fashion. Not an easy thing to do. I love to watch that. Also my father, Billy St. Leger was a wonderful filmmaker and cameraman, so when I'm thinking about how to shoot a scene I usually ask. What would Billy do?
IFTN: Apart from obvious differences, do you find there are any particular skills and similarities which transcend across shooting for both commercials and TV Drama?
Stephen: The crew and production - I've shot in so many countries worldwide over 24 years on commercials and the VIKINGS production crew are without question, the best I've worked with. You just don't get this level of talent on commercials. On Vikings you have people like Raymond Kirk 1st AD on Ridley Scott's last two movies, 'The Martian' and 'Alien Covenan't, Seamus McInerney, PM –'Saving Private Ryan', Production Designer Mark Geraghty 'Calvary', Phillip Murphy 'World War Z' and Celtic Grips, DOP Peter Robertson 'Peaky Blinders' the extraordinary, Emmy nominated work of Tom McInerney (Chief Make-Up). Genuinely, with this calibre of skill working in every department on Vikings, it is actually not surprising to me at all, that 'Vikings' is a number one show in the US and around the world.
You can watch 'Vikings' on RTÉ 2 Wednesday evenings from 9.30pm.