Having begun his career in television more than 50 years ago, first as a presenter in the UK with Granada (where he became the first person to introduce The Beatles on television), and then as the host of 'The Late Late Show' on RTÉ, Gay Byrne shows no sign of slowing down at the ripe age of 78.
Returning on TV screens tonight (October 9) for a sixth series of 'The Meaning of Life', the veteran presenter discusses his role as a television presenter; the changes he's noticed in the broadcasting industry and tells IFTN that he's adamant he never retired and plans to continue broadcasting "at my own pace".
Gay, you've just completed a sixth series of 'The Meaning of Life', what is it about that series that you enjoy the most?
Well I think that with most television and radio shows, I think that most people are selling something. They're selling their latest movie or their latest play or their latest record or whatever it may be. On 'The Meaning of Life', they're not. They're being asked with no great gain to themselves to disclose their deepest thoughts about their spirituality and what they believe, and what they don't believe and what they might believe, and what they've given up believing or what they're starting to believe.

The great gift of any interviewer is to be able to sit back and to listen "
I think that that's the attraction – that they are being asked to think on their feet and to think quite rapidly because we do not give them the questions in advance. We don't tell them what we are going to talk about, and they have to keep thinking on their feet and they've done so well so far. I think that that's the attraction.
Can you talk us through your preparation ahead of the recording of a show?
Well, it is a multi-pronged approach. My producer is Roger Childs, who is the head of the religious affairs department in RTÉ. He does a lot of the research and then passes it on to me. I then do some more independent research. Then there are also researchers on the programme. He or she would do a lot of work. We then pull it together from that.
I don't talk to the subject in advance of the interview. Roger might talk to them in advance and go over various areas in their life and so on. What's important is to find out what conditioned them. In other words, when they were very young we want to know if it was a religious household or not that they lived in. Was it Catholic or Protestant or Muslim or Jewish? How much was religion practised by their parents? How much indoctrination were they given? All of that kind of thing as well as what were the factors in life which conditioned their belief, or non-belief as the case may be. So we all pitch in and then we devise a whole line of enquiry based on what we know about them.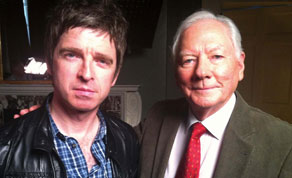 Gay Byrne with Noel Gallagher
You mentioned that you won't speak with the subject beforehand, is that very important?
I think it is very important. It was always very important on 'The Late Late Show' that I didn't meet the subject beforehand. Researchers might have met them and gone over things and so on but I didn't meet them and I didn't know what answers they were going to give to any particular question because I wanted the answer to come as a surprise to me. Not knowing what is going to come, I think, is very important.

I didn't come out of retirement, I never retired "
What are your own views on your skills as a broadcaster?
Well, you may need to ask other people that rather than me! However, what I've garnered so far from people who have spoken to me about it is that I'm a very good listener. Obviously, the great gift of any interviewer is to be able to sit back and to listen without putting forward his or her own point of view or starting an argument.
'The Meaning of Life' in particular, as distinct from other interviews, is not a confrontational thing. I'm not there to correct what people believe or don't believe in any way. I'm not there to point out the folly of their ways. I'm just there to listen to them explaining what they believe or don't believe in this spiritual area. So that makes it kind of easier. It's not an argumentative thing or a confrontational thing, it's just a matter of listening, and I've always been a very, very good listener.
In coming out of retirement over the past 10 years…
I didn't come out of retirement, I never retired! This is a constant sort of thing from the media. On day one, after I came out of 'The Gay Byrne Show' and out of 'The Late Late Show', I made it perfectly clear that I was healthy and on top of the game at whatever age I was - 65 I think - and that I had no intention of retiring from broadcasting.
I was retiring from what I called 'the whirly gig' which was six-and-a-half days a week, which I'd done for 40 years. That's enough for anybody. I made it clear that I wasn't retiring from broadcasting and that I'd continue to do broadcasting on a less arduous basis.
In other words, that I'd continue at my own pace doing what I wanted to do and not doing what I didn't want to do, and that's what I've been doing for the last 10 years.
Over the past 50 years then, what are the big changes you've noticed in television and broadcasting?
Well I think that the biggest one of all is that when the likes of Gay Byrne and Terry Wogan and Andy O'Mahony and Brendan Balfe and Mike Murphy, and all of those were starting out, the only place that they could start in was Radio Éireann because there was only one radio station on the air. Television had never been heard of.
It [Radio Éireann] was a tight little place in the GPO in Henry Street. It was very carefully controlled by people who had a certain nationalist and Gaeilgeoir attitude and outlook, you might say, and it was extremely difficult to get into the place. Now, I suppose, there are at least 40 independent radio stations in Ireland where people who want to get into broadcasting can at least audition and get in and try and get a foothold. That is the major difference because if you didn't get into Radio Éireann, then you didn't get into broadcasting.

To our great regret, the voice seems to now be completely unimportant "
Obviously, they only took in a certain amount of people in any one year. You had to be an Irish speaker; you had to be literary and you had to compile with a certain standard of speech. I suppose that's the other major change, if you want to know. When I entered radio in the GPO the voice was all important. The voice was obviously supreme and you had to have a good voice. You had to have a good accent, or a sanctioned accent, and you had to have good articulation and pronunciation and all of those sorts of things.
Now it seems to me, to our great regret, the voice is completely unimportant. I don't think auditions are held anymore. It seems to me that people are taken out willy nilly from these schools of communication and, having done a bit of radio or television in the schools, they are plonked on-air and that's it. So those would be the major changes – attitude to voice and the fact that there are so many outlets that if you really, really want to work in broadcasting, there are opportunities.
If the voice is the most important aspect in radio, in television what are the most important skills a would-be presenter should have?
Well I think that the voice is extremely important in television as well. As well as that, obviously if you're a woman, and attractive, and a beautiful woman, and as well as having the voice, as well as having the knowledge, as well as having the intelligence to be a good broadcaster, which is a sine qua non [essential ingredient] anyway. If you're a handsome looking fellow, if you're a good looking fellow, well that all helps. If you've got a sense of style, or dress nicely or whatever, I think that helps too… but this may be a very old-fashioned idea. It may be a very, very old-fashioned idea, but that's what I think anyway.
As a presenter, how important is it to you to have a good producer working alongside you on a television project?
Well I think that it's extremely important. A good producer can be worth his or her weight in gold. It requires a certain attitude, by which I mean, the worst thing that a presenter can have – on either radio or television – is a producer that thinks that they can do the job better that the presenter. So it's a wonderful thing to have a producer on radio or television shows who has no ambitions whatsoever to be a presenter and who is there to assist the presenter or the star, or however you want to call them, and look after them. This is part of a good producer's training.

So many people come on the air and they've no idea what they are going to say "
Is there anything that stands out in your early career as an important lesson learned while working in the industry?
I think probably preparation. By preparation I mean being knowledgeable about the person or the thing that you're doing; to learn in advance as much as you can but to not then keep on striving to show to the listener, or the viewer, that you know as much about it if not more than the person you are interviewing. So I think you need to know as much about the subject as you possibly can before you start doing something about it.
Secondly, if you are in an ad lib situation, I think that you should get yourself accustomed…if you are giving a report - say on a dead body being found - I think that you should get accustomed to giving a report on that in your head, starting with a beginning, moving on to a middle and then finishing with an end. It sounds like a ridiculous thing to say, but if you have it in your head, the sequence of thoughts that you are going to present, it's a great help.
So many people, as far as I'm concerned, come on the air and they've no idea what they are going to say in that situation… and it shows with the 'ehs', and the 'ehs' and the 'ehs' and they become completely confused and mixed up.

I have no time for 'The X Factor' "
What kind of shows do you enjoy on television?
Well, I don't really watch all that much television. Obviously I like the 10 o'clock BBC news and I like our own at 9 o'clock. I tend then to watch historical programmes. I enjoy the present thing that's on with Andrew Marr on the BBC, 'Andrew Marr's History of the World', that kind of thing. It's very difficult to say as I don't watch all that much. I sort of look at the running order and see what might appeal to me. I'm very much interested in motor cars and in cycling and in aviation. So anything of that smack I would go for.
Generally speaking then, anything of an unusual documentary nature I would also be attracted too. I have no time for 'The X Factor'. I don't look at singing competitions and I don't look at reality television. I don't do any of those things.
Of your recent interviewees on 'The Meaning of Life' - and I suppose over your career – which have stood out?
Well I wouldn't answer that because it would be unfair to everybody. I've enjoyed every single one of them. I found the people fascinating. On 'The Meaning of Life' we usually over record in so far as the programme is usually a half hour but we usually record up to an hour and then Roger Childs takes away all of that and edits it down to half an hour to get the interview that he thinks is more suitable.
We did so well with Mary McAleese that when he came back he made a special effort and asked that it be extended so we're doing an hour with her instead of half an hour because she is so good. She's a great story to tell and is so good at telling it. She's very frank and very extroverted and very generous in her interview so I hope that it goes down well with people, it should do.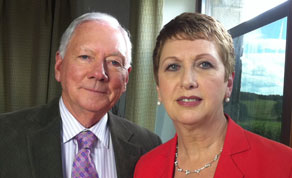 Gay Byrne with Mary McAleese
What advice would you give to anyone thinking of embarking on a career in television?
The most obvious thing I would say is go to somebody and learn how to speak properly, but that now is a very, very old-fashioned point of view and is rather quaint and young people today would laugh at that, but that is what I would advise them to do anyway – to learn how to speak properly and to learn how to make a speech properly and to learn how to appear in front of crowds of people, to speak to them. If you get on top of that then you'll pretty much be able to do whatever it is you want in television or radio.
Finally Gay, is there an element of acting – of performance – when presenting on television?
Yes of course, there's always been an element of acting in my performances anyway, whether on television or radio, certainly on radio. I've always tended to act a bit and seem grumpier than I am or seem more outraged than I am or seem in much worse temper than I'm in just in order to get an effect on whatever it is the subject that I'm dealing with. It's very hard to explain but I think that all performers perform, that's just what we do.
The whole point of it though is for the benefit of the listener. You only put on an act in order to exaggerate a situation. Generally speaking though, what I'd say is, that what you see on television with Gay Byrne and what you hear on radio with Gay Byrne is pretty much, Gay Byrne.
'The Meaning of Life with Gay Byrne' returns to RTÉ One tonight at 10.15pm with a special hour-long interview with Mary McAleese.
The series will then will continue in its regular slot of Sunday evenings at 10.30pm on RTÉ One for the remaining five programmes. Guests this series include Noel Gallagher, Niall Quinn, Sean Gallagher and Norah Casey.