With its mix of light drama and warm humour, Grand Pictures production 'Trivia' built up a loyal cult following on RTÉ last year thanks to clever scripts by Damien Owens and stellar performances by an Irish cast led by Co Down actor David Pearse.
Ahead of the return of series two tomorrow night (September 6) on RTÉ One, Pearse spends five minutes with IFTN to discuss the new series; the influences on his acting career; and shooting the much-anticipated History Channel series 'Vikings' at the new Ashford Studios in Co Wicklow opposite Gabriel Byrne .
What can viewers expect from season two of Trivia?
I suppose the big difference is that in season one, my character Lawrence was caught up in his own little world of the pub quiz and he allowed nothing else to penetrate that world. It was it and nothing else. He's now found himself in the situation where pub quizzes aren't the most important thing in the world and he's found love with Molly. Season two basically charts the deepening of that relationship, and also really the practicalities of it. Basically Lawrence is now living in the big bad world and it's all come very sudden to him. He's basically taking a crash course in being an adult.
What was it that first drew you to 'Trivia' and to the character of Lawrence?
What interested me is the fact that he's an everyman. He's not 6ft 2; he's not a great sportsman; he's not a great thinker. In fact he's not really great at anything. His pub quiz was the only thing that he could be considered great at - and let's face it, it's not a fantastic super power! From that point of view it was nice to represent someone that was close to what most people are – myself included – which is an ordinary everyman just trying to get by. Most people aren't involved in car chases or robbing banks or getting involved in mixed martial arts or kung-fu fights in the street.
What struck me as a viewer of the first series was how good Damien Owens' scripts are. They just have that nice balance of light drama and light comedy, would you agree?
That's certainly the approach. The approach is that the series is laced with just a gentle touch of lightness – nothing presented too much in a comedic way. It's just a gentle touch to remind people that it's not a drama. Rather, 'Trivia' is a cheeky look at an everyday in an everyman's life. It's a bit of a wink to comedy, but nothing too heavy and nothing too light.
You've appeared in numerous film and TV productions as a supporting actor. Is there a different approach you take as an actor when taking on a leading role like that in 'Trivia'?
Emm…that's a really good question (laughs), a really good question. Is there a different approach? Well, I suppose that the different approach is that you're more involved in the decisions. You are more inclined to have the ear of the director and the director is more inclined to come and have a chat with you about scenes. Your opinion is maybe looked upon more than if you had a more supporting role. You find yourself more directly involved in the overall creative process. As a supporting cast member you are much more aware that the scene is not necessarily about you and that you are supporting some of the other characters. Your creative input is one in which you are allowing the other characters to take over. It's not to say that you are not creative, but there's less emphasis on the decision-making part when you are supporting.
You studied drama in Trinity College Dublin. How valuable was it to have formal training and that academic background before setting out on your career?
Well at the time I wanted to be a professional actor. I wanted to act and I didn't know any other way how to become an actor. Where I came from in Newry, Co Down, there didn't seem to be any other way to become a professional actor. I didn't know of any other routes to take. So I went to Trinity and yeah, it introduced me to a lot of people. A lot of my contemporaries and peers came from that course. It was great to be in an environment with other people who loved the same job that you did and the same life that you love.
When you were at the early stage of wanting to become an actor, who had the biggest influence on you?
Well where I came from in Newry there was a theatre group called the Newpoint Players. There was a guy involved with them called Sean Hollywood, who has since passed away. Sean was a mentor to me and certainly had been a mentor to dozens – if not more – of young people in the area, not just in drama or theatre but in general. He was a great sportsman as well. So basically he would have influenced me in the sense that he would have allowed me the realisation that 'yes, I could become an actor'. He made me realise that this was a possibility. Thereafter, what influenced me was the fact that I could look around and see so many Irish actors. I didn't realise that there were so many – and good actors working in TV and theatre and film in Ireland. The standard is amazing. The fact that so many Irish actors have - and continue - to stand so richly in the realm of film and TV internationally also spurred me on. I suppose I realised that 'yeah, you can be from Ireland and you can do your bit as an actor'.
Speaking of the international stage, you've landed a role in 'Vikings' – the huge international TV series currently filming in Co Wicklow. Can you tell us a bit about your character?
Sure, the character I'm playing is a character called Svein. The show chronicles the journey of a number of Vikings throughout Europe and looks at the internal community struggles within the group during that journey. My character Svein is a side-kick henchman. He's not necessarily a warrior. He's not quite an assassin, but I wouldn't walk up a dark alleyway with him. He's the side-kick to Gabriel Byrne's character - Earl Haraldson. It's been an absolute honour and a joy for me to work alongside Gabriel. It really has been a real privilege. It's been such a learning curve to see him work. Also, he's a sound, sound bloke. He really is such a nice bloke. Also the epic nature of the production has been a great experience for me. It really is a massive production and it's really full and complete.
What's it like using the new Ashford Studios in Co Wicklow?
They're great. They're beautiful. They really are state-of-the-art studios and they feel really huge, expansive and fresh. There's also a very friendly, new atmosphere down there. It's also a great honour to work on the first production to use the studios and hopefully there'll be many more productions to pass through there. Please God, I might also be involved in a few of them!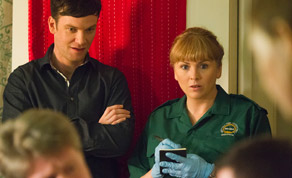 'Trivia' returns to RTÉ tomorrow
You mentioned the learning curve of working with people like Gabriel Byrne, what sort of things do you take from working with an actor of that stature on big productions such as 'Vikings'?
Every production you go into you keep learning. I think ultimately, that's the desire – that you keep learning. What's great about our business – the acting world – is that you learn from everybody else and everyone has their own technique. So it's just fascinating to see how somebody else behaves just before a scene and how they approach a scene; how they break it down; and just their manner on set and their sense of control leading up to the scene. You're also looking at how they work things out on the ground. Again, Gabriel Byrne is such an extremely intelligent and passionate actor, and I think both those attributes are vital in acting. He's pretty much a perfect master.
Finally David have you any productions lined up for after 'Vikings' that you can tell us about?
I wish I could, (laughs), but I don't. I had a role in 'Grabbers', which I think is still on release in cinemas and I had a small part in 'Titanic: Blood & Steel', which was a great experience. Again that was an epic and huge production. It also introduced me to working with Ciarán Donnelly, and that was a great introduction for me because he's currently directing the second block of 'Vikings'. So it's great to say hello to him again and to work with him on a longer time period. Other than that, I'm on 'Vikings' for the next couple of weeks and I'll be keeping my phone on for the weeks after that, put it like that!
Series two of 'Trivia' begins tomorrow night (September 6) on RTÉ One at 10.15pm. The six-part series was produced for RTÉ by Grand Pictures and was directed by Tom Hall (Bachelors Walk). Fionn Comerford was the director of photography and Paul Donovan produced for Grand Pictures.
Written by Damien Owens, the series stars David Pearse, Janet Moran and Keith McErlean. Post-production was carried out at Screen Scene in Dublin. 'Trivia' was part funded by the Broadcasting Authority of Ireland and Section 481.