Aidan Sheeran doesn't sound like a managing director operating within the middle of the recession. "I suppose in a funny way we've been bucking the trend," he says almost apologetically. "We've been terribly busy over the last while and there's been a huge volume of work across the various areas we work in."
Huge volume is something of an understatement. Reelgood are flourishing. The one-stop production and post-production hub in Dublin city-centre has rarely been busier during its 26 years of operation with broadcasters as far afield as Australia turning to Sheeran's state-of-the-art post-production hub and experienced team of editors, sound engineers and motion graphic artists.
"We've done a lot of TV work in recent months," he says of the massive influx of productions that have regularly involved local broadcasters such as RTÉ, TG4 and TV3. "There's been a great mix of productions that have passed through our hands recently, be it for the online edit; offline edit; soundtrack work; grading or the whole works."
Some of the production titles Sheeran rattles off are among some of the most acclaimed and anticipated television documentary series over the past 12 months. 'Green Is The Colour', Treasure Entertainment's 4 X 60-minute series for RTÉ on the FAI was one of the highlights of an otherwise dreary Euro 2012 for Irish soccer fans. "We took that from online to offline and to grade, and packaged the whole lot for Treasure," he says.
Others currently in the pipeline and keeping in-house editors Bernard Clarke (a fluent Gaelgoir) and Derek Pelly busy include Waka TV's reality format 'Six in the City' for RTÉ; Midas Productions stunning looking 4 X 60minute TV3 nature series 'The Park', which captures Killarney National Park like never before; and Midas' 10-part magic show 'Draíocht Rua' for TG4.
It's not just in the area of TV post-production, however, that Reelgood has thrived in recent months. The company has also build a solid reputation as one of the go-to companies for advertising agencies looking for high quality commercials – from inception to completion – with quick delivery be it live action, graphics based or both.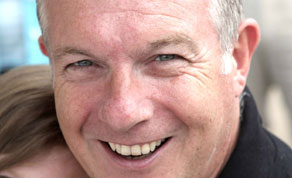 Reelgood MD Aidan Sheeran
Recent clients have included Owens DDB with KBC Bank Ireland, Bonfire with Dunnes Stores, Campaign Adv with MACE, Young Euro RSCG with EBS, Rapport Comms with Allianz, Ogilvy with Ulster Bank and Irish International with Sunday/Irish Independent. All have no doubt been attracted by the presence of directors Dave Caffrey and Ken Byrne, both of whom work for Reelgood.
Byrne is a well-known name within the industry with a prolific and impressive commercials portfolio, while Caffrey is perhaps best known for his work on TV dramas such as 'Love/Hate', 'Monarch of the Glen' and the BBC's recently acclaimed series 'Line Of Duty'.
"We offer full production services on commercials," Sheeran says. "So we would cover everything from pre-production to production and through to post. We've got David and Ken in our stable, who have directed some beautiful commercials for our clients, and that's obviously a big plus."

Essentially we can give clients the best-budgeted package in town "
This particular area, in taking productions from script stage through to completion – be they commercials or otherwise – is one which Sheeran sees huge potential in as Reelgood plots its continued expansion. "From our own point of view, we would see it as a big growth area," he says. "I think we're very well positioned to take productions from script stage with ad agencies and pre-produce, produce and post produce.
"Essentially we can give them the whole product as well as give clients the best-budgeted package in town. Having all the post facilities here; the skills-set; the creativity from our directors; and a particularly good track record on project management with the TV programmes we've worked on, means that bringing a production right through early inception to delivery is something we do particularly well. Agencies can come to us at storyboard stage – or even before – and we will team them up with a good producer and the director we feel is right for the project, and carry it from there."
In terms of hardware, software and the facilities to keep Reelgood at the cutting edge of the market, the production facility has everything one would expect from a company that regularly deals with big clients in the area of production, post and graphics. There are multiple editing suites with the latest model AVID Unity suites and AVID Adrenaline software. Sheeran modestly describes the facility as "comfortable". He also points to the recent investment in the company's two sound studios, both of which are manned by in-house engineers James Daly and John Williams. "Sound is obviously a big part of what we do," he says of the €100,000 refurbishment. "The old saying is that sound is half the picture and so we've ensured our sound facilities are right up to spec. I'd comfortably say that they're among the best kitted out sound studios in town. They look really fantastic"
So with investment, a growing client list, the loyalty of past clients and "a real happy atmosphere and buzz" about the Dublin-based company, what is the secret to Reelgood's success? "I think we've found ourselves in a market where we're particularly well-priced. We're well-kitted, well-staffed and have all the various tools available to us to deliver what the market needs. When it comes to a client making a decision with who to go with, it usually comes down to budget and quality, and we're very good at delivering both. It's one thing getting a client over the line in terms of price, but when you can show them you can deliver high-quality production values with a really good team of people, clients come back and back again and word gets around. Thankfully, we've never had it so good here at Reelgood and here's hoping it will continue!"
For full details on Reelgood's facilities and contact information see Reelgood's profile on IFTN.