As Crowley notes: "What visual effects most often is, is what you don't see. As an artist when no one comments on visual effects, you know you've done your job well."
Discussing a career that has taken him from studying environmental design and working on designing Formula One cars, to in recent times helping establish Ireland's first stand-alone feature film visual effects facility with titles such as 'Lockout' and 'Titanic: Blood and Steel', he spends five minutes with IFTN…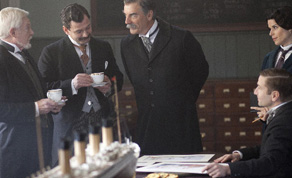 Titanic Blood and Steel
So Ciaran, you've just completed work on 'Titanic: Blood and Steel'?
Yeah, I was just in Windmill last week tidying up the last few shots and it's gone really well. It's a great bit of work and I have to say I'm really chuffed about it. I think Ciarán Donnelly (director) is too. We showed the first two episodes last week as part of the IFTA screening and, to be honest, I was kind of worried about how it would hold up on the big screen but it was fine. It actually looked better than I had thought.
As a VFX artist, do you worry about the work the first time you see it on screen?
Always! There's always a bit of apprehension. It's not a bad thing. If you've done your work right you should be happy enough, but you'll always be a little bit apprehensive. You'll always fear that you missed something or that something might have gone wrong or just doesn't look right because it's gone into grading or something. But yeah, there's always a bit of apprehension.
One would imagine it's hard to let go of a shot?
Well generally you're never really finished it. You just let it go. It's like a painting or something. That's why someone like George Lucas is always fixing his films. In visual effects, you kind of tinker right up to the last minute until somebody says 'stop'.
With your two most recent projects, 'Lockout' is a sci-fi adventure with some effects-driven set-pieces, while 'Titanic: Blood and Steel' seems much more about the effects bedding down around the drama. Do you have to take a very different approach to each?
Not really, no. I think the difference would be that 'Lockout' had such a huge amount of different aspects to it to try and conquer and achieve. So you probably have seven or eight completely different scenarios or sequences that have to be approached separately, whereas in 'Titanic: Blood and Steel' you have the ship in all its different build processes. You've got the gantries and you've got a lot of wide matte paintings showing Belfast. There are a couple of those, along with a couple of Belfast street scenes. So there's a smaller amount of assets to build and texture even though there might be a lot of visual effects in the show. With 'Titanic: Blood and Steel' we were kind of extending Ciaran's vision. We actually built a sort of virtual shipyard and we were able to blow that wide open for him. There's a title sequence up online on YouTube (see below), which has a shot of the ship being built and it's in its rib stages. It's a wide sweeping shot that has a bit of artistic licence in there, but it's a fabulous shot. It's shots like that that kind of help give Ciaran the sort of broad strokes that he can set the drama within. We set out the time and space for him and he can then drive straight into the drama from that.
Let's go back a decade or so, how did you first get involved in VFX?
I was working for a design company in London. I moved there after graduating in environmental design in DIT, Mountjoy Square. Spacial design was really what I was studying, and I was always obsessed with films. My projects always seemed to veer towards film or science-fiction style designs. So I was always a bit obsessed with it as a kid. But working in this company in London, I found myself working on some Formula One stuff for a year or two. To be honest, I got a bit tired of it.
Then this guy called Saint John Walker started up a course at the NFTS in compositing. I'd sort of come across him before because he had been teaching a course in animation at St Martins. He was well known in London and he showed me this compositing course he was building. From there I signed up and spent four months studying the art and design of digital compositing at NFTS.
Presumably it was through the course that you landed your first job in VFX?
Yeah, we had a breakout show at The Mill in London where we showed our work. Everyone in Soho came along to see the work and, as the story goes, none of the students wanted to run the bar and me being an Irishman thought 'hey, I'm going to meet everyone if I run the bar' so I did that. And through that I met all the guys who were the employers. So after that I got a few names and numbers and I was offered a couple of jobs. Through that I came across a company called Double Negative, who I'd noticed on the trailer for the film 'Pitch Black'. I love science fiction so I sent my showreel in there and, oddly, the following day I got a call from a guy called Richard Bain. He was head of 2D in Double Negative and one of the founders there. He took me on. I sort of worked under Richard for about four years before he moved on. I stayed there for probably another six or seven years.
What did you start off doing?
I started off pinning pictures up on boards and doing all the grunt things that you do – making cups of tea and all the usual stuff. From there I worked my way up through compositing and the 2D department to a decent skill level, but it took a long time.
It wasn't long though before you were working on huge studio movies like 'Batman Begins'…
Yeah, well Double Negative started out as a fairly small enough company. When I joined there was probably about 60 or 70 people there. They made me a staffer after about three months and we did a lot of the Working Title work there - things like 'Bridget Jones' Diary' and 'Johnny English'. Eventually we started doing some of the bigger US shows. 'Batman Begins' was where we really started stepping up. We were always really famous for our compositing in D-Neg but with 'Batman Begins' it was a phenomenally successful film in terms of the visual effects. After that, D-Neg just kind of became a fairly big establishment and it's obviously gone from strength to strength since.
Aside from the four-month compositing course, did you receive much training?
Well there wasn't much training back in those days. You pretty much lived in the company and just stayed in there at night. You had to stay very late at night sometimes just to get some time on a machine that had the Shake software on it. Shake was an older compositing package that kind of pre-dated Nuke. So I was pretty much self-thought. A lot of guys will tell you that really the key to visual effects is having a good eye. That's the basis, and if you have that background in design, your eye is already trained and you'll use that in compositing. Everything else you eventually learn off the guys that are senior to you. Nowadays of course there's lots of training in-house and that, so it's perhaps a bit easier but back then it was tough. Compositing is often called the black art of visual effects because it's more about looking at the world around you and taking a camera with you. Often a huge part of what I do is just taking photographs just to see how the light plays off different types of textures and structures, and really it's the nuances of that that you learn to do well in compositing with a group of people around you, giving helpful critical feedback to your work.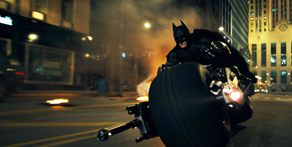 The Dark Knight
Tell us a bit about you work on films like 'The Dark Knight' and 'Inception'?
The big work! Well I started working on 'Batman Begins,' and I worked under a guy called Paul Franklin in Double Negative. He's a very well-known guy and recently won an Oscar for 'Inception'. We were really pushing ourselves to the limit on 'Batman Begins'. I did a lot of the car on the rooftop scenes as well as a few of the wide cityscape shots. I also did a couple of other bit and pieces. On 'The Dark Knight' I was sequence supervisor of what we call "the Bat Pod", which was the sequence where the Batmobile explodes underground and the sort of motorbike comes out of it. Then I did the sequence in that movie, which is what I call "the empire strikes back". That's the one when the Bat Pod shoots out the harpoons and turns the lorry over. With 'Inception', I came into that show late because I was working on 'Iron Man 2'. But on 'Inception' I worked on the building destruction shots. Then I got told about the projects in Ireland and I just thought 'yeah, I'm in'! It's been a very exciting couple of years really.
Is there a particular piece of work that you're proud of?
Ha! All of it! I'm very, very proud of what the team has done in Windmill on 'Titanic: Blood and Steel'. I'm proud of 'Lockout' too. I mean its 500 effects shots made on a pretty tight budget and a tight amount of people compared to what I was used to. You know, we might have 300-400 people on the same amount of work in Double Negative in London (about 80 people worked on 'Lockout' in Dublin). So I think what we've achieved in Windmill to date is probably what I'm proud of, particularly with 'Titanic: Blood and Steel'. I think that the team has done an absolutely brilliant job on it.
When you take on a visual effects artist, what kind of things are you looking for?
Well Ditch Doy is the 3D supervisor and he'd be looking for different things in the 3D realm. That would include a reasonably good showreel, and Ditch would always go for someone with a kind of generalist background. So they'll have a bit of animation; a bit of lighting; bit of modelling, things like that. On the 2D side, a lot of the things that I would look for would be personality and ability – really a mix of those two things. In visual effects, because you're really working together, you have to be able to get on with people so I always think that ability and personality are about 50/50 in deciding whether to take someone on. Ability-wise, it's about having an eye for detail. So maybe the person might have a Photoshop image that they've created and it's made-up of several different photographs, something like that.
A lot of the Irish guys would have come from an animation background and maybe have done some After Effects or some graphics work. So it's really about looking for a good design eye primarily. Then sometimes I'd give them some tests. One that I like to give is for them to go off and shoot a guy running or something like that. With the junior guys, one of the first things they'll start doing is a thing called rotoscoping, which is cutting out things from images. It's basically drawing a line around people or cars or whatever it is. That's really where they start. So if they can rotoscope and do it reasonably well, and show me that they can do that, I'll try and take them on. So a couple of the Irish guys did that really well and I took them on for 'Lockout' and they've stayed with me. They're actually compositing now and have really become pretty good. The main thing really is a good eye and maybe an interest in photography for the 2D. An interest in visual effects and a love of film is always a good thing, and someone who's kind of nice! As it's such a team effort, ego doesn't fit in well. You're not the director. You're in a team environment, and team is really the key word. Visual effects is about the sum of the parts.
If you had one piece of advice for somebody who wants to get involved in VFX it would be….
Don't! (Laughs). No, I think the best bit of advice is that you have to love it. It's a calling. That sounds ridiculous, but it is a calling because you have to spend so much time doing it. You have to love what you do. If you're half interested in it, don't go there. But if you're really obsessed with this kind of filmmaking, then come along. It really is a great job – the best in the world really. I'm always meeting people who want to get involved and really enthusiasm is a great thing. It's half the battle really. You know the person will put in the effort to make things look as good as they can, and that's what it's all about. It is filmmaking. It is tough hard work, but it's rewarding at times when you have your work on screen and there's a couple of million people seeing it, or a couple of thousand, or maybe a few hundred. Enjoying that with your colleagues really is a great experience and a great satisfaction.
For more information on Windmill Lane VFX visit www.windmilllane.com
Watch the opening sequence for 'Titanic: Blood and Steel' here: