Dublin-based post-production house Egg talks to IFTN about their recent expansion, a joint venture with Soho-based Aquarium Studios and their upcoming work on Sky's epic 13x60minute series 'Sinbad'.
It might seem counter-intuitive to expand a business during a recession but for Dublin based post-production facility EGG, the timing is right. Having grown from humble origins and a staff of six in 2004, the Dublin based post production house has now acquired a Georgian mansion which has been fully redecorated and fitted with the latest post facilities. IFTN caught up with co-founders and owners of the Egg business, Gary Shortall and Gareth Young to discuss the recent developments.

Gary explains that the upgrade now makes Egg a "one stop shop". As they show IFTN around the newly painted, carpeted and fitted home of Egg, Gareth lists the changes in the Georgian building explaining "we now have eight offline cutting rooms with FCP or Avid, two online finishing rooms, a Nucoda Film Master grading room, a sound studio and audio cutting rooms, a Visual Effects area and a DCP authoring room.
"The new elements of that are the sound studio and the visual effects set up; the grading room has also been upgraded with a new Cinetal 42 inch grading monitor and a bigger projection screen and it has Nucoda Film Master which is a high end broadcast grading system for TV and feature films. As well as that, we are now connected to a central storage system - essentially a huge array of disks which everything is connected to. It is a system called Isilon which I believe is the first in Ireland. That is also connected to a high speed data transfer system called Aspera which has a new fibre 200 meg connection. This means that people from the US, the UK or anywhere in the world can feed footage into us at high speed and we can return footage back to them at high speed. It's like a huge file sharing system which we license out to users."
While the expansion of Egg has been a massive remodeling job, it did not entail a long distance move. Originally located in the Mews at the back of the new property on Fitzwilliam Street Upper, Egg finally acquired the whole Georgian property after it recently became available. In addition to retaining their original property behind Egg's new HQ, and keeping the post house in the original setting, reflects the intimate 'personal' ethos of Egg. "We started off as a small company and actually we still are," says Gary. "We've got a great team as it is and we like that small company feel. Clients also seem to respond well to it." The experienced editor explains how they never want Egg to turn into a mass factory of sorts. "You don't get lost in this massive layer of middle management here. Myself and Gareth stay involved in the day-to-day running and everything that happens. We know what's going on in the business and if a client wants to talk directly with us, they can pick up the phone and talk directly to me or Gareth."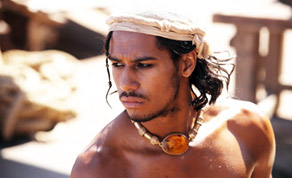 Sky 1's Sinbad
However, Egg's most recent contract is anything but humble, with the ink barely dry on contracts signed to work on Impossible Pictures epic 13x60 series for Sky1 'Sinbad'. Egg will handle the offline editing, the grading, online editing, the sound post and some of the visual effects for Sky 1's multi-million pound epic series. With principal photography already underway on the series in Malta, Gary explains that "the cutting rooms have already been set up out there and the rushes come back to us using our Aspera link."
Covering the audio side of things, the new sound studio at Egg is part of a joint venture with BAFTA winning Soho based Aquarium Studios. "We did have various ways of working with sound before," says Gary. "We'd look after the picture post and we'd outsource the sound to various companies. But we identified the need to build our own sound studio. We've teamed up with Aquarium which is a full joint venture.
"What we've done is built this studio and fitted it out with a Neve DFC Gemini mixing console which is as far as we know the only one in Ireland. It's a 7.1 Dolby Licensed Dubbing Theatre. By teaming up with Aquarium Studios, we are using their expertise in the sound world to plug into what we do here in the pictures world. It means we can fast-track our growth into sound post-production instead of starting from scratch and trying to learn from the ground up basically. We could have built a studio and hired people to run it but instead we built a studio with them and they are running it with us and they've got years and years of expertise doing that." Although BAFTA award winning dubbing mixer at Aquarium Ben Baird will oversee all final mixes on big TV drama and features at Egg including 'Sinbad', the new facility will be staffed with Irish employees.
Egg have a strong pedigree in TV drama and Features post production and have recently finished the second series of BBC's 'Roy' for Jam media. Other projects are 'The Clinic', 'Pure Mule', 'Legend' and 'Prosperity' and features such as 'Eden', 'Triage' and most recently Egg have posted four feature films (Lapland Odyssey, Parked, Isztambul, Earthbound) for Ripple World Pictures and four Hallmark Movies for Parallel Films. Gareth believes these are "all reasons why 'Sinbad' looked to us as being a good choice because we had the experience and the pedigree in TV drama and features. With 'Sinbad' in particular they are looking for a feature film vibe to it, some of the editors that are working on it are feature film editors so they wanted someone who could do all that stuff too." Gary echoes this belief, saying a gradual move into more feature films gave Egg "the learning curve" which now sees them set up as one of Ireland's top drama and feature post houses. However, Egg is still involved in a lot of documentary work which Gareth says is still very important to them. "At the moment there are three doc series going on in the building and they are just as important to us as the feature and drama work. We like the mix that we do."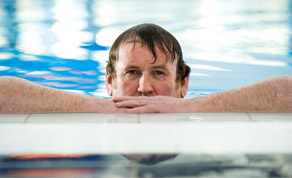 Colm Meanye in Parked
The work on the Ripple World's features and Hallmark projects also required a lot of visual effects. This is another area in which Egg have expanded. "When we won the contract with Sinbad it was excluding the visual effects so we were getting everything except the visual effects. The Mill in the UK were signed up to do all the high-end visual effects but Impossible Pictures wanted to maximise their spend in Ireland and asked us would we consider a collaboration with The Mill based in our building. It made financial sense for the production company to do it in Ireland and avail of the Section 481 tax break. It also makes sense from their point of view to have systems that matched in Ireland, so that when all the VFX are put together it would make the transition easier.
"They proposed that they set the entire visual effects unit up here for us so The Mill are configuring everything and advising us in certain areas. They are going to ship it over here and then we will be using local people to work here. It is a collaboration and hopefully more work might come out of it for both companies. There will be six nuke based visual effects stations." At the end of this process, Egg will have a fully functional VXF department ready for work on features and drama. Another relatively new venture for Egg is the production of Digital Cinema Packages (DCP's) which they have been doing for the last year and a half. "We are one of the few places in Ireland that can take it from Rushes right up to the big screen but we can also re-package prints that have been done elsewhere for distribution or create DCP's from tape masters or files that have been finished elsewhere," says Gary. Some of the projects that have passed through Egg's Digital Cinema Department include 'Trafficked', 'Na Cloigne', 'Colony', 'Savage', 'Parked', 'Between the Canals' and 'Isztambul.'
With Section 481 cutting up to 28% off the tax bill, more and more international productions are being attracted to Ireland to meet all their post-production needs. The expansion at Egg means it now has the facilities to handle the most demanding of international projects, with the character and ethos of the personable post house remaining intact.
For further information about Egg visit www.egg.ie