IFTN speaks with Irish Digital Intermediate Producer and Visual Effects Supervisor, Des Carey who will fly from LA to Ireland next week to share an insight into his world of visual and digital effects with Members of the Irish Film & Television Academy (IFTA). The Irish VFX master will demonstrate the pioneering technology he has helped introduce to cinema-goers in spectacular blockbusters such as '300', 'Watchmen', 'Where the Wild Things Are' and 'Transformers'.
A native of Dublin, Des Carey was taken on by George Lucas in 1994 as a film archivist and has been based in Los Angeles ever since working as a Digital Intermediate Producer and Visual Effects Supervisor on dozens of award winning features.
First and foremost, and for those of us less well-versed in technological speak, I ask Des to explain his role in very basic English. "Studios employ me to guarantee the release of their feature films," he starts. "I'm involved from the dailies stage when they start shooting right up to the point where I physically turn over the feature to the studios. I check in with the producers, the director and visual effects crew to make sure that they're up to speed and, if they're not, I take on some of the work myself with the in-house people."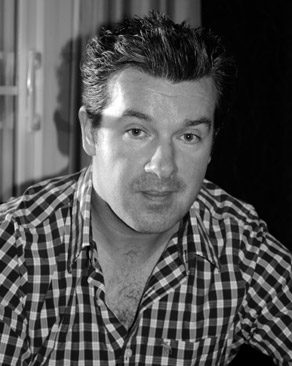 Des Carey
Des looks to work on films that are visual effects heavy, a lead on from his beginnings in the film industry as a Film Achivist in Lucas Film, George Lucas' production company. So, how did a Sligo IT graduate with an interest in special effects land such a dream position? Des puts it down to pure luck: "I graduated in the early 90s and a friend of a friend introduced me to George Lucas in San Francisco. I was a huge fan because he was obviously bringing out the most anticipated films of that time. I think I got the job because I was Irish and hadn't been brought up in the American environment – I was like a breath of fresh air to him."
Des worked as a film archivist in Lucas Films for just under three years. Towards the end of his time with the company the digital intermediate (DI) process came in to play in film, something which intrigued Des. There were other huge changes being made in the industry, as Des recalls: "It was like the heyday of everything. Pixar was sold and became its own company and the industry itself was completely changing, like what's happening at the moment in fact." Des himself changed direction in his career by joining Phil Tippett's production company, Tippett Studios but he still remains very friendly with George Lucas: "He really took me under his wing," he tells us. "He is a real gentleman and we are still really good friends."
He worked with Phil on the studio's first production, 'Starship Troopers', the production of which consisted, in Des' own words, of: "Making it up as we went. That was just what we had to do. I mean, I was bringing stuff home and working on shots there on a really awful Apple. And all the stuff I had done in college like model making really came in to play. But I really learnt about finishing a film with Starship Troopers."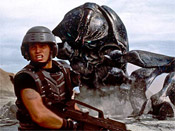 Starship Troopers
Des then went on to work in the role of Visual Effects Editor on features such as 2003's 'The League of Extraordinary Gentlemen' and 2004's 'The Stepford Wives' and 'Catwoman'. Following this he worked as Digital Intermediate Producer on 'Underworld: Evolution', 'Mission: Impossible III', and the second and third instalment of the 'Pirates of the Caribbean' film series where he was wowed by Johnny Depp's dedication. "We shot the second and third films back-to-back and he stayed in character for the entire time. I didn't ever meet him as Johnny Depp, only as Captain Jack Sparrow." He is also deeply respectful of the films' director, Gore Verbinski: "Gore is a really interesting character," he says. "His father is a rocket scientist. He has a degree in chemical engineering and was a member of a punk rock band so he has a lot going on in his head. The big thing with Gore is that he gets really into the minor details of a film which was great!"
Asked about the ground-breaking work done on Zack Snyder's '300',Des is quick to entitle it "The most technologically challenging and rewarding film I have worked on to date." Inspired by Frank Miller's graphic novel of the same name, cutting edge technology was used to create the very specific look of the film – something that happened in a very organic.
"None of us really understood what would be involved in the production of 300," Des tells us. "Not even the director. Basically, in early 2005 Warner Bros. gave Zach Snyder $100,000 to shoot a test. They needed proof that the film would work because, at the time, Zach was quite an untested director and he was looking for $60m for an R-rated movie for a limited audience." Zach and his team, including Des, put their heads together – the art director sent Des the shot composites which were put together and coloured. "And we went just crazy on the footage on a sound stage in Burbank with no actors, just everyday people. And Warner Bros. liked what they saw." Twenty visual effects houses on four continents worked on the feature that took $70m in its first weekend. "It was a bit scary when we were making it," Des admits, "it could have gone very, very wrong but managed to go very, very right."
Another hugely important feature that Des worked on was Spike Jonze's 2009 hit, 'Where the Wild Things Are' – a movie version of the beloved children's picture book. The film claims the title of being the longest amount of time Des has spent on a project. Indeed the film's star, Max Records was seven years old when filming commenced and was almost ten by the time the film's shooting wrapped. It became a rare problem of shared growing pains. "There were obviously huge changes in Max's appearance," Des explains. "He was three inches taller at the end and his big teeth had fully grown whereas they were just appearing at the start of filming. In the end we had to manipulate his face in each of the later shots and make it thinner – putting in shadows etc."
Where the Wild Things Are
Des has just finished the Dan Bradley directed 'Red Dawn' action film but doesn't know when it will be released. "I delivered it to MGM but, of course, they've been having problems so it's just sitting on a shelf at the moment. We spent $80m on it and it was the last film MGM greenly - in fact, before the trouble started. I'm hoping things will start to turn around and that it'll be out soon."
December 21st will see Des discussing the VFX & Digital Intermediate process on several of his features including 'Transformers', 'Quantum of Solace', 'Cloverfield' and '300'. He will also present to the assembled IFTA members the challenges of creating digital effects and the science of digital finishing.
The event will take place in Windmill Lane Pictures, a very fitting location for Des: "I was an intern with Windmill Lane back in 1987," he explains. "It opened my eyes to a lot of things so I can't wait to get back!"
This event is open to Academy members with experience and/or who have a genuine interest in the science of digital finishing and VFX and RSVPs should be sent to membership@ifta.ie.