The second phase of Dublin's Digital Hub comes to an end in 2011. The government initiative has been in operation since 2004 and will see its third and final phase of development come into effect in 2012. IFTN spoke with Digital Hub Development Agency's CEO, Philip Flynn to discuss the ongoing project, the steps he thinks the Irish government now needs to take and the consequences of the current property impasse.
The Digital Hub is an Irish Government initiative which was launched with the aim of creating an international centre of excellence for knowledge, innovation and creativity focused on digital content and technology enterprises. The Hub itself consists of mixed-use developments including enterprise, residential, retail, learning and civic space. The project is managed by Irish government agency, the Digital Hub Development Agency, which was established in July 2003 and of which Philip Flynn is CEO.
Philip has been involved with the agency since its inception in 2003, a role which followed a varied career. 1987 to 1997 saw him in the role of Director of computer hardware company, Digital Equipment Corporation following which he took on the role of Vice President of International Operations with Visio Corporation, a computer software company acquired by Microsoft in 2000 . In recent years he worked as the COO with software company Orbiscom.
He explains how this led to his current role with the Digital Hub, saying: "Prior to my involvement there hadn't been a full time executive in the Project - it had been managed through the structure of an executive chairperson and an executive services team. The board wanted to move to the next stage of operating so they went looking for a new CEO and I got a call and it happened to suit in terms of timing I suppose."
Philip had a keen interest in the project before he was approached: "I'd been in the computer industry and related spheres for 20 odd years in the eighties and I was very excited by the vision that I saw when I first read about it a few years earlier. I was really applauding it."
The executive tells us that his personal interests and hobbies also had an important role to play in his taking the position: "In my early days I had a previous life in the Arts in that I was running music gigs and music festivals and that's always been an important part of me. And I play music. I'm still on the board of IMRO, the Irish Music Rights Organisation, so I have that strand, if you like, to me as well. What's more, I've built houses myself before and I love architecture and heritage so it seemed almost like a match made in heaven."  
The Digital Hub will be delivered on a phased basis up to 2012. Plans for The Digital Hub have been devised to reflect Enterprise Ireland and IDA Ireland's aim of developing a world-leading digital media industry in Ireland and Dublin City Council's vision for the urban regeneration of the Liberties/Coombe area.
The first phase of the plan states what was to be achieved by 2005 including a seed enterprise cluster formed with 50 companies and over 400 employees; a mix of indigenous and foreign enterprise across digital media value chain; private sector development contracts awarded and the establishment of social, community and learning projects.
The second phase launched in 2006 and will run until 2011. This section of the orchestration has three further requirements including a demonstration of enterprise and research cluster growth alongside a major private sector development of campus facilities and growth in the direct interactions with the social, community and learning projects.
Talking about the project running according to plan Philip says: "There was always a concern as to whether and how much demand there might actually be for this vision. When I came to the project I set out to focus on the demand side, concentrating on assembling the companies in particular and developing the learning programme and the various other aspects to the project. That all became successful and moved along very well, and we went from 16 companies in the first year to 40 in the second year to fifty-something the third year, to 72 or 73 the next year.
"We're now up at 90, hovering around 95. But we've actually reached a stage where we're pushing at the full extent of our supply capabilities so we're capacity-constrained and have been for some years now because the property side of the project has been difficult."
Phase three of the Digital Hub development will launch in 2012 and brings with it three more requirements. I go through each of these in turn with Philip to see if they are still on track.
Firstly, phase three calls for a vibrant cluster of Digital media Enterprise established with around 3,000 people employed. This may prove problematic, it would seem: "It's about a thousand at this point," Philip starts. "The problem now is the constraints of the area itself. What we need to do now to is find a solution to the current impasse on the property side. We actually have about 150,000 square feet - we looked at what we had and maximised what we had. So we refurbished some of the existing buildings within our own resources and then we got to the stage where we actually took third party leases on adjoining buildings in order to fulfil the demand for the space. But now we're at a stage where really, that was an interim strategy in anticipation of a new development coming on stream. We had agreed this development with a group but it has now been delayed and that's really nobody's fault, it's just a function of the general downturn. Contracts were signed with developers and everything but the developer is now unable to carry it out. And there's not much we can do, we can't snap our fingers and make a building appear (would that it were so easy!) So the next stage is we need to find a solution to the current impasse and get the development under way."
The other parts of the development's final phase requires that the Digital Hub has aided urban regeneration and that there is evidence of a positive impact on community and learning programmes from the group. Philip tells us that this aspect is completely on track. "Yes, it's like community development and urban regeneration almost hand-in-hand. The community has been superb. As a strategic thrust for ourselves, we initially decided to focus, right from the start, on the learning and the community engagement and one of the major benefits and gains for the local community is the learning programmes that are focussed on the children and the schools within the community.
"So they knew from the outset that our ethos has been to ensure that the local community will benefit as much as possible from the success of having a Digital Hub on their doorstep and that we would do everything we could to encourage them to benefit from it. We are very well regarded fortunately and we have to work very hard to keep our reputation intact. The local community is a very strong strategic and political support to us now and we want to be able to retain that."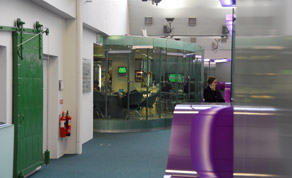 The Digital Hub
As to the breakdown of funding for the Digital Hub, Philip tells us a change is currently underway: "It's difficult at the moment in that we're partially funded by the exchequer and we get some commercial funding and we really need both," he explains. "Ultimately we're moving to a point where we would be completely and 100% self-funded. We've moved from 100% outsider funding, when I came here first, to now it being 60:40, with 60% coming from commercial and 40% coming from the exchequer. So again, we would say that we can demonstrate that there's a trajectory and a track record of moving towards self-funding. But that next push, to take us from 40% to 0 will probably take another 3-5 years and will be dependent upon getting sufficient space that we can take revenue from over those next five years."
With the final development phase coming to a close in 2012 I ask if Philip and his team will draw up new ones to take them through the next decade. "No," he replies without a second's hesitation. "The next phase is the final phase. There was the preparation phase and a lot of the desk-bound research and then we had to prove the concept, which I think we've done. We have a very strong seed cluster so it's really now about leveraging that, expanding it, moving to the 3,000 jobs and more. And not only jobs here but nationally, ensuring that the digital media sector nationally gets a stimulus for growth. The government has invested, in our capability. Government should now ensure that it maximises that investment and that we spread, pervasively, that capability throughout the country."
How would they best go about that? "I'll give you one example: recently, obviously all the focus now and all the criticisms of government are that they're needs to be a jobs strategy and a jobs policy and jobs stimulus initiatives, but of course we've been saying that for quite some time. We've been saying for quite a while that the government needs to have some government agencies that are really focused on this and we would put ourselves forward as being one of those."
Much thought has evidently gone into this proposal. Originally pitched as 'Get Ireland Online', it was recently renamed 'Web Activate'. The programme, now running in its first phase, looks to help medium businesses in Dublin, Cork, Limerick and Galway who currently have no web presence - or need to upgrade their existing web presence. The programme includes work placements and training. "Back in February, we were still waiting for government approval to move in this sort of direction," Philip explains. "So we just went ahead and did it anyway ourselves. We did a pilot and we applied to the labour market activation fund. We were successful in that and we have a programme running now which will re-skill 200 unemployed graduates and unemployed digitally literate people and will match those 200 with 600 companies that need to get web-activated throughout the country. It's  taking people off the live register and skilling them in an appropriate way and then offering them for free to companies that will be able to take advantage of their skills and then, hopefully, those companies will be able to do more business and will want to continue their development on that path, if you will."
Philip's pride with how the Digital Hub has performed so far comes across most obviously when he is asked if this digital age is here to stay.
"In this new world that we're moving in, digital is just as important as a piece of literacy and as a piece of capability for every business or organisation -  arts, non-government, voluntary- whatever,"
he tells us emphatically.
"Everywhere people congregate together to do some work, digital will be a critical part of how they do that and they need to be able to maximise their interaction with it."
For more information about the workings of the Digital Hub and Web Activate visit www.thedigitalhub.com.