Gary Shore (The Draught) put his blood, sweat and tears into a trailer for 'Cup of Tears', a live action version of Japanese animation. The short trailer did a rapid tour through hundreds of LA inboxes and now UK company Working Title have come on board to transform Shore's trailer into a large scale feature film. The director spoke to IFTN about his project's extraordinary journey thus far...
The road to Irish director Gary Shore's recent success has been a strange and wonderful one. Starting his filmmaking career as a director of music videos and advertisements Gary spent months pitching Lebanese pop music and German trance videos and picking up various skills, describing his experiences working within those industries, he says: "You've to try and have the ideas that are brighter and sexier than anyone else's – essentially have less clothes and lots of oil. And the only way to look at it is say 'Well, it's all experience, it'll teach me all about beauty lighting'. It'll be handy when I get my Chanel ad down the road."
A shoot for a music video on an island off Croatia turned Gary off outdoor shoots for life. "We were shooting on this island in November," he tells us. "We were really up against the elements and we didn't get certain shots because of the weather. So I swore I'd never shoot anything outside again." This decision was obviously aided by Gary's love of green screen and his ability to paint his own backgrounds. Advertising contracts and music video shoots kept his workload heavy but, as he puts it, "I read 'Rebel without a Crew' by Robert Rodriguez and I knew then that it was the time to look at what I really wanted to do." Namely try to apply Japanese animation to live action.
Gary met up with an old friend, Shane Whelan who worked in advertising; having told Whelan his idea the latter pulled in another friend, Louis McConkey and in August 2007 the trio set up One Punch Films and set to work - armed with just €20,000. Gary explains why the partnership worked well: "It was a gamble for them but it was a healthy gamble because they knew I'd give it my all."
Gary set off for Slovenia and started into four months pre-prod artwork. The trailer was shot in February 2008 after which Gary ran out of money and thus returned to Dublin. Here he met with Windmill Lane because "they'd been really good to me, they put a lot of faith in me." And so Dave Quinn and John Kennedy (who, Gary tells us, comes from comic book/music video background) got involved and for about a year Gary worked around the bigger projects posting at Windmill, editing and compositing backgrounds when the edit suites were free.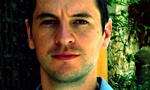 Gary Shore
At this point the piece itself should be introduced. 'Cup of Tears' is, as described above, a live action version of the Japanese art form of Anime. "You're trying to imitate the way animation works, cell by cell," Gary explains, continuing, "it's a labour intensive job - there's a part in the trailer where a guy spins around and that took me five weeks to do!" As to the way Gary created the effect, he tells us it was a very organic process: "I would lay out say 25 frames in front of me of one rotation just and pretend I was a Japanese animator. And you can't afford the same in-between cells the way Disney artists would because theirs is very graceful and beautiful. The opening shot for the trailer is from behind, running feet, which we shot on a treadmill at fast speed on a really wide lens to replicate the look of anime. The Japanese approach is about limitations and cost-effectiveness - so I dropped unnecessary frames and I ended up with a stop motion effect so I added in motion blurs and camera shakes and other effects that brought it into an anime world - or 'Animotion' as I call it."
When the trailer was eventually finished Gary and his producers hit a wall. "Naively we thought we could go out with a DVD and a projected budget and someone would take us up on the offer." Gary moved to London and was one week into an MA in fine art in St. Martin's college when "I woke up to an e-mail from Warner Bros. saying 'We've seen your trailer, how would you like to come make a film wit us?"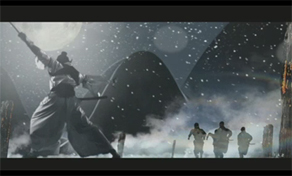 Cup of Tears
The e-mail came about following a very 'Hollywood' series of events. Jonathan Loughran, the LA representative for the Irish Film Board had a meeting with Warner Bros. exec, Matt Reilly who asked at the end of the meeting if there were any interesting Irish directors he should know about at which point Jonathan remembered a trailer he had seen – Gary's. Matt watched said trailer and five minutes later asked Jonathan for Gary's contact details. "There's this assistant network in the studios system and the various assistants of the studio execs started sending the trailer around to each other," Gary tells us. "And then it went on to the trackers' network. And so, within 48 hours every studio and talent agency and management company had called me with huge offers." Having spent a year "sitting in my childhood bedroom banging my head off the wall," opportunity had eventually knocked.
Loughran started showing the trailer to other contacts he had and released it at just the right time. He went to see CAA's Hylda Queally who, in turn, sent it on to Kathleen Kennedy, Steven Spielberg's producer. So impressed was Kathleen with what she saw that she said she'd fly to Dublin to meet Gary who was heading out to LA anyway so she organised for Gary to meet with herself, her husband, Frank Marshall (Raiders of the Lost Ark, The Sixth Sense) and Lorenzo di Bonaventura (Transformers, Stardust).
Kathleen et al were keen to make the film, as were New Regency and Legendary Films, and all were dying to see the script. A script that wasn't quite ready yet. So when Working Title made the offer of getting a script writer on board alongside Gary, his decision was made.
Steve Golin (Eternal Sunshine of the Spotless Minds) got involved with his company Anonymous Content and a list of possible script writers was drawn up including 'Moon' writer, Nathan Parker. "I'd seen Moon and was completely blown away by it," Gary says. "When his name came up I immediately said I'd love to work with him." Nathan came on board and both men are currently in London working on script ideas before Nathan's return to LA to pen the finalised screenplay. The feature length version of 'Cup of Tears' is expected to shoot next summer.
To view the 'Cup of Tears' trailer check out www.garyshore.com/film.html