Irish actress Sarah Bolger might be just seventeen years old, but she already has a string of starring film roles under her belt. She made her big screen debut at the tender age of seven opposite Orla Brady (Mistresses) and Liam Cunningham (The Wind That Shake the Barley) in Sydney McCartney's 'A Love Divided', followed by a part in Bobby Roth's TV movie 'A Secret Affair'. But it was her role opposite Samantha Morton and Paddy Considine in Jim Sheridan's Oscar-nominated 'In America' that catapulted her onto the world stage. Starring opposite her real life sister Emma, the then ten year old Bolger brought a maturity beyond her years to the role of caring older sister Christy, a part that was originally written for a 16 year old.
The talented young actress has since been busy juggling schoolwork with string of film roles, acting opposite Andy McDowell and Iain Glen in ' Tara Road' and alongside Stephen Fry and Ewan McGregor in 'Alex Rider Storm Breaker'.

Highmore & Bolger
Her latest film, 'The Spiderwick Chronicles', sees her star opposite one of Britain's most in-demand young actors, Freddie Highmore (August Rush, Charlie and the Chocolate Factory) along with Mary-Louise Parker (Weeds, The West Wing), Nick Nolte (Hulk, Paris, je t'aime) and David Strathairn (The Bourne Ultimatum, Good Night and Good Luck).
The film, based on the bestselling books by Tony DiTerlizzi and Holly Black, follows Mallory Grace (Bolger) and her twin brothers Jared and Simon (Highmore) as they move with their mother (Parker) from New York to a secluded old house owned by their great-great uncle, Arthur Spiderwick (Strathairn). When strange accidents begin to occur on a daily basis, the siblings begin to investigate what's really going on and the truth of the Spiderwick estate and the strange creatures that inhabit it are revealed.
Shot on location in Montreal, Canada from August to December 2006, with a two week stint in Los Angeles, the magical film is directed by Mark Waters (Freaky Friday, Mean Girls) from a script by Karen Kirkpatrick, David Berenbaum and John Sayles.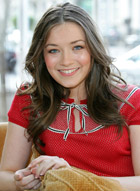 Sarah Bolger in Dublin
So how did Bolger land the part?
"After 'Alex Rider' came out I was called for a meeting with The Spiderwick Chronicles people," says Bolger, speaking to IFTN in Dublin. "They just contacted my agent and I went in for a screen test with Freddie Highmore and they picked me.
"I was so excited, I had read all five books about a year before I even heard they were making the movie, and I was so convinced I looked like the illustrations of Mallory! I was like 'I can be her!'"
In the US, there is no shortage of fame-hungry teenagers eager to get their big acting break, so it's a credit to Bolger's talent that Waters chose an Irish actress for the role of Mallory.
"Myself and Freddie Highmore were very surprised because when we went over for the screen test we were introduced to each other and you know in our heads we were saying ok 'Well I'm Irish, he's English - clearly one of us is not going to get this movie!'," she says. "Because we didn't think that they were going to pick two Europeans for an all-American movie. And I was up against some American actresses for the role too."
She pulls off a flawless American accent in the film, and American cinemagoers were astonished to find out she was actually Irish.
"I had a dialect couch but I wasn't too worried about the accent. I think the Irish accent is quite close to the American one, there are not too many differences, so literally it's picking up the melody. And I practiced it anyway. I really enjoy doing accents! So many American's have said to me 'Where are you from?', they don't believe I'm Irish!"
Freddie Highmore plays the roles of twin brothers Simon and Jared in the movie, distinguished by different hairstyles, voices and contrasting personalities. So filming scenes where she has dialogue with both Simon and Jared proved an interesting acting challenge for Bolger.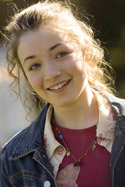 Bolger in The Spiderwick Chronicles
"We usually had a double for one twin so that helped...he wouldn't have to say the lines necessarily, we would just need someone for eye line and I would act off that. We have a motion control camera which takes a while to set up, and that kind of splits the screen for where the other twin should be…it was very weird!"
Bolger's character encounters a gruesome selection of goblins, faeries and brownies in the movie, which presented another challenge for the young actress – having dialogue with characters that weren't physically there.
"There was a tennis ball on a stand as a visual aid that we talked to for those scenes. I think it started to talk back at the end!," she laughs. "It's kind of weird having to react and display emotion when you're talking to a tennis ball, it's something you have to get used to since this was the first CGI blue screen orientated movie that I've done. I did have great people around me, like Phil Tippett who did the Jurassic Park movies."
Seeing these animated characters come to life when she finally saw the movie on the big screen was an exciting experience for Bolger.
"I was in shock! Seriously, I had no idea of how scary these creatures were going to be. Yes, you use your imagination and you know they are going to be scary but I had no idea to what scale. When you're filming, all you have is Mark Waters, the director, shouting into a microphone "Roar!" and you sort of react to that.
It was amazing seeing the Griffin, which is the large bird-like creature we fly off on, on the final film. Filming that sequence we were just in a blue room on, for want of a better word, a mechanical bull so it's sort of beautiful to see it come to life in its finished state."
Actors Seth Rogan (Knocked Up) and Martin Shortt (Father of the Bride) lend their voices to two of the characters in the movie – Hogsqueal and Thimbletack . Did she get to meet the two comedy actors?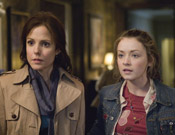 Mary Louise Parker & Bolger
"No I didn't, as that was all done in a voice over booth. I was really excited to meet Mary-Louise Parker though as I'm a big fan of 'Weeds', she is very good in it and she's been in some great movies. I have to admit I hadn't really seen any of Freddie Highmore's movies, but I worked with Jim Sheridan and his daughter did a film with Freddie, 'August Rush', so that's how I knew of him.
Mary-Louise Parker she was great on set and we had lunch in her trailer most days when she was there, but for the first two months it was just myself and Freddie on set."
"I was a big fan of Mark Walters too, I had seen 'Mean Girls' and 'Freaky Friday', but my favourite one of his movies was 'Just Like Heaven' with Reese Witherspoon and Mark Ruffalo. 'Spiderwick Chronicles' is totally different. It's his first intense visual effects movie."
Bolger's character is a keen fencer, so the disciplined teenager took a crash course in the art of the sword before the camera began rolling, completing a weeks training in Ireland and another seven days in Montreal with a coach for the Canadian Olympic Fencing team,
"You need to have really good hand eye coordination for it and posture is very important too, you have to stand very straight and proper!"
Sarah Bolger
And finally, what's next for the rising star? In between jet-setting around the world for starring movie roles, Bolger is a conscientious student in her fifth year at school.
"The Tudors" is the only thing coming out, I play Princess Mary in that, the daughter of Jonathan Rhys Meyers' character. Then I don't know we'll see what happens. I have some scripts to consider but it's back to school for the moment, back to study! I've a big maths test on Monday!!!"