In Ireland and the UK, Chris O'Dowd has long been a household name, known to all as Roy from Channel 4's hugely successful comedy 'The IT Crowd'. But in the US, it is his role as charming Irish cop Officer Rhodes in 'Bridesmaids' that has thrown him into the position as one of Hollywood's leading men almost overnight with the film making over $100 million dollars at the US box office. 'Bridesmaids' has all the qualities we've come to expect from a movie produced by Judd Apatow: old friendships, flatulence and a lot of laughs. IFTN caught up with Irish star Chris O'Dowd ahead of the Irish premier of 'Bridesmaids' [which took place in Dublin last week] to discuss improvisation, his Roscommon accent and what's next on his agenda.
With the phenomenal success of 'Bridesmaids' in the States, O'Dowd says he is looking forwards to the Irish response to the movie. Describing the astonishing reaction to the movie in America, he commented: "It was crazy. It was so positive. American audiences are kind of mad and really demonstrative, at times it felt like a panto! People would applaud between scenes and that sort of stuff at the premiere." Speaking of the Irish premiere, O'Dowd jokes that he won't be sitting beside his mum because of the crass humour in the film, "there is too much dick stuff in it!"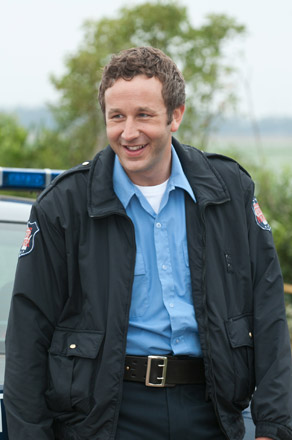 Chris O'Dowd filming Bridesmaids
Written by 'Saturday Night Live' stars Kristen Wigg and Annie Mumolo, 'Bridesmaids' follows the story of down on her luck Annie (Kristen Wiig) as she attempts to bluff her way through her responsibilities as Maid of Honour at her best friend Lillian's (Maya Rudolph) wedding along with a motley crew of bridesmaids. O'Dowd plays a sweet Irish cop, Officer Rhodes, who has a flirtation with Annie after pulling her over, although Annie is still involved with non-committal bad boy (John Hamm). Describing his role in 'Bridesmaids', O'Dowd says it was great to play such a charming character: "He is actually a very naturalistically nice guy. Even when Annie is bad to him, he does give her the cold shoulder. I found everything that he does in the film very realistic. He's probably a little more emotionally available than a lot of men. I generally play losers so it was good to play someone who is charming." O'Dowd says that accepting the role in 'Bridesmaids' was "a no-brainer" because "there was so many great people involved and I was a massive fan of Saturday Night Live."
But O'Dowd's Irish accent was not always a certainty in the film. "I auditioned for it in an American accent and I had just done a film in an American accent. I presumed that I wouldn't get away with doing my own accent. Paul, (director Paul Feig) had been a fan of 'The IT Crowd' so he was used to me speaking in my Irish accent and he was surprised that I used an American accent. Judd (Producer Judd Apatow) also liked the idea of me using my real accent. He didn't want the film to be in anyway a formulaic love story so throwing in a little curveball like the accent helped combat this," says O'Dowd. "And chicks dig it," jokes O'Dowd. "Not Irish chicks though. I find it ironic, when I went to UCD I used to get slagged about my accent all the time. Culchie and all that. It's ok for Hollywood but not for people from Donnybrook, they are like 'who is this sheep herding bastard?'"
With several former members of the famous Groundlings LA improvisation troupe cast in the film, improvisation was always going to play a huge part in 'Bridesmaids'. Although O'Dowd had experience improvising in previous projects, he said the process on the 'Bridesmaids' set was different than anything he'd done before. "Often you will shoot the script as scripted and then improv a bit and then you're done. But on 'Bridesmaids', we got the script done, then improvised a bit and then went back to the script and shot that again when we were all kind of loosened up and threw in bits of improvisation with bits of script," explains O'Dowd. "We did this improvisation when we were actually filming. I guess it helps when you've got some more money than a normal low budget film because you can obviously shoot a lot longer and a lot more time is allocated for filming, so you can get away with that kind of stuff." But did large amounts of improvisation mean the script changed a lot from first read to final shoot? O'Dowd says it changed "a lot", but under the constant guidance of writers Kristen Wiig and Annie Mumolo who O'Dowd says were always on set. "We got the script and I do love improvisation, but I love great scripts even more. It was a really good script to start from, so I was very conscious of trying to get it all in, so we got it all and then we moved off script," says O'Dowd.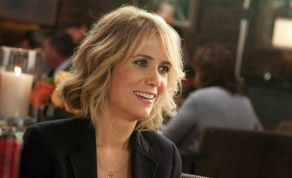 Bridesmaids star and co-wrtier Kristen Wiig
The large amounts of improvisation also left a lot of footage that didn't make it in to the final cut. Although O'Dowd said there is nothing that he was disappointed to not see in the final edit: "I feel like they got most of the best stuff. And to be honest, within a week of finishing a job, I can barely remember anything that happened on the job. It's all a bit hectic. I was really pleased with the way it turned out. And I'm rarely disappointed that they didn't use stuff, it's just par for the course. If people aren't going to be precious about their script then you can't be precious about your improv which you made up."
Earlier this year, O'Dowd turned his hand to drama in a Victorian thriller for BBC titled "The Crimson Petal and the White'. Based on a Michael Faber novel of the same name, the four part mini-series aired on BBC 2 in April 2011. Asked about the experience of doing drama, Chris insists that his heart is in comedy. "I prefer doing comedy. I think it's just more fun to be funny. I know that's kind of a stupid answer but that's the way I feel about it. You know whether comedy is working or not. More so than drama which is so subjective. If people don't laugh then comedy is not comedy. You know by the audience and even by the response on the day, on the set, you know whether you are doing a good job." Describing his stint in the mini-series as "really interesting," Chris went on it say: "Drama is definitely something that I'll keep on doing because I think it helps everything else. In the same way that going to do a play for a while is very helpful for the art of acting itself, it gets you out of yourself. Otherwise you can get into a routine of doing comedy jobs like this." But comedy is also something O'Dowd believes is harder, "it's more difficult but more rewarding," remarked O'Dowd.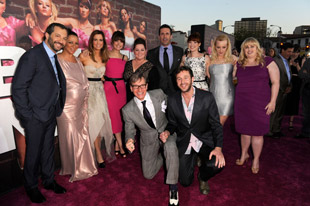 Chris O'Dowd (bottom right) with director Paul Feig and cast at the Bridesmaids LA Premiere
So what's next for the Irish actor whose international profile has exploded in recent months? O'Dowd has already wrapped on another film with fellow 'Bridemaids' actors Wigg, John Hamm and Maya Rudolph. Written and directed by Jennifer Westfeldt (24, Grey's Anatomy), 'Friends with Kids' is about a group of 30-somethings from New York who are beginning to have children. "Maya Rudolph and I are married in the film," explains O'Dowd. "As are John Hamm and Kristen Wigg. When our characters start having kids, Jennifer Westfeldt's character is single and hitting 37/38 and she is beginning to get worried, so she decides to have a shot of it with her best friend."
O'Dowd is also rumoured to be attached to Judd Apatow's 'Knocked Up' spin off 'This is Forty' which is based on the characters that Paul Rudd and Leslie Mann play in 'Knocked Up'. Although O'Dowd's involvement is as of now unconfirmed, he has read the script and says it is "great. It's an exploration of marriage between two people who have just hit 40." As for another series of the 'IT crowd', O'Dowd says it is "all about availability. It's difficult coming back together but I'd be up for it, if he (Graham Linehan) wants to do it and I've told him that. I think he (Graham Linehan) is working on something else at the moment, so we'll see. I have a feeling we'll do one last one. That's my feeling."
Other projects in the pipeline for O'Dowd include a sitcom that he is currently co-writing with Nick Murphy, a friend of his from college, which looks set to be filmed in Ireland. O'Dowd told IFTN that "we will be shooting a lot of it here. It's been commissioned as a series. I did a short at Christmas for Sky called 'Capturing Santa' and it is about me as an 11 year old being afraid of Santa and it went well. So the series is based on that. It is set in 1990 with a character playing me as an 11 year old and he has a 31 year old imaginary friend — a tall bearded guy if we can get the right character actor for that. It's going to be really fun."
'Bridesmaids' will be released nationwide on June 22nd 2011 by Universal Pictures.