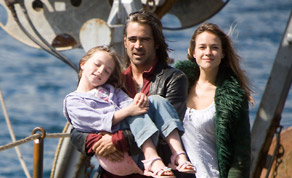 Young star Alison Barry with Colin Farrell in Ondine
Launched just over a year ago by Philippa Stapleton, the PS Actors Agency has quickly become a reliable and recongised source for actors. The agency has an international flair, with clients from countries including Italy, France, Spain, Greece, Sweden, Hungary, Croatia, Israel, England, Scotland, America and Canada. Alongside their international clientele, PS has many Irish clients, both North and South of the border including several fluent Irish speakers.
IFTN spoke with founder and head of the agency, Philippa Stapleton, to find out how somewhat young agency has grown in a year of relative economic instability. The diversity and quality of its clientele is what the PS Agency prides itself on:
"We have very highly skilled and experienced actors who are trained in all areas of the profession,"
says Philippa.
"We are happy to say that we have had a very successful first year, with clients performing in film, TV, theatre, Radio, Music Videos and Corporate events. Our clients have performed in 'Love/Hate', 'Game of Thrones', 'Camelot', 'Fair City', 'The Guard', 'The Tudors', BBC TV, Sterling TV, many prominent TV Commercials and short and feature films. We have had performers in many theatre companies around Ireland including the Gate Theatre, Abbey Theatre, Everyman Theatre Cork, The Lyric Theatre Team Theatre and the Belltable Limerick."
PS Actors have also been busy developing their children and teenager's division. This group of promising talent includes Alison Barry, who starred alongside Colin Farrell in 'Ondine'. Philippa explains that they help develop the younger clients by providing "ongoing training for the children. We had a very successful first workshop in Acting to Camera with Jason Figgis and Sinead Monaghan." The next PS Actors workshop will be in September with filmmaker Terry McMahon, whose 'Charlie Casanova' jointly won Best First Feature at this year's Galway Film Fleadh.
Aside from setting up the PS Actors Agency, Philippa has also been directing The Young Dramateers Theatre School for a number of years. She is a qualified Speech and Drama Tutor and Facilitator, with many years experience of acting, directing and stage management. Reflecting on the inaugural year of the PS Actors Agency, Philippa commented: "I am extremely happy with our first year and would like to thank all of the production companies we have worked with. I would very much like to thank the following hard working casting directors for their support and advice over the year: Maureen Hughes, Ali Coffey. Gillian Reynolds, Louise Kiely, Dorothy Mac Gabhann, Carmel O Connor, Amy Rowan, Nick Mc Ginley, Pol Penrose. Anna Virtue, Mary Maguire, Ros, John, Amy and Dan Hubbard. The IFTA and IFTN."
"Being an Actors Agent is not an easy job but it is very rewarding at times. I really believe actors are the hardest working people who are constantly training and never give up. Ireland has a wonderful pool of fantastic well trained actors, including our own group of multi-talented clients, and we don't see enough of them. I believe PS Actors are on the road to a very successful future."
For more about PS Actors Agency visit www.psactorsagency.com