Following on from the news that Martin McDonagh's The Banshees of Inisherin will release in cinemas this October, Searchlight Pictures has revealed the release date for another one of its most anticipated titles.
See How They Run will be exclusively released in Irish cinemas on September 9th.
Led by Academy Award® and BAFTA winner Sam Rockwell (Three Billboards Outside Ebbing, Missouri) and Academy Award and BAFTA nominee Saoirse Ronan (Little Women) See How They Run is the feature directorial debut of BAFTA-winning director Tom George (This Country) and is written by Mark Chappell (Flaked).
The films is set in the West End of 1950s London, as plans for a movie version of a smash-hit play come to an abrupt halt after the film's Hollywood director is murdered. When world-weary Inspector Stoppard (Sam Rockwell) and eager rookie Constable Stalker (Saoirse Ronan) take on the case, the two find themselves thrown into a puzzling whodunit within the glamorously sordid theatre underground, investigating the mysterious homicide at their own peril.
The film boasts an incredible ensemble cast that includes Academy Award winner and BAFTA nominee Adrien Brody (The Pianist), BAFTA winner Ruth Wilson (The Affair), BAFTA winner Reece Shearsmith (Inside No. 9), BAFTA nominee Harris Dickinson (The King's Man), BAFTA winner Charlie Cooper (Avenue 5), BAFTA winner Shirley Henderson (Stan and Ollie), Lucian Msamati (Kiri), Pippa Bennett-Warner (Gangs of London), Pearl Chanda (I May Destroy You), Paul Chahidi (This Country), BAFTA winner Sian Clifford (Fleabag), Jacob Fortune-Lloyd (The Queen's Gambit), Ania Marson (The Witcher), Tim Key (The Witchfinder) and BAFTA nominee David Oyelowo (Selma, The Butler).
The film is produced by Damian Jones (The Iron Lady) alongside Gina Carter (Yardie). The creative team includes director of photography Jamie D. Ramsay (Mothering Sunday), editors Gary Dollner and Peter Lambert (Mamma Mia! Here We Go Again), production designer Amanda McArthur (How to Build a Girl), costume designer Odile Dicks-Mireaux (Last Night in Soho), and hair and make-up designer Nadia Stacey (Cruella, The Favourite).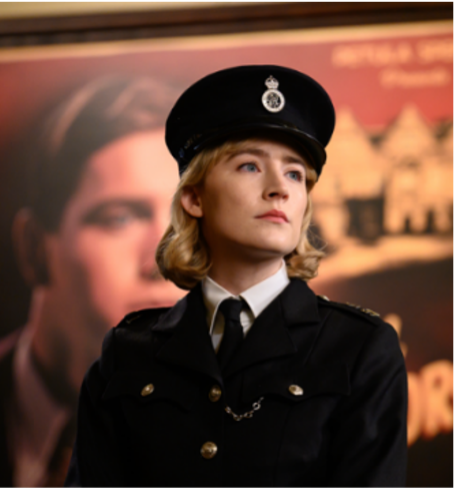 Playing a police constable and cinephile, Ronan takes a comedic approach with the lover of film noir and murder mysteries– while still wearing period dresses. "Stalker is way over her head," Ronan remarks of her character. "She's suddenly put on this massive murder case, so she's incredibly nervous about doing a good job while also being unbelievably excited by the fact that she is in the theatre world and surrounded by movie and theater stars. This is weirdly like a dream come true for her: it's like she's watching a movie play right in front of her."
Shooting in the West End during a Pandemic
Most of the film was shot during the second lockdown, which the production team admits had challenges in terms of filming in the midst of a pandemic. However, one of the silver linings was that they had access to amazing historic locations that otherwise would have not been available.
"Wonderfully, See How They Run was shot within the actual London theatres of the 1950s," explains actress Ruth Wilson, when discussing the surprising benefits of working during pandemic hardships. "I have missed being within the theatre itself, both performing and watching. So, the highlight of working on this film was being in those theatres. Even though they were empty, and it was make-believe, we had an audience, and we were on the stage. We used a range of different theatres from The Old Vic to Hoxton Hall. I've worked in some of those theatres so to be back there was really lovely."
Saoirse Ronan adds: "It was kind of bittersweet to film there because those stages are usually so full of life. The film is a celebration of London, too, and how rich a city it is and has always been, and how there's so much grit but also grand beauty."
A four-time Oscar nominee, Ronan can next be seen in Amazon's Foe alongside Paul Mescal and LaKeith Stanfield, adapted from Iain Reid's science-fiction novel and directed by Garth Davis. Set in the near dystopian future, the film tells the story of Hen (Ronan) and Junior (Mescal), a young married couple living on their isolated farm whose lives quickly change when Junior is randomly selected to travel to a space station orbiting Earth.
Ronan recently wrapped production on The Outrun, directed by Nora Fingscheidt and adapted from Amy Liptrot's best-selling memoir. The film follows Rona (Ronan), who has just left rehab to return to the sheep farm where she grew up on the Orkney Islands for the first time in a decade. Ronan will produce the feature alongside Jack Lowden and Dominic Norris under their recently founded banner, Arcade Pictures. Ronan will also executive produce Girls Can't Shoot (and Other Lies), which is based on the international bestselling collection of feminist essays by Scarlett Curtis, and will star Beanie Feldstein, Michaela Jaé Rodriguez, Kat Dennings, Jameela Jamil, and Lolly Adefope.
Last year, Ronan made her UK stage debut as Lady Macbeth in the Shakespearen tragedy Macbeth at London's Almeida Theatre, opposite James McArdle. She also appeared in Searchlight Pictures and Wes Anderson's The French Dispatch. In 2020, Ronan starred in Neon and Francis Lee's critically acclaimed independent historical drama Ammonite, alongside Kate Winslet. In 2019, Ronan starred as Jo March in Sony and Greta Gerwig's Oscar nominated film, Little Women, alongside Meryl Streep, Laura Dern, Florence Pugh, and Timothée Chalamet. Ronan's performance garnered her BAFTA and Oscar nominations for Lead Actress.
See How They Run will be exclusively released in Irish cinemas on September 9th.