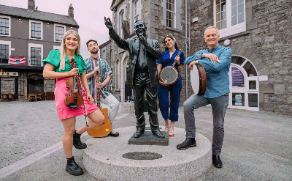 Fleadh Cheoil na hÉireann on TG4.
After a two year break, Fleadh Cheoil na hÉireann was back in Mullingar where it began in 1951.
TG4 broadcast live from the Fleadh each night from Friday to Sunday for ninety minutes each night. Presenters Daithí Ó Sé and Doireann Ní Ghlacáin were joined by Peadar Ó Goill and Maggie Carthy and the cream of Irish musical talent including Martin Hayes, John Francis Flynn, Inni-K, Anúna, Liz Carroll, At The Racket, Kila, 3 On The Bund, and more.

Fleadh 2022 was the most watched Fleadh Cheoil on TG4 since 2017, and one of the most successful series since TG4 began broadcasting from Fleadh Cheoil na hÉireann in 2013. TG4 broadcast over eleven hours in total from Fleadh Cheoil na hÉireann this year including four programmes from the provincial finals in July.

The series was watched by 413,000 people over the weekend on TG4. Sunday night's show was the most watched programme, with a share of 9% of the viewing audience, and average viewership of 76,200 viewers. The peak audience was 111,000 viewers half-way through Sunday night's programme. The online community from every corner of the world participated on social media creating their own TikTok content using the hashtag #Fleadh2022.
There are over 33million impressions of the hashtag, and over 2 million views to date on social media channels. The Fleadh Cheoil competitions were streamed live on the TG4 Player and on Fleadh Cheoil Facebook pages, which had over 100,000 views of the streams. Over 12,000 tuned into Fleadh 2022 on the TG4 Player from across the globe. The series is available to view worldwide on the TG4 player.

Fleadh 2022 began with a new piece of music, The Homecoming Suite, composed by Irish American fiddle player, Liz Carroll, performed by Liz Carroll and the Fleadh Fiddle Orchestra. Liz is the first American-born Irish traditional musician ever nominated for a Grammy and was awarded the TG4 Gradam Ceoil award for composition in 2011. She won the All-Ireland senior fiddle title in 1975! A poignant tribute to musician and teacher Ashling Murphy was aired on Saturday night's Fleadh 2022.

Director General of TG4, Alan Esslemont, congratulated the success of Fleadh 2022 saying "I would like to congratulate everyone who was involved in the multi-platform production of Fleadh 2022 with TG4 this year. Congratulations to Comhaltas Ceoltóirí Éireann on a successful return of Fleadh Cheoil na hÉireann in Mullingar. Fleadh 2022 reflects the ongoing partnership between TG4 and Comhaltas Ceoltóirí Éireann building upon music, culture and community across the globe. Mo cheol sibh."