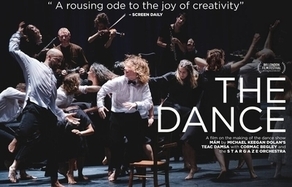 Pat Collins' The Dance
Following festival screenings and critical acclaim, Break Out Pictures has announced the release of Pat Collins' The Dance in Irish cinemas on February 11th.
The Dance follows the staging of a new international dance and theatre work (MÁM) by the acclaimed choreographer Michael Keegan-Dolan from the first day of rehearsal to the opening night performance. The Dance is a fiercely true and beautiful account of a magical process of work, brought to life by the inimitable Pat Collins (Song of Granite, Silence).
MÁM brought the virtuoso concertina player Cormac Begley, the European musical collective S T A R G A Z E and twelve international dancers to the remote Dingle Peninsula in Ireland and is a unique confluence between soloist and ensemble, classical and traditional, the local and the universal. It went on to be reviewed rapturously, toured internationally and was nominated for an Olivier Award for Best production in London.
As well as Dublin it has been performed in theatres' in London, Australia, and New Zealand. The Dance is a South Wind Blows and Harvest Films Production with backing from Screen Ireland, Teaċ Daṁsa and RTÉ.
Break Out Pictures will release The Dance on February 11.