Ahead of the nationwide cinematic release of Herself this Friday, September 10th, IFTN caught up with the film's director Phyllida Lloyd (Mamma Mia; The Iron Lady) to find out more about how she got involved with the film, her established theatre shorthand with actors Clare Dunne and Harriet Walter, encouraging Dunne to take on the role of Sandra, and why the story of Herself needs to be heard.
Produced by Sharon Horgan (Catastrophe, Divorce) for Merman and Element Pictures, the IFTA nominated drama is co-written by and stars Clare Dunne, who picked up the IFTA for Best Script – Film with co-writer Malcolm Campbell earlier this year.
Herself follows the story of Sandra (Clare Dunne), who on the surface of it, is a young Mum struggling to provide her two young daughters with a warm, safe, happy home to grow up in. Beneath the surface, Sandra has a steely determination to change their lives for the better and when it becomes clear that there are no other options left to her, she decides to build it herself from scratch, drawing together a community of friends to support her. Supporting cast includes Harriet Walter, Conleth Hill (Game of Thrones) and Cathy Belton (Philomena).
When speaking with IFTN, Lloyd told us that the need for this story to be heard, as well as the draw of working with Clare again, played key roles in her decision to helm the film. "When Clare asked me to have a look at the screenplay, at first I didn't think, 'Ooh, I'm going to direct that,'" Lloyd recounted. "I just thought, 'My God, what a blinding piece of writing,' and, 'Maybe this should be directed by an Irish director.'"
"Then gradually, as I realized Clare was not thinking she was entitled to play the lead in it – that to get it made, she'd need to get a name to play the lead - that's when I began to think, 'Now, hang on a minute, I think I could help here,'" Lloyd explained. "I really thought it would be an injustice if Clare didn't play Sandra."
Having worked with some of the biggest names in Hollywood, namely Meryl Streep in her Oscar winning performance as Margaret Thatcher in The Iron Lady and earlier Mamma Mia, Phyllida felt the time was right to step in to a smaller budget independent film.
"I'd wanted to do a low-budget film for a long time," Lloyd told IFTN. "It seems odd, most people are trying to go in the other direction, but I felt that it would help me bring the work I was doing in theatre, which at that time was with Clare Dunne and Harriet Walter who's in the film, bring the two things more into line."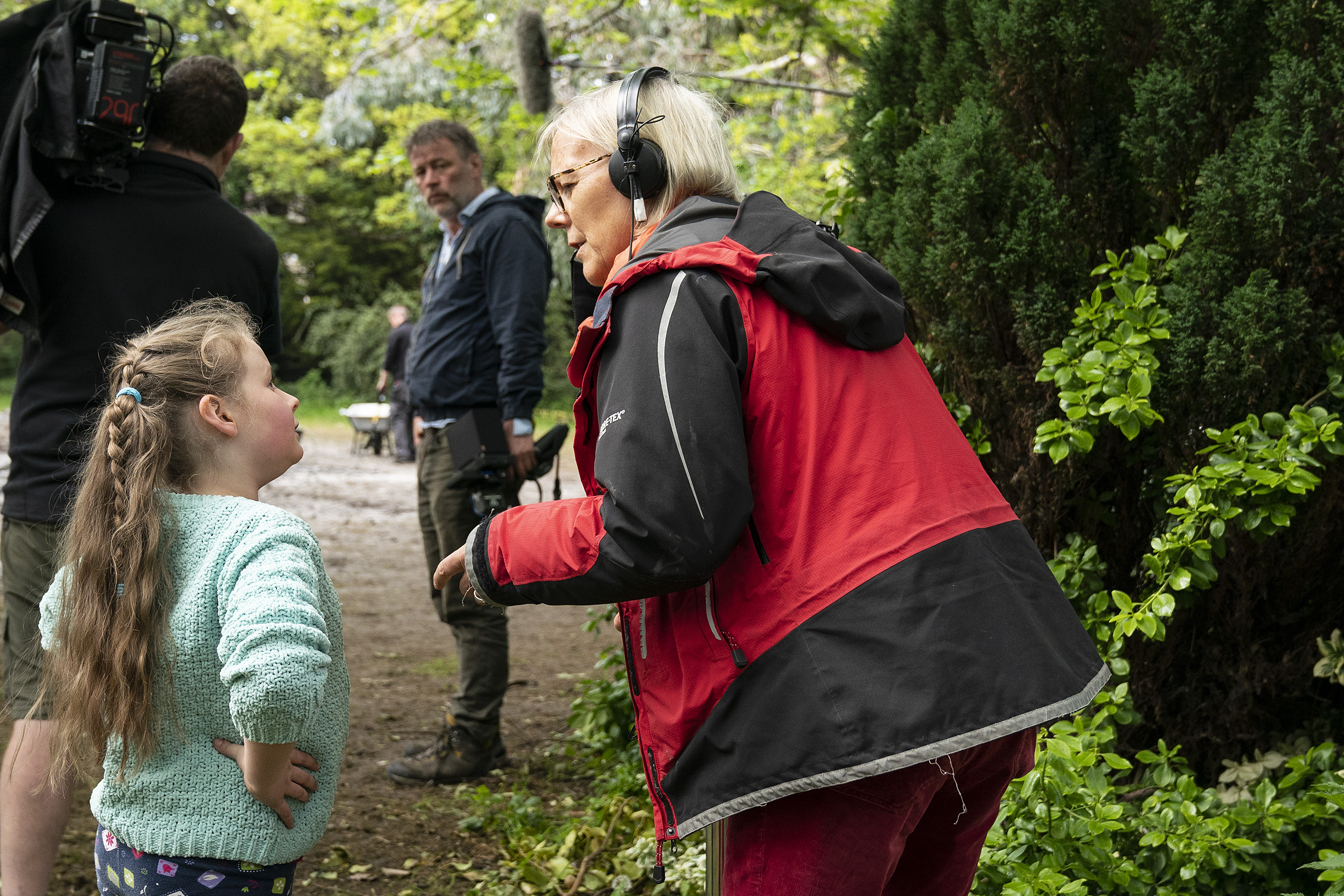 Phyllida, Clare, and Harriet Walter (Sense & Sensibility, Succession) previously worked as an all-female company bringing Shakespeare's theatre to women's prisons: "We were very preoccupied by the number of women we met in prison who'd come from childhoods of domestic violence. Telling these women's stories and talking about them was what we were all about."
"I felt like, if I could find a screenplay that somehow kept me in that zone, I think I'd feel less schizophrenic about my life, which I had before, where I was going from Mamma Mia! the movie, to Wagner's Ring Cycle at the English National Opera," Lloyd explained.
As Phyllida eluded to, domestic abuse is at the heart of Herself, as Sandra (Dunne) tries to escape her past abusive relationship by building a house for her and her children to live in.
However, Lloyd's interest and love for the story came from the depth and spectrum of tone Clare and Malcolm Campbell (What Richard Did, Ackley Bridge) brought to the script, and Clare's own insights into the subject matter. "I knew that Clare had met someone working in a Women's Aid Charity Shop and was telling her about this," Lloyd explained.
"The woman grabbed Clare by the arm and said, 'Don't make this woman a victim because we aren't victims," Lloyd continued. "A lot of us actually move on to other lives and we're not victims, we have to be almost soldiers to exist in this war zone.'"
"Clare was really determined to make this character the agent of her own future. I felt she was talking not just to you and me, who might feel safe in our homes, (but) she was also speaking to people who are in this situation and saying, 'We're listening, we're out here listening.'... I just felt like it was a story that had to be told."
When speaking with Lloyd over Zoom, it's hard to not draw attention to the impact that Covid has had on the film, and the industry itself. The film was wrapped and ready for release as the pandemic struck, however Phyllida's outlook remains positive: "I think that you have to put it in context and go 'at least we'd made the film and it was in the can'. You saw so many creative endeavours going down left, right, and centre, theatre shows that disappear forever. I just felt lucky that we'd made it. I knew we would release it one day."
There is no doubt that the subject matter of the film has become more pertinent with the global pandemic drawing attention to the prevalence of domestic abuse in society: "As you say, I think that the film and its themes seem almost more intense. It's about isolation and community, and we've all been feeling those two things," said Lloyd."We've been feeling isolated and wondering 'what kind of community do I depend on?' We've been feeling that loss of community really sorely."
Now that the Herself is receiving it's long overdue release, Phyllida's ambitions for the film are very clear: "We want them to really enjoy it - first of all, that's the most important thing".
"I think that it's either have a look around you, have a look around your community and see what more possibilities there are about being part of it, or we want to offer a message of hope, a story of hope for anybody who might be in these circumstances," Lloyd continued. "It's all about empathy and just wanting everyone to be more joined up."
Herself releases in Irish cinemas Friday September 10th.