We caught up with director David Burke to find out more about his riveting feature documentary Father of the Cyborg, which recently premiered at Tribeca Film Festival.
Father of the Cyborgs sees Director David Burke and producer Seán O'Cualain (Crash & Burn) reunite to bring the incredible story of Irish Neurologist Phil Kennedy to the big screen.
Kennedy made history and headlines when he connected the brain of a paralysed man to a computer in the 1990s. In 2014, he stunned his peers and his family when he agreed to have his own brain implanted to continue his research.Father of the Cyborgs examines the ethical quandaries of self-experimentation and a future where technology and human brains combine.
The documentary marks David Burke's feature debut as a director and no better seal of approval than to have it selected and screened at Tribeca Film Festival where it premiered last month. "From the first days of the project, the Tribeca Film Festival was always our dream scenario and to actually get accepted was brilliant," director David Burke told IFTN.
"I'm currently working on a new project that I'm excited about so certainly getting accepted into such a major A list festival can only be a help going forward."
The film had a special preview screening in March at the Virgin Media Dublin International Film Festival before Burke and O'Cualain locked in their final edit of the film. "This (screening) came at a perfect time for the documentary, and I must give thanks to Grainne Humphries and her team for their help and enthusiasm for the documentary," Burke added.
Unlike many projects caught up in the onslaught of COVID, Burke's film narrowly missed any major disruption at the hands of the pandemic with the director arriving back from wrapping the final bit of principal filming in America days before travel was shutdown. "We were lucky in that regard, we returned from our last block of filming just as the country was going into lockdown," said Burke.
"Whilst lockdown inevitably slowed down parts of the post-production process, we were able to keep working throughout and, in many ways, we were in control of our own destiny," Burke explained. "A significant proportion of the shoot was in the USA, so had we not got this last block of filming done when we did, I'm sure we would have figured out an alternative way of finishing the shoot but I'm glad we avoided the stress."
With Father of the Cyborgs, Burke and O'Cualain take on a very different topic to their last film Crash & Burn, which examined the thrilling career of Irish driver Tommy Byrne.
However, Byrne was quick to point out the similarities between the two that drew him to Kennedy's story. "On one level Dr. Phil Kennedy and Tommy Byrne are completely different people. Phil is calm, composed, and unflappable, while Tommy has been compared to Alex Higgins or other such mercurial talents," Burke explained.
"Saying that, Tommy and Phil do have similarities: They could both be described as iconoclastic characters who didn't follow the perceived norms in their chosen fields yet made an indelible mark," the director continued.
"I don't think Phil has received the recognition he deserves, particularly in Ireland, for his contribution to neuroscience and I hope the documentary changes that in the same way Crash and Burn helped bring Tommy Byrne to the attention of the wider Irish public."
"When people watch the documentary, many may be surprised of the far-reaching consequences of Brain Computer Interfacing (BCI), how it could permeate our future, pioneered by someone who grew up in Limerick."
Kennedy's neurological research spans four decades and led Burke across the vast field of BCI, which one can only imagine would be quite difficult not to get pulled into numerous tangents with a topic like this. Thankfully, Burke received guidance from an experienced Scientist who alerted him to this eventuality.
"One of our contributors Karen Rommelfanger, from Emory University, offered to talk me through the field in the early days of the project and she mentioned just how many rabbit holes someone could disappear down when researching this field," Burke told IFTN.
"Initially, I read as much as possible about the field and when I did subsequently go down rabbit holes, I wasn't too worried, as Karen had reassured me it happened even to the experts."
When Burke inevitably found himself down these rabbit holes, he was overwhelmed by the wealth of fascinating material he came across, which included "everything from experiments, which send brains signals directly between two brains, to wilder ideas such as cytogenetically freezing brains to be revived after biological death", Burke surmised.
Ultimately, a decision was taken by Burke to limit and filter material from the wider field of BCI to help focus the narrative of the documentary; "it was decided (that wider BCI research) had to directly feed into Phil Kennedy's story or we wouldn't feature it," Burke explained.
For context, Kennedy's experiments began in the 1980's while working at the Georgia Institute of Technology where he patented a new type of electrode, which could be implanted into the brain. In the mid-nineties he was granted permission to begin implantation in humans.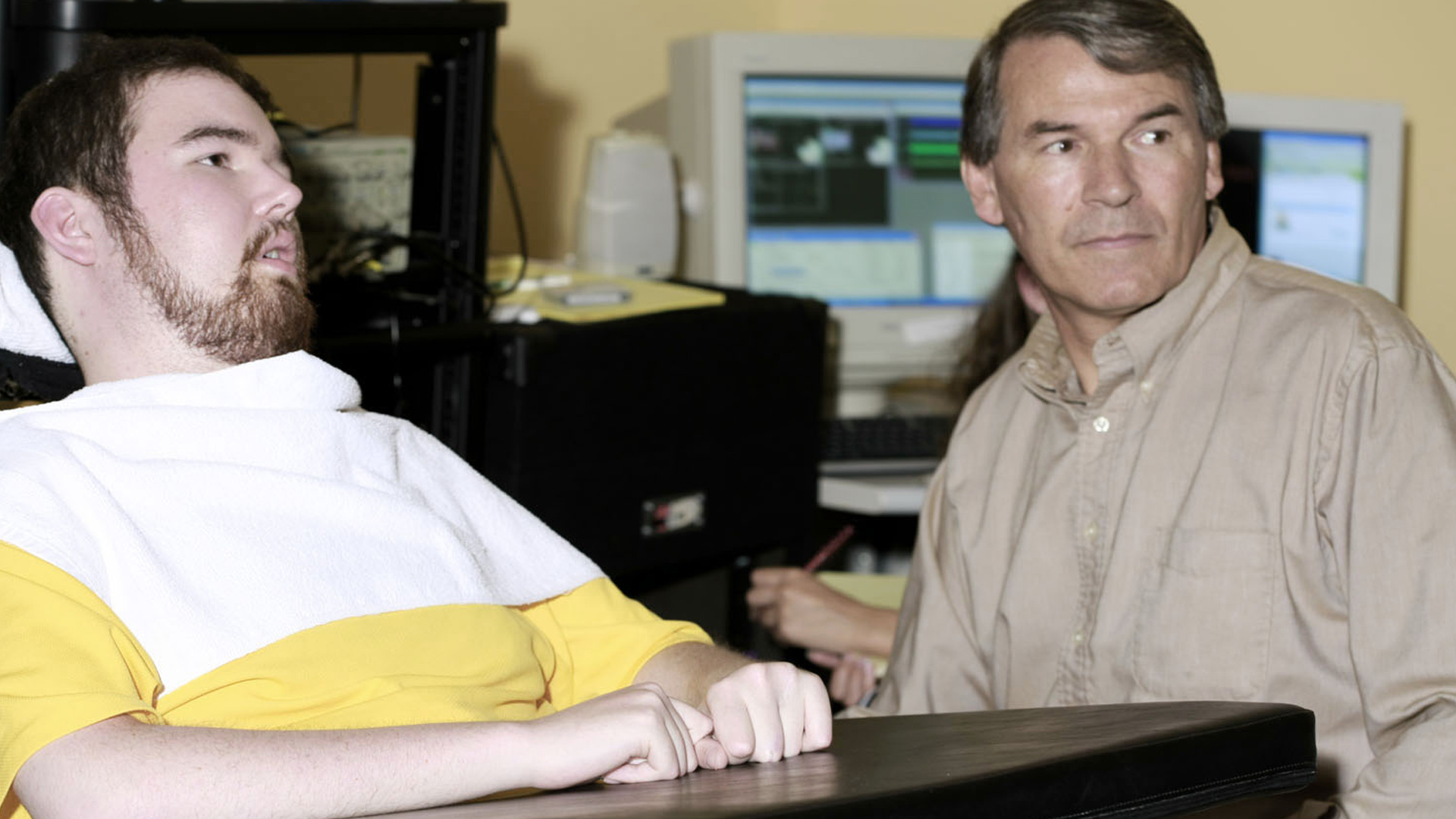 Kennedy's major work has been with patients with 'locked in' syndrome, resulting from conditions such as Motor Neuron Disease, putting an implant in their brain in an attempt to help them communicate. .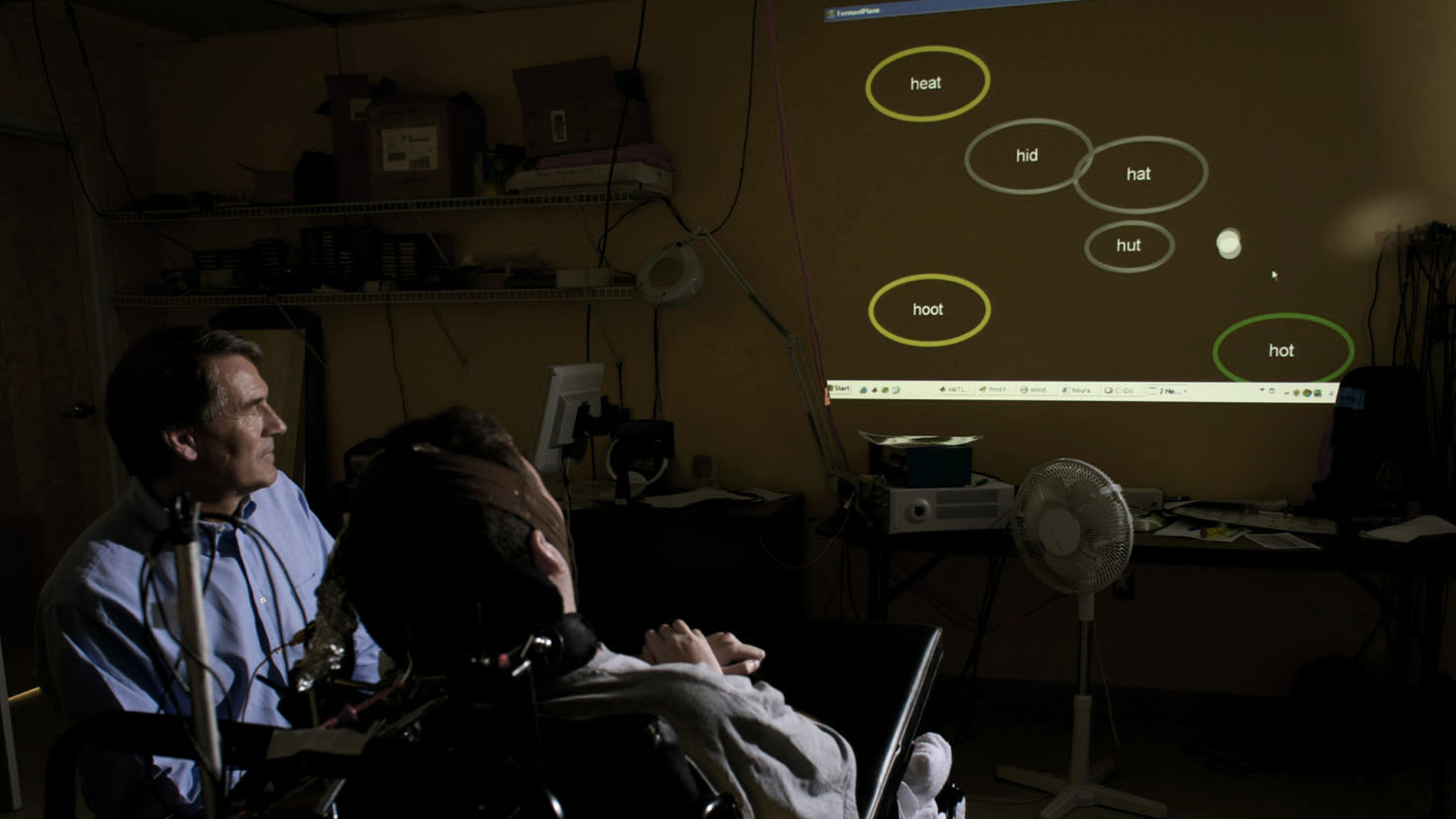 Despite these successes Kennedy's work has encountered many setbacks, not least of which is the difficulty in securing funding. Burke's Father of the Cyborgs examines these setbacks as well as exploring the moral, ethical and philosophical issues around the work, asking what would happen if someone with this technology did not have the motivation to help but rather to control?
"One of the things I really like about this idea, was the self-experiment element of Phil Kennedy's story (when he travelled to Belize to have his brain implanted to continue his research)," Burke told IFTN.
Although the documentary grapples with a challenging subject matter, Burke is optimistic that Kennedy's story will be intriguing and accessible to all audiences; "not just to an audience with an interest in science, but also a much wider audience."
"Early on in the film, we explain what Brain Computer Interfacing, and we do this in a way that doesn't overwhelm the audience with too much technical jargon," Burke continued. "Similarly, we provide the historical context for other technologies that were once developed for patients, such as the typewriter, which was developed for blind people - to make the idea more plausible that technologies such as BCI could become ubiquitous."
When asked about what he hoped audiences would take away from the film, Burke said: One of things I took away from this is that in many ways we have already started on this path to becoming cyborgs. We are already immersed in technology daily, we offload certain cognitive tasks daily to computers," Burke explained.
"Research has shown that we are already affecting our creativity and intuition, we need to be careful going forward that we don't off load too much of these tasks to computers, we need to find a sweet spot where technology works for us."
Wildcard Distribution will be releasing the documentary in cinemas in Ireland and the UK later this year with the distributor aiming for a release date in late summer/early autumn.