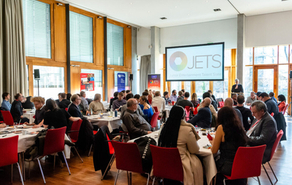 JETS (Credit: Jurgen Sendel)
The Junior Entertainment Talent Slate has revealed that four Irish projects have been selected for the fifth edition of the co-production initiative, which traditionally takes place at the Berlin International Film Festival.
JETS Initiative 2021 organised by WEP Productions and JETS Filmverleih & Vertrieb- Distribution on the 16th and 17th of February 2021
The JETS initiative brings together talented up-and-coming producers/directors for their debut, second and third feature films with international producers, sales agents, financing, and distribution companies. Besides Germany, the partner countries are currently Canada, Ireland, South Africa, Norway, Great Britain, and the USA, and the aim is to support young talents in an ever-growing international film market.
The four Irish projects selected were:
Caolan Flood, Brian Hose & Sabrina Rücker; THE FORTHY FOOT, Ireland
Sam Uhlemann & Juliane Wothe; THE LAST WATCH, Ireland
Ciaran Creagh & Ferdia Doherty; MAC AND MONIKA, Ireland
Ray Sullivan & Rob Davis; THE SKWOIDS, Ireland
Traditionally, the JETS Initiative has taken place during the Berlin International Film Festival. Due to the changed framework conditions in 2021, the 5th edition will now take place independently of the festival period and online for the first time.
27 potential film projects were selected with the participating producer/director teams will be invited to a virtual pitching session for a two-country co-production.
Other selected participants included seven South African projects, six Canadian, five German, four U.K., and one from Norway:
Greg Melanson & Rachelle Chartrand, Project BOTH SIDES OF THE GUN, Canada
Harry Cepka & Magali Gillon-Krizaj, Project EDDIE, Canada
Joffrey Saintrapt & David Baeta, Project LÉO, Canada
Sibel Guvenc & Munire Armstrong, Project LOYA, Canada
Leah Rifkin & Sonja Verpoort, Project SALEM'S DIARY, Canada
Greg Jeffs & Kevin Wallis, Project SECTION Z, Canada
Rodney Charles & Yasmin Rams, Project BUSH BOYS, Germany
Giorgos Bakollas & Katerina Beligianni, Project DENSE TIMES, Germany
Christina Tournatzés & Melanie Blocksdorf, Project KARLA, Germany
Heidi Philipsen-Meissner & Dirk Häger, Project LOVE AND WODKA, Germany
Silvana Santamaria & Julia Dordel, Project RUBY, Germany
Trond Morten Kristensen Venaasen & Lillian Løvseth, Project DARKEST FOREST, Norway
Lwazi Mvusi & Carolyn Carew, Project GET HAPPY, South Africa
Mmabatho Montsho & Katleho Ramaphakela, Project THE ILLITERATE, South Africa
Vusi Africa Sindane & Menzi Mhlongo, Project THE KILLING OF A BEAST, South Africa
Neo Ntlatleng & Jafta Mamabolo, Project MOSES AND THE BURNING BUSH, South Africa
Natasja De Lange & Wandile Molebatsi, Project ROCKET BOY, South Africa
Sandulela Asanda & James C. Williamson, Project THE TREK, South Africa
Mzonke Maloney & Nolitha Refilwe Mkulisi, Project THE VIOLENCE, South Africa
Rebekah Fortune & Jack Tarling, Project LEARNING TO BREATHE UNDER WATER, UK
Eirini Konstantinidou & Ioanna Karavela, Project MARA, UK
Faye Jackson & Barrington Paul Robinson, Project SNOWFLAKES, UK
Kelly Holmes & David Brown, Project YEAR OF THE HEART, UK
Click here for more information about JETS 2021.