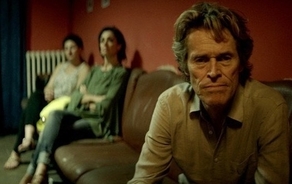 Willem Dafoe
Abel Ferrara, the director of cult classics including Bad Lieutenant, King of New York and The Funeral, will visit the Irish Film Institute (IFI) on Wednesday, January 22nd for a Q&A following the Irish premiere screening of his new film Tommaso.
The event is presented in association with the Silk Road International Film Festival 2020, and tickets costing €16 are now on sale from www.ifi.ie/tommaso.

Tommaso (Willem Dafoe), an American artist living in Rome, and Nikki's (Cristina Chiriac) marriage is in turmoil and Tommaso must come to terms with his wife's desire to change the rules of their relationship. This change between them is set against his simple day-to-day life in Rome; as a student taking Italian classes, as a teacher working with young acting students, and most importantly his relationship and the pure love he feels for his three-year-old daughter and her for him.

The drama builds from this idea of reality and imagination and resolves in the discovery of what he and Nikki really want, need from and are capable of giving each other and their family. Following its premiere at this year's Cannes Film Festival, Little White Lies called the film "intimate, accepting and redemptive" with an "incredible" central performance from Dafoe. Actor Harry Mcrory who plays Danny in the film will also attend the screening.

Born in the Bronx in 1951, Abel Ferrara started on Super 8 in his teens in upstate New York with writers Nicholas St. John and John McIntyre. His first features were Driller Killer and Ms. 45 in the late 1970s. The 1980s and 1990s led to his cult reputation with legendary films like King of New York, Bad Lieutenant, The Addiction and The Funeral. Ferrara has just completed the principal photography of his next feature Siberia, also starring Willem Dafoe.

Click here for more information on the Silk Road International Film Festival.